What To Expect From Marble?
Marble is a metamorphic rock with characteristic veining and movement throughout. It has been prized in architecture since classical times and has therefore become a symbol of culture and refined taste.
When working with the quarries, only high-grade class Marble is selected, providing a consistent finish and durable product.
Marble is recognised for its characteristics of bold colours and striking veining. To accentuate this look, Marble is typically supplied in a honed or polished finish, and is used in kitchens, bathrooms, or selected for hotel lobbies, and commercial projects, for its premium appearance.
As the honed or polished finish on Marble tiles has a low slip rating, it is commonly used on interior floors and walls, and because of this low slip rating, it is not suitable for outdoor areas.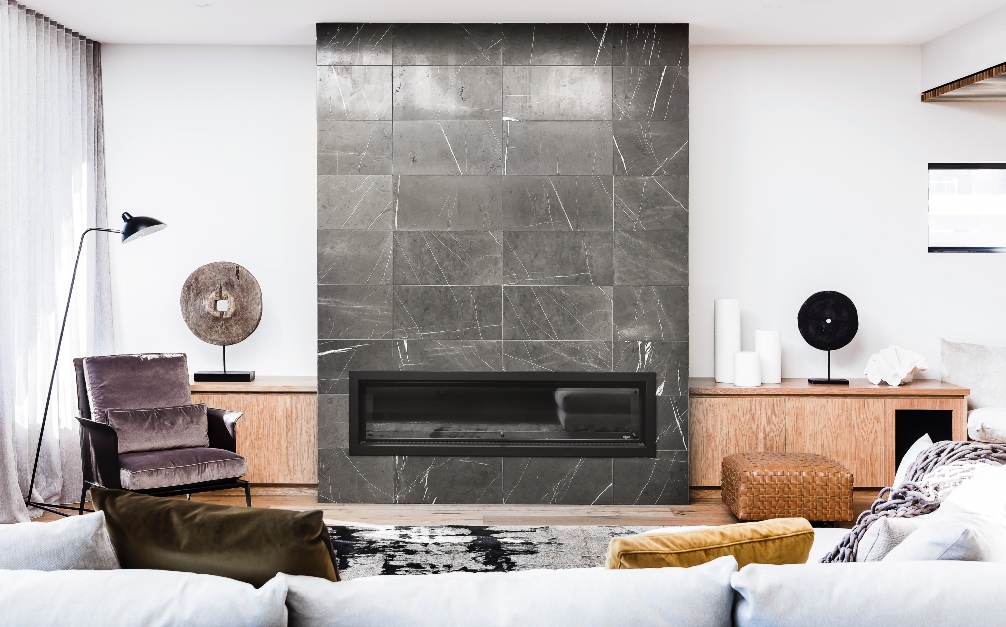 Pictured: Pietra Grey Marble in collaboration with Stillone Design, image by Maree Homer
Not Your Usual Marble
Our Tasman Marble is not a typical Marble because it comes in a Tumbled finish, and has the highest P5 slip rating, making it suitable for floors indoors and outdoor areas, maintaining its anti-slip properties, even when wet.
The Tasman Marble presents a combination of light grey tone and subtle white veining, which creates a stunning contemporary aesthetic and is versatile when styled with other design elements.
The tumbled finish of the tiles simulates age and wear, and gives the stone a beautiful soft patina with rounded-off edges.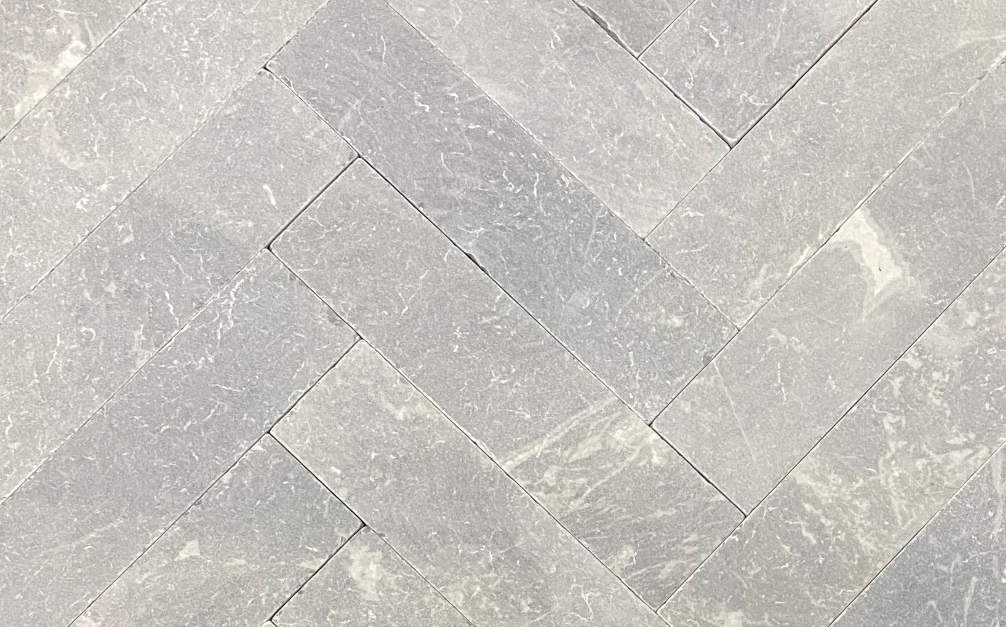 Where To Use Tasman Marble?
The light colour offers a minimalist design with an anti-slip tumbled finish suitable both indoors and outdoors. Durable and versatile, this stone can be used in terraces, gardens, pathways, and outdoor living areas but also for interiors, as flooring or as wall cladding.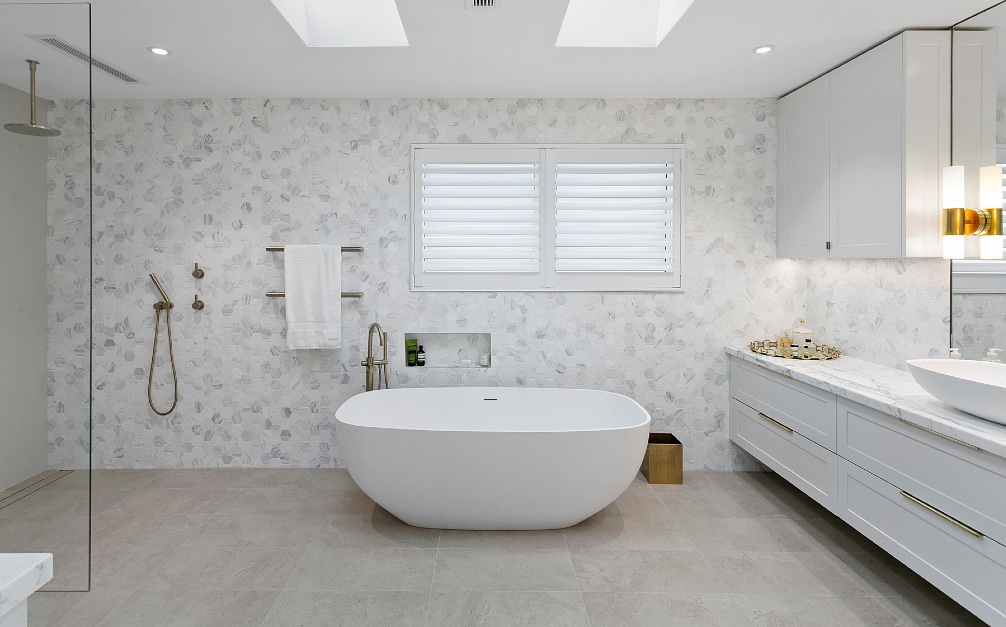 Pictured: East Side Chic Bathroom in collaboration with Kiera Williams Design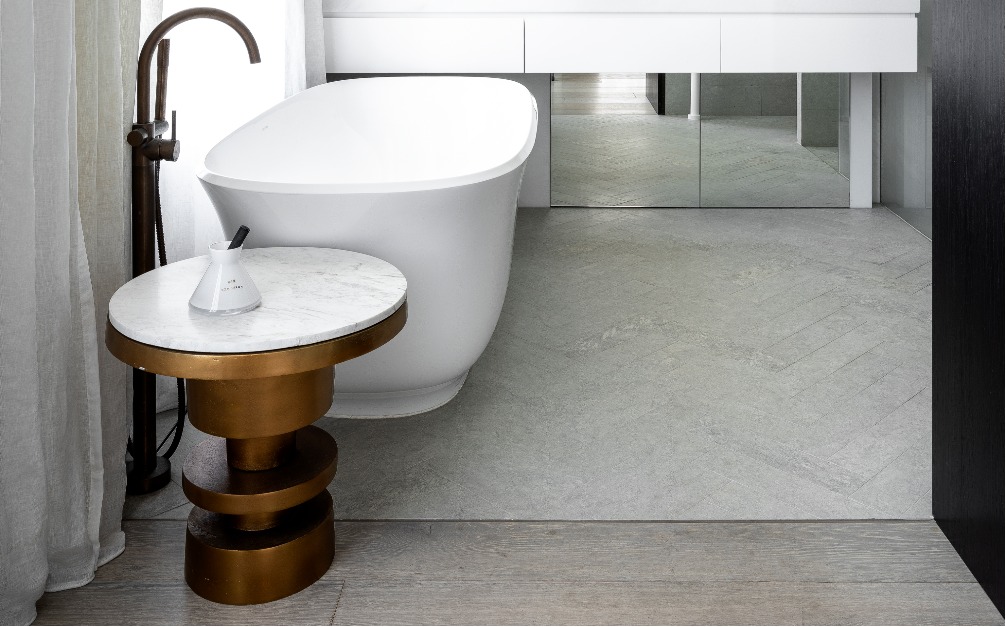 Pictured: Grove project bathroom with Azul Limestone floor in a herringbone pattern. In collaboration with Pacific Plus Constructions and Corben Architects. Image by Tom Ferguson.
The Tasman Marble Tumbled in the 400x100x20mm format can be used in a variety of patterns making smaller rooms appear larger and more inviting. This makes Tasman Marble a perfect choice for bathrooms and laundries, with the antislip finish ensuring the safety of the area, even when wet.
The size format of our Tasman Marble offers a range of different options for how it can be installed. Perfectly suited to be laid in one of the most popular applications, in a herringbone pattern, but can also be laid brickbond, stackbond, basketweave, either on the floor or as a feature wall.
The Tasman Marble is versatile and because of its P5 slip rating, it can be used in kitchens, bathrooms, living areas, outdoor rooms or walkways.
To find out more about the Tasman Marble please contact our office on 02 9666 9222 and talk with one of our natural stone specialists.