The selected tiles are the key design element of any bathroom, determining the overall look.
Natural stone is a suitable product, despite the wet environment and if the product is properly sealed and maintained, it provides an everlasting look.
While Marble is a classic choice for bathrooms, you can get creative and use Travertine, Limestone, or Granite for your own unique design. The porcelain tiles from our range offer an array of options, eye-catching colours, natural stone lookalikes and streamlined maintenance.
Marble is one of the classic picks for bathroom designs, which will never go out of style. With its striking look, white colours and a tradition of luxury and exclusivity, Marble is the most sought-after natural stone for bathrooms and can look spectacular both on floors and walls.
It is crucial to select high-grade Marble with minimal veining for bathrooms since this will make it more resistant to damage in the wet environment.
Carrara is an Italian Marble that many people think of when considering a white Marble.
It has been used in architecture and sculpture since Ancient Rome and in combination with the striking colour of the Granite in this bathroom, creates a sophisticated look.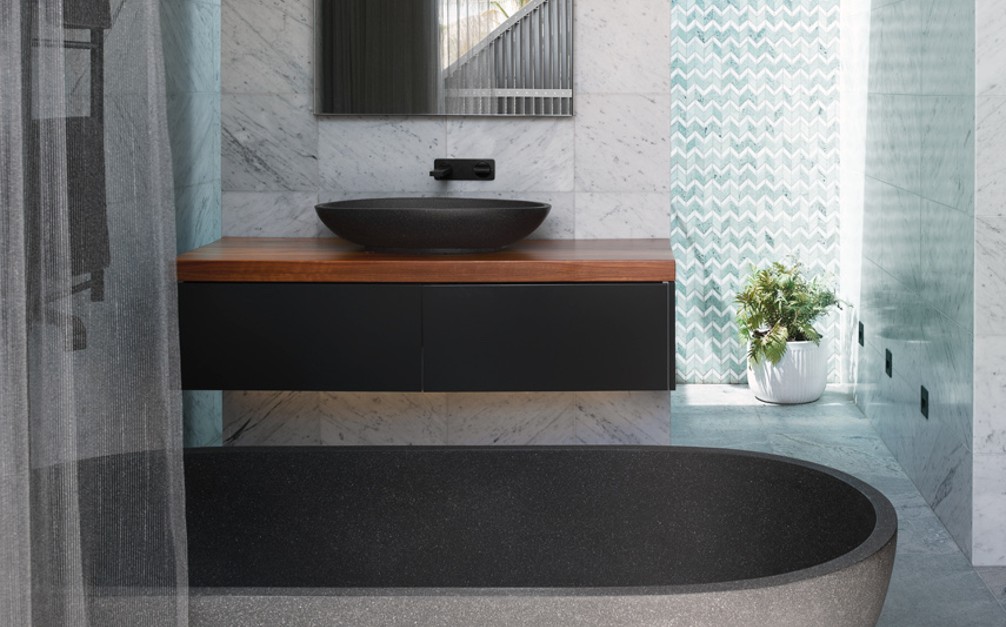 A bold choice for many interior designers, this dark grey Marble with striking white veining can create a standout bathroom and enhance the exclusivity of your home.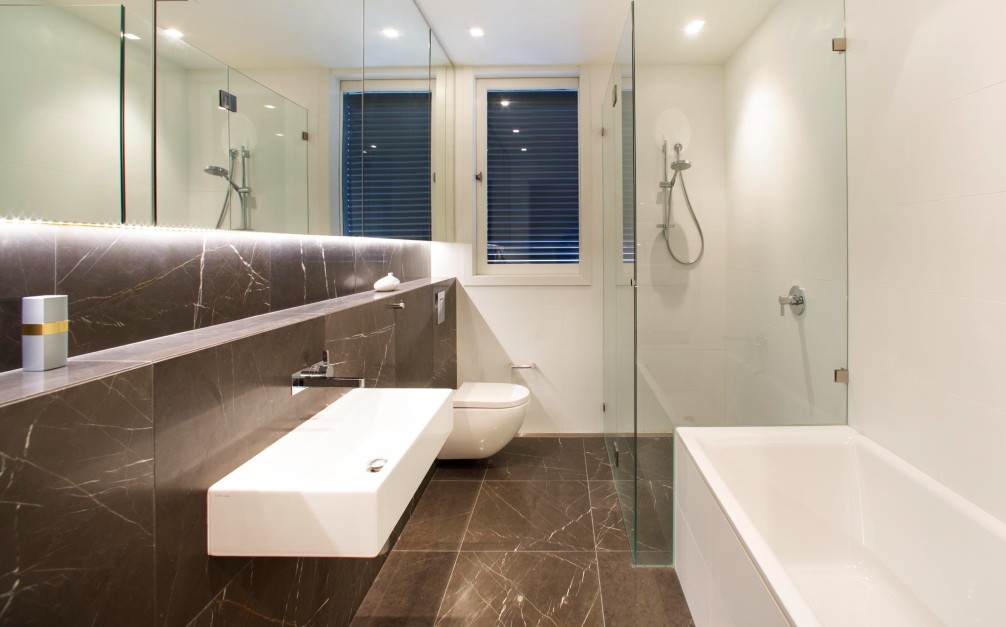 Beautiful Silver Ocean Marble features a rich mix of warm silver and grey notes with continual movement. We adore these rich colours as an alternative to traditional White or Black Marble.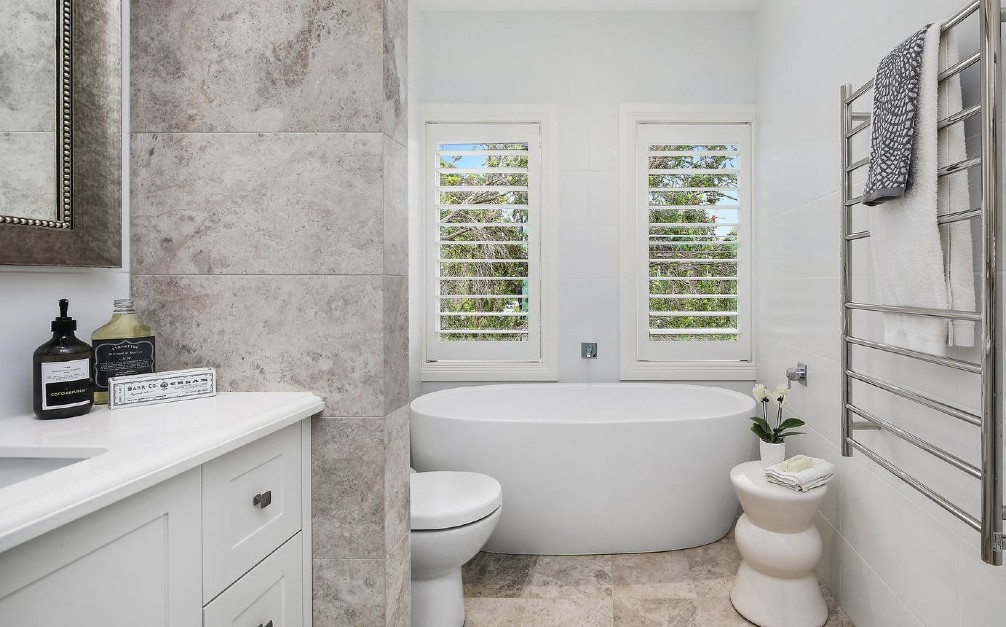 Limestone offers light consistent colours that are easy to style in contemporary designs, can provide a relaxing atmosphere and evoke a sense of a haven in your bathroom.
Reminiscent of Marble in its look, our trending Manhattan Limestone has the appearance of calming grey clouds interwoven with silver and white hues.
Georgia from Frankly Interior Design selected our Manhattan Limestone for the floors and walls in the bathroom of the Paddington Project. The grey tone has a fabulous warmth to it and makes the space feel warm and inviting. Photo by Dave Wheeler.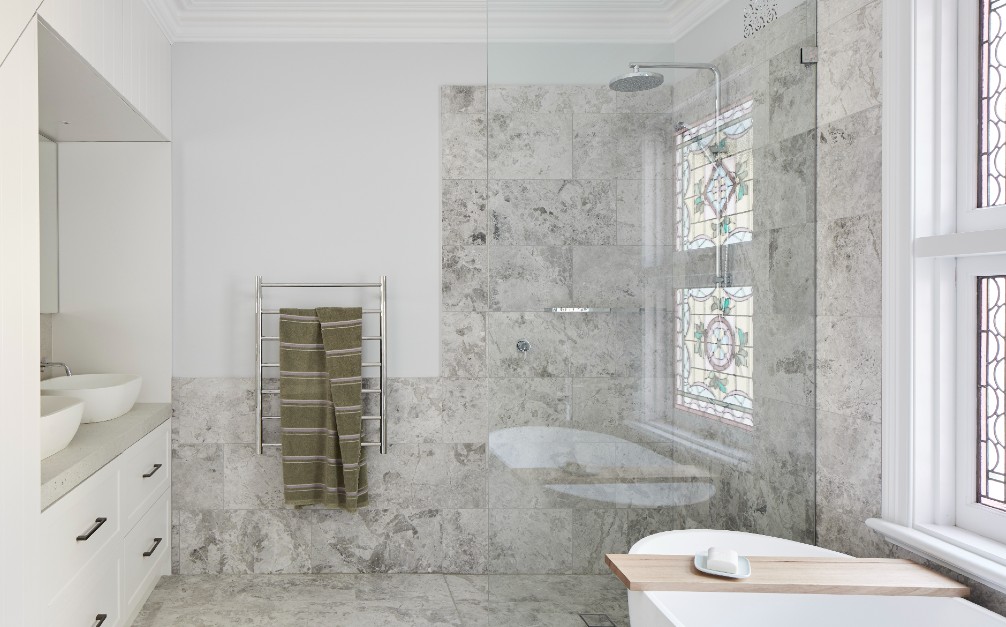 One of our best-sellers, the Cathedral Limestone comes in a large format that provides a classic, sophisticated and ageless look. With sandy colours, it looks impressive in the alfresco areas but is versatile and can add elegance to indoor spaces as well as bathrooms.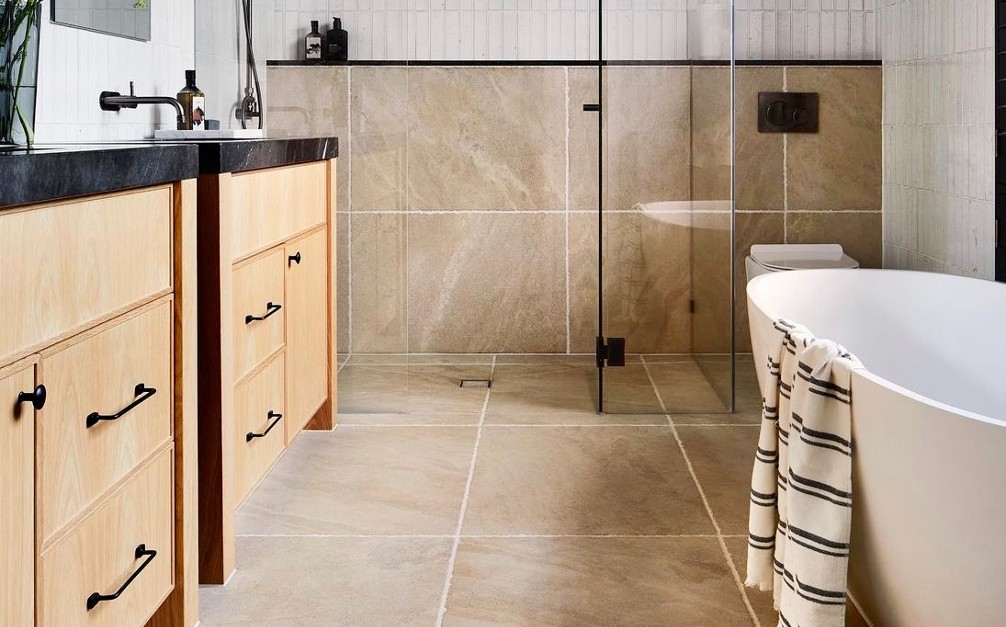 Versatile and refined, yet hard-wearing, light and milky in colour, with minimal veining, our Crema Marquina is suited for simple colour palettes and when combined with contemporary elements.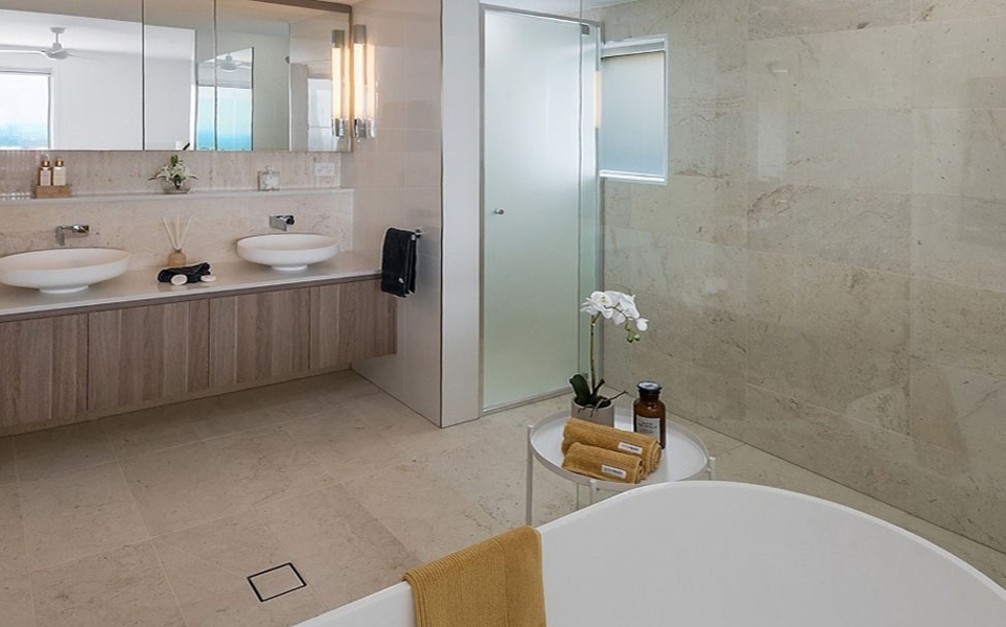 Can't find the natural stone suited to your unique project requirements? At Sareen Stone, we can source natural stone for your project outside of our range.
Lightly coloured Limestone that we sourced for a project in Byron Bay, complements the Australian coastal vibe and adds a subtle soft feel to your bathroom.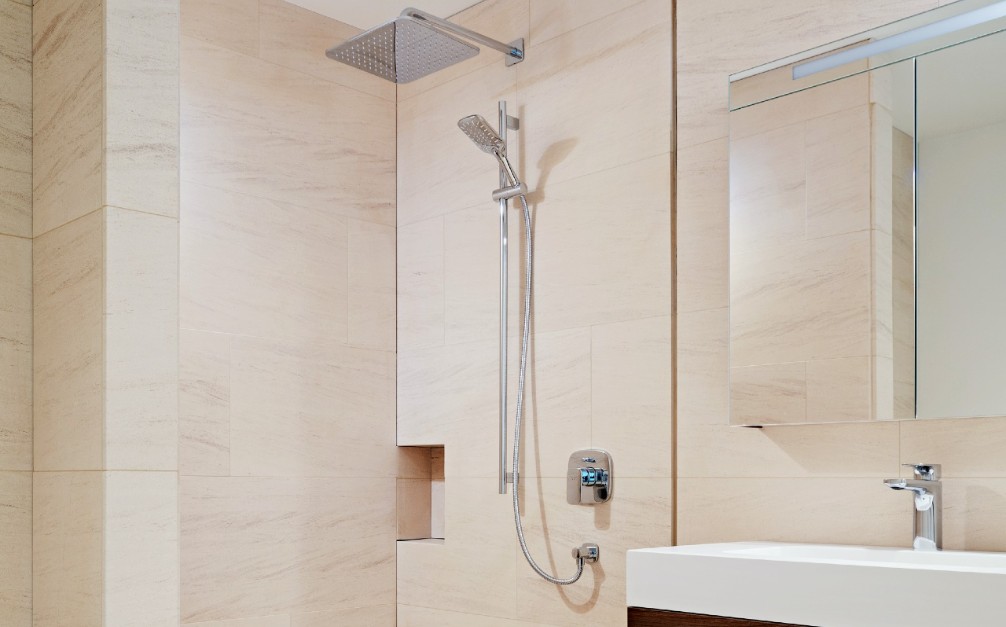 Azul Limestone
In the Master Ensuite of the Grove project, our custom honed Azul Limestone was cut into smaller tiles in a Herringbone pattern. This added subtle visual detail to the floor, optically enlarged the space, and added a warmer and more inviting touch to the bathroom.
In collaboration with Pacific Plus Constructions and Corben Architects. Photo by Tom Ferguson.
The newest addition to our range, the Tasman Marble offers a trendy light grey colour palette and subtle white veining.
400x100x20mm size can be used in a variety of patterns making smaller rooms appear larger and more inviting. We can source different formats on a custom order.
Travertine can bring soft warm colour notes with beautiful natural variation to your bathroom, creating a welcoming and relaxing look.
Our premium Classic Travertine natural stone boasts a beautiful natural beige colour and is perfect for indoor or outdoor settings, with Tumbled and Filled & Honed finishes available.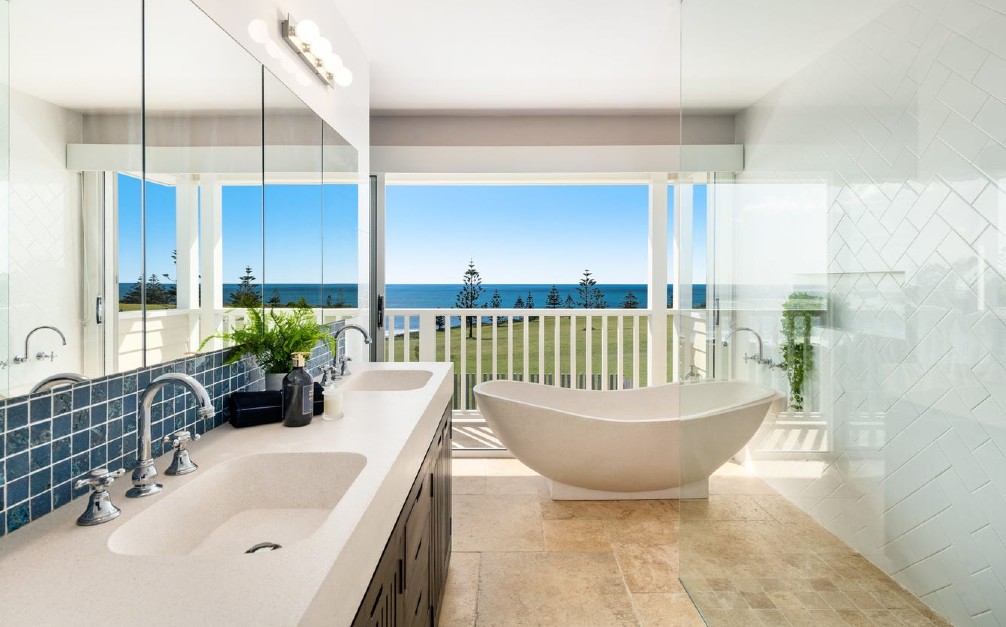 The warm earthy tones of our Noce Travertine provide a stunning dominant backdrop to any interior space.
Transform Your Bathroom with Vein Cut Travertine
Our Domus Striato and Coliseum Striato Vein Cut Travertine can be part of a contemporary bathroom design brief. Its striking cream and grey notes, which create a linear effect, work well when styled with bold coloured bathroom accessories.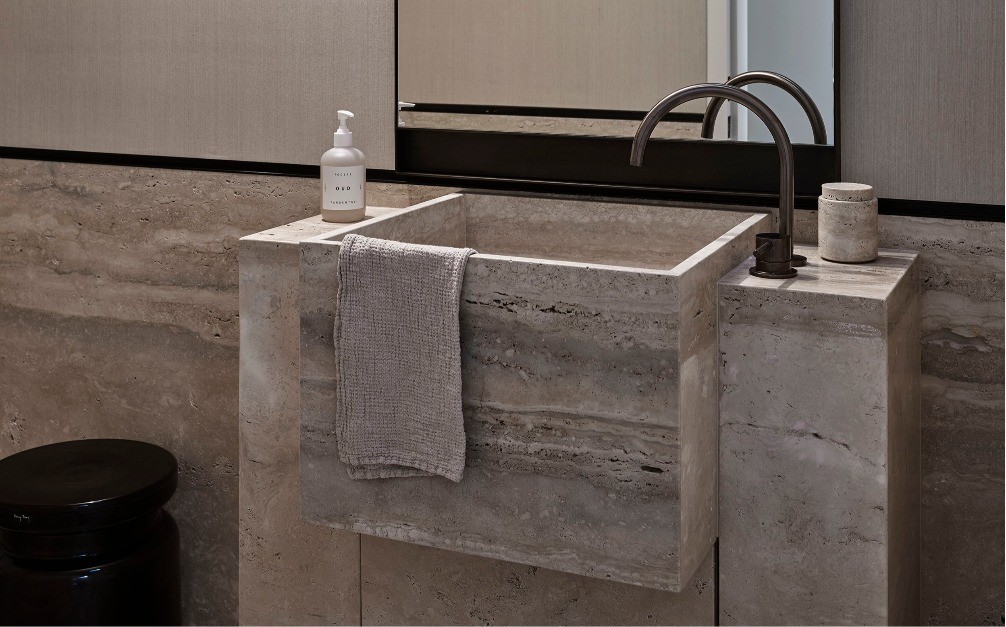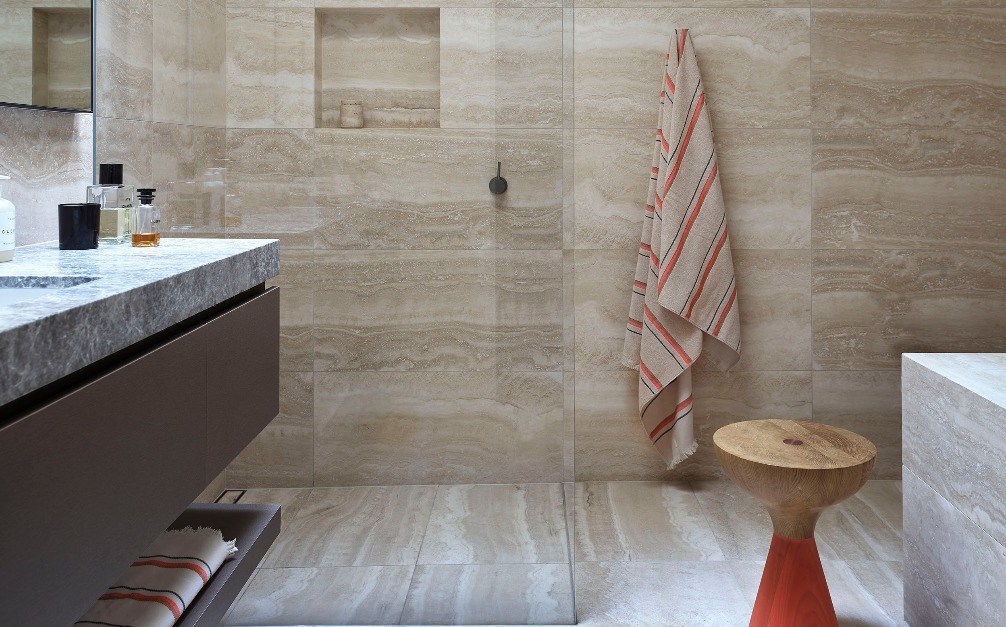 Photography by Anson Smart. Project by Jorge Hrdina Architects and Toki Constructions.
Granite is known to be a highly durable and dense material. Even though Granite usually doesn't come to mind as the first choice for a stone used in bathrooms, it can contribute to a sophisticated industrial look in your interior space.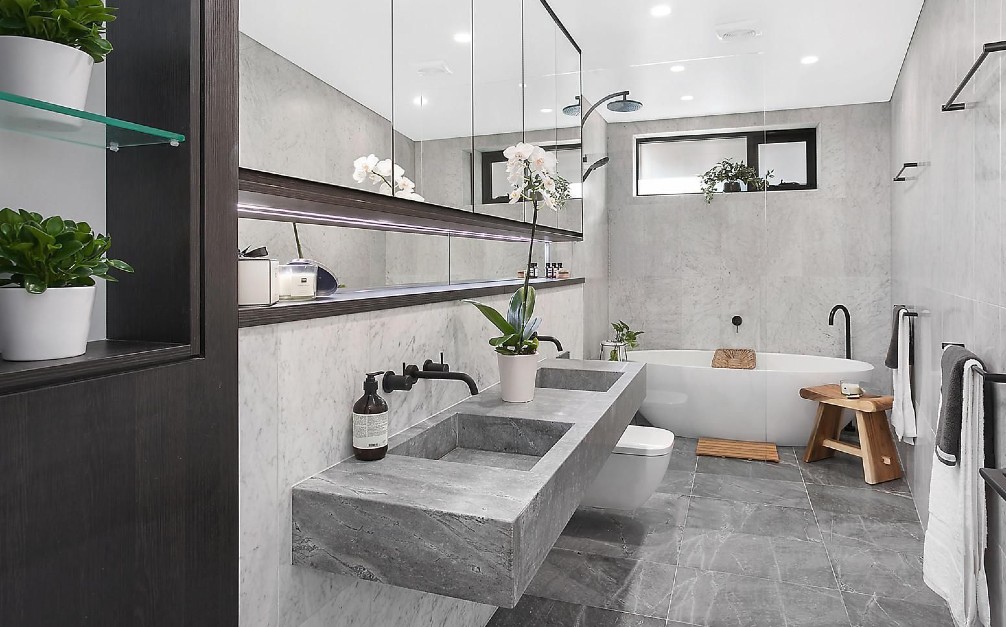 Porcelain tiles present an alternative to natural stone and are ideal for bathrooms because they are non-porous, practical, and easy to maintain.
Our range includes Marble, Travertine, Limestone, concrete, metallic or timber lookalikes as well as colourful decorative tiles, subways, or Kit Kats, offering you a wide range of options to fit your design.
The porcelain Statuario Marble lookalike tiles have been used for the award-winning Kings Langley project in collaboration with Chateau Architects + Builders.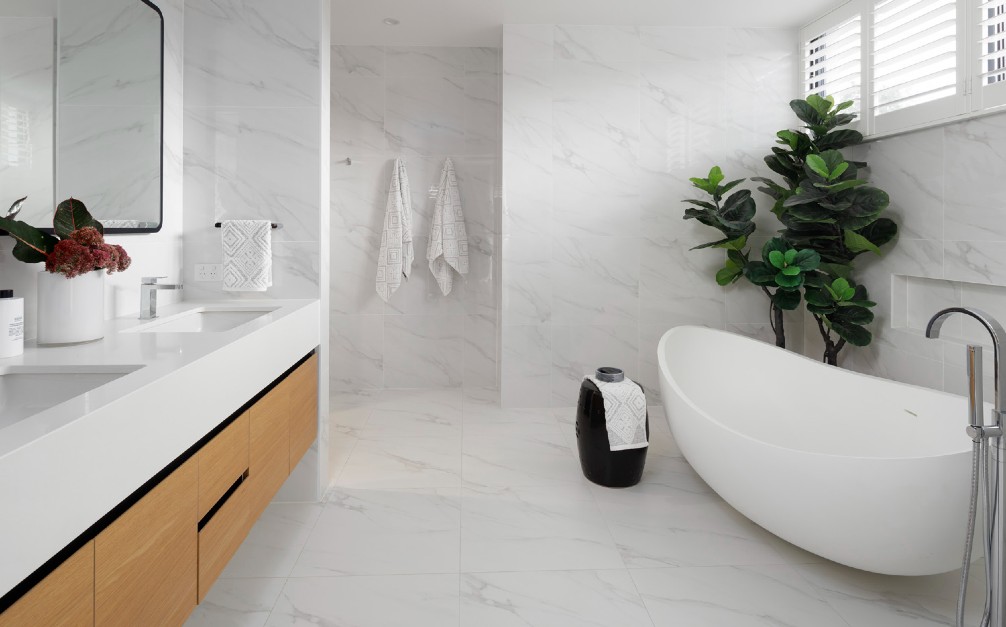 The bathroom is a perfect place to add a little bit of colour to your interiors. Kit Kat porcelain tiles can offer a visual interest without being overpowering, and a touch of personality with lively colour tones. Seaforth project in collaboration with Onefour Interiors.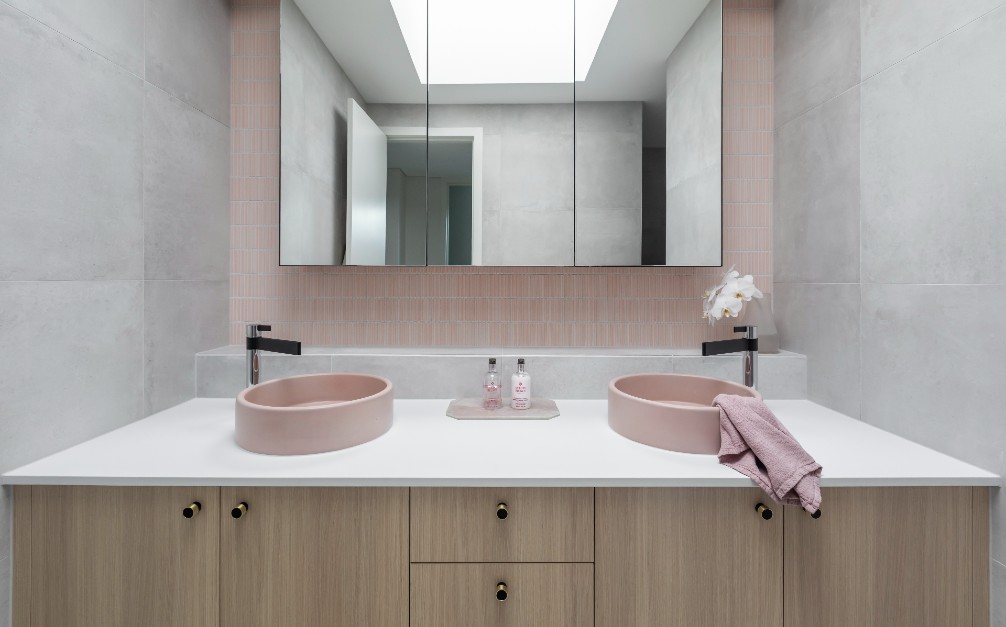 For the bathroom walls, DVB Projects selected our handmade ceramic tiles in crisp white. The bathroom design was aligned with the same objectives of the whole project, matching the stunning surroundings with the sea of luxurious finishes inside.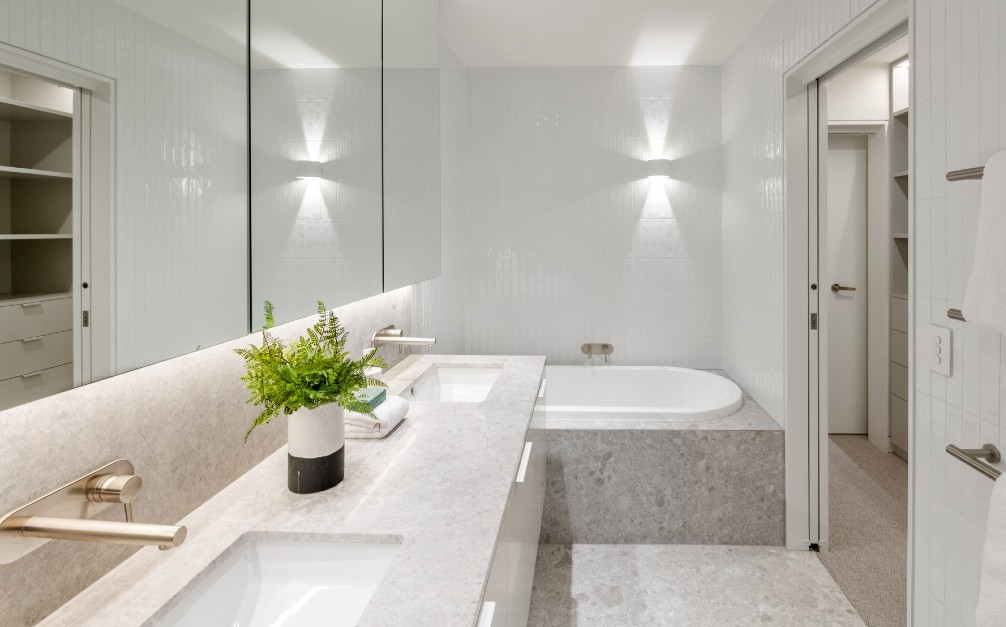 Our Italian Terrazzo is characterised by its magnified fragments of authentic Italian Marble. Our Terrazzo is available in a variety of sizes as well as slabs, perfect for creating a high-end sophisticated look in your bathroom.