The kitchen is one of the spaces where selecting natural stone is a common choice that can elevate your design and add a touch of exclusivity to the room.
While natural stone is often used for benchtops, you can also install stone on the floors or as a feature wall in your kitchen.
Marble is the stone that comes to mind first when selecting the stone for this area, but you can also use Limestone, Travertine, Granite or porcelain tiles.
Marble is characterised by striking veining and a sophisticated look. It is commonly used in 5-star hotels, upscale restaurants, and celebrity mansions and can also add a luxurious feel to your kitchen.
A classic white Italian Marble features subtle light grey veining and cool undertones. This Marble has been used in architecture and sculpture for centuries and the stone that first comes to mind when you mention white Marble.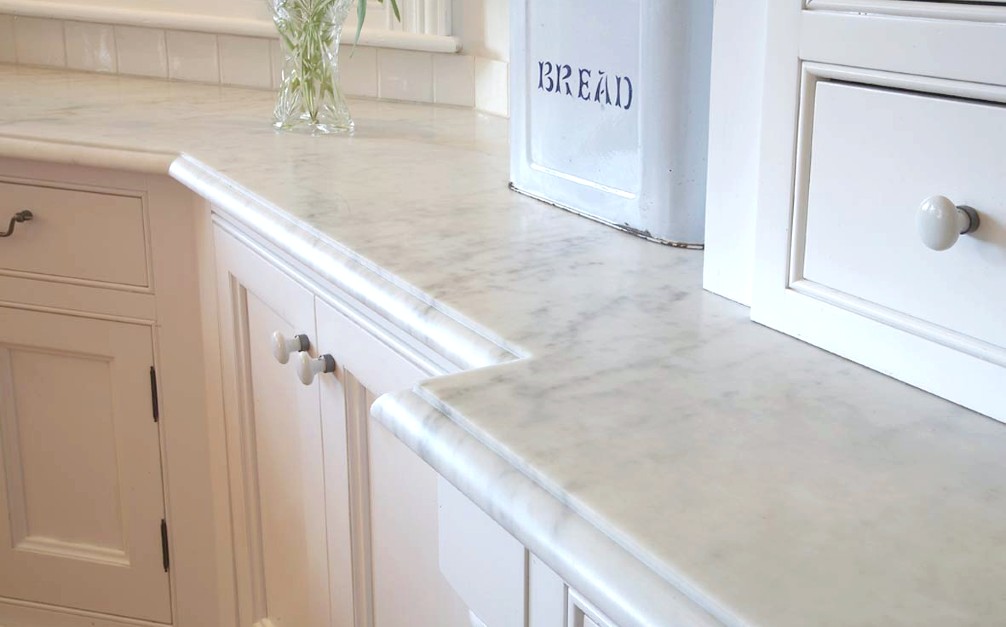 This Marble presents a dark alternative, with Charcoal grey tones and dramatic white veining, which can create a standout kitchen and increase the exclusivity of your home, whether as a feature wall, benchtop, or a splashback.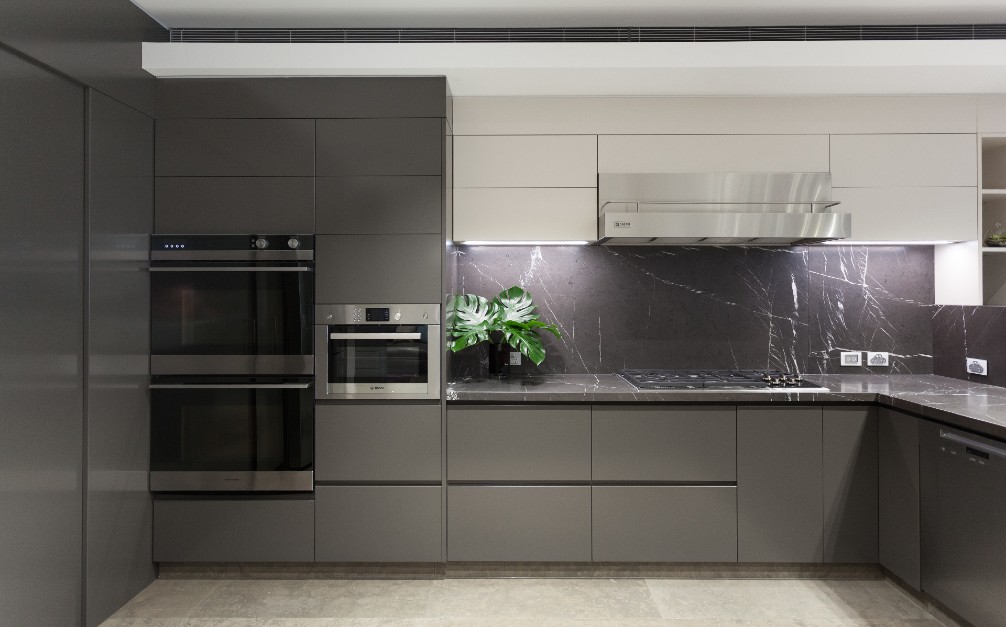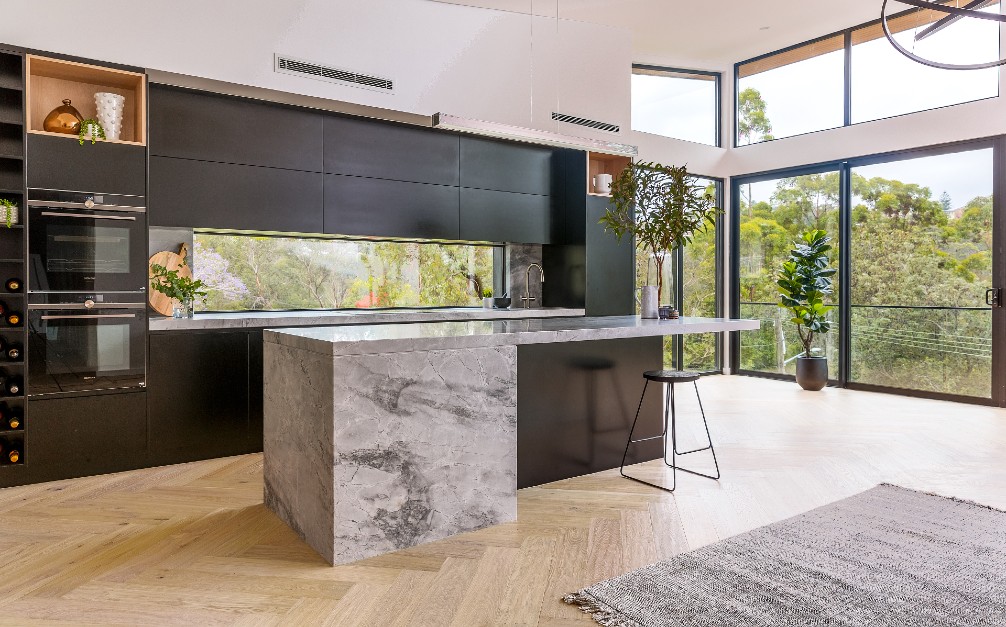 Limestone, with its neutral beige and cream colours, is easy to style with any design and can bring an inviting atmosphere to your kitchen.
If you're looking for a softer look, rather than the striking white and black colours of the Marble, Limestone can offer a more delicate aesthetic for your kitchen floors.
This light and milky-coloured Limestone has minimal veining and offers a distinctly natural and luxurious look.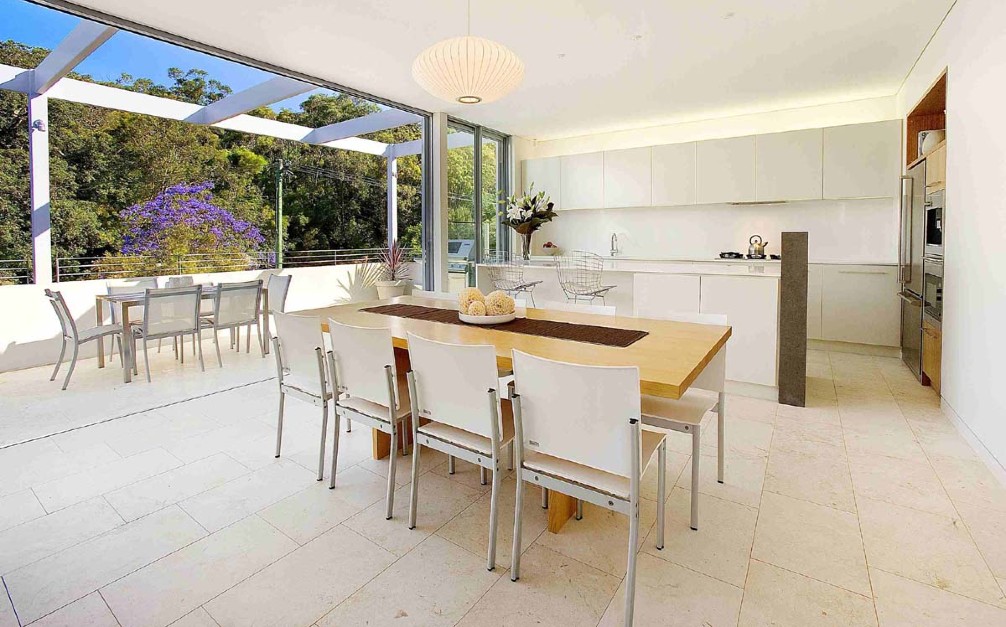 The sandy-coloured Tavira Limestone can provide a connection to the outdoor space and light up your kitchen with a chilled-out coastal atmosphere.
In this Cobbittee Street project in Mosman, Get Smart Landscaping drew inspiration from Byron Bay and the iconic Raffles Hotel in Singapore. The combination of iconic rounded doors, the clean colour palette and our Tavira Limestone resulted in a fresh contemporary design.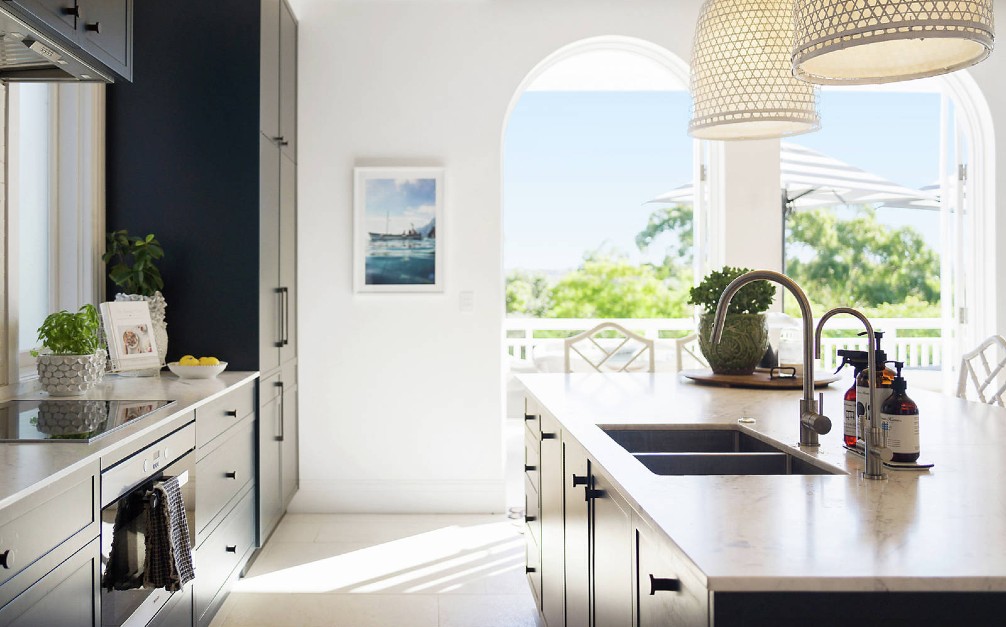 Gohera Limestone is a neutral coloured stone with contemporary soft taupe tones and hints of fossil fragments. This natural stone is incredibly versatile and hard-wearing, making it a great choice for kitchen interiors.
The project on Fairfax Street in Mosman used our Gohera Limestone in all interior living areas, including the kitchen. This connects the space, underlines the coastal atmosphere and creates a seamless look.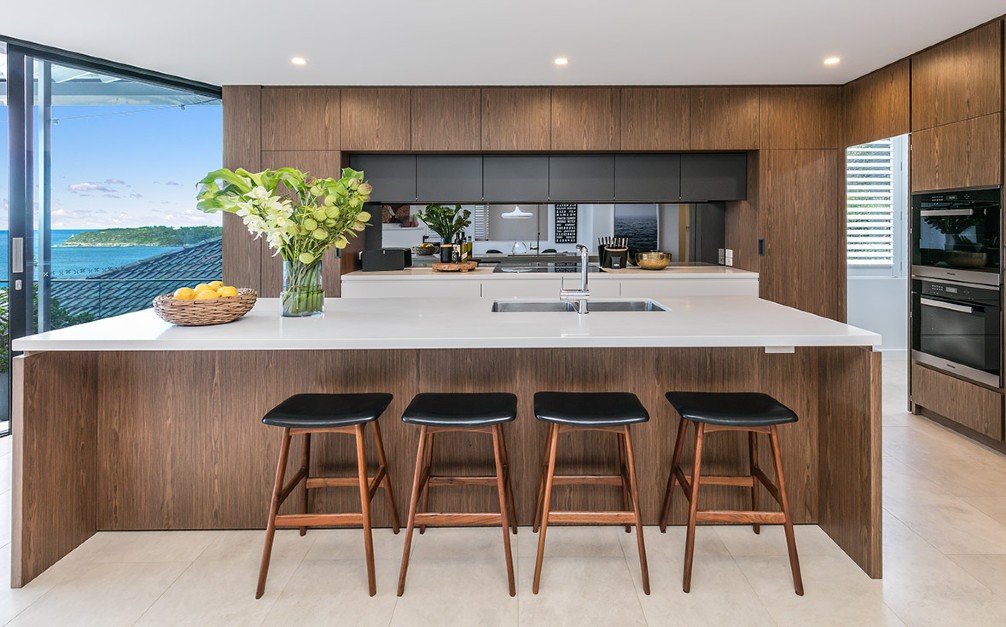 Originally sourced on a custom order for the Burch House project with Those Architects, Santa Fe Limestone is a lightly veined cream stone that offers a modern vibe, is incredibly comfortable to walk on, and adds a subtle softness to your space.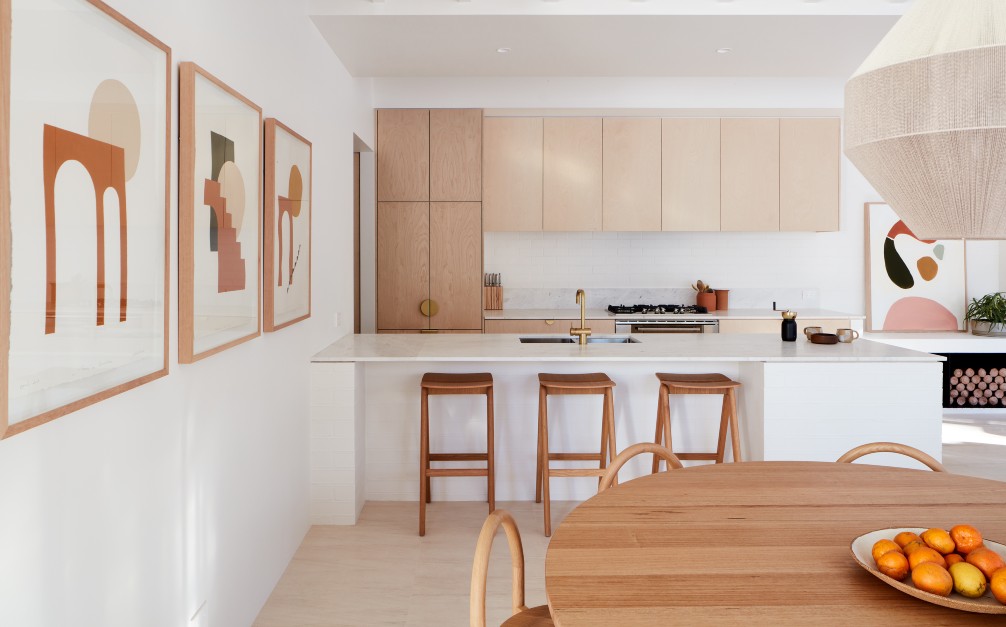 Bring an organic earthy look to your kitchen with the beautiful natural variation of versatile Travertine. This stone is easy to style with both contemporary and traditional designs and works well with other materials in your kitchen.
Our Premium first choice Classic Travertine is selected for its superior quality with minimal large holes and great colour consistency.
It is one of our most popular stones because of the versatility of its light beige colours that add warmth to the interiors and work in any design.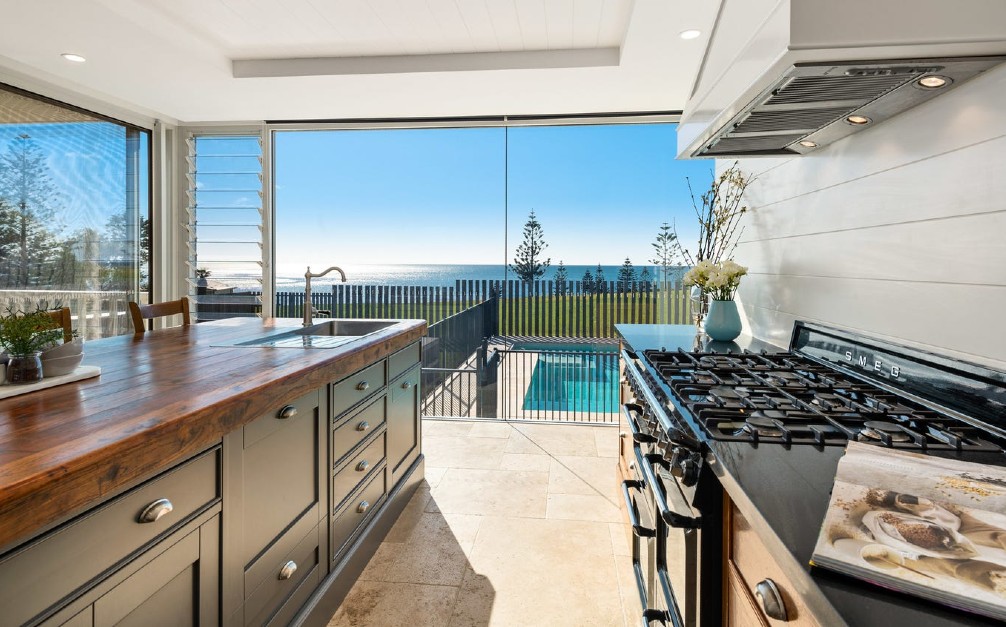 Providing a darker and more dominant colour palette than the Classic Travertine, the kitchen floor tiled with our Noce Travertine can be a dominant element as well as add depth and warmth into the space.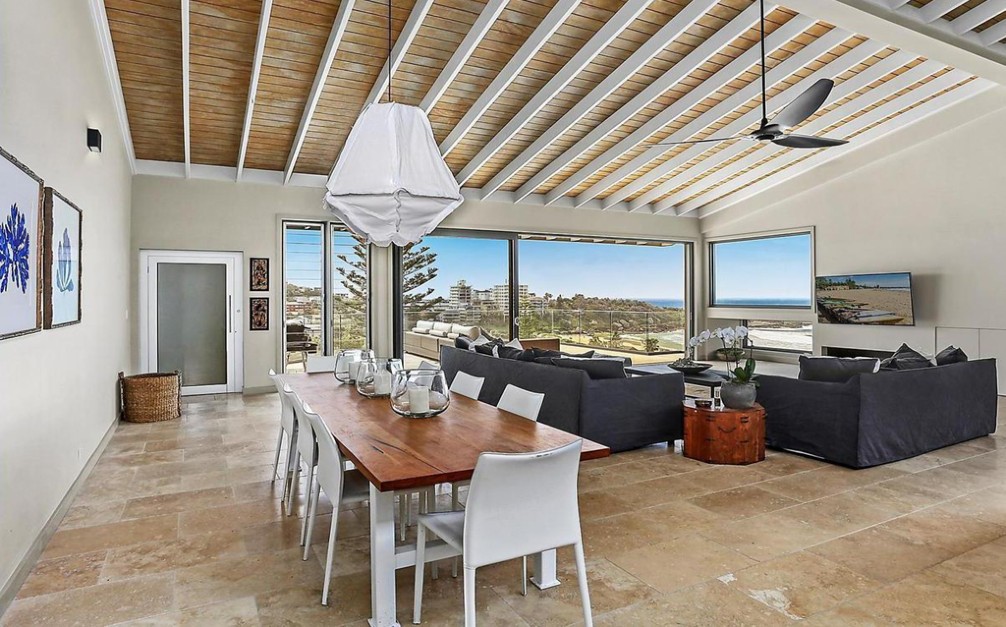 Although often associated with commercial applications and urban designs, Granite is a popular natural stone used by architects and designers for residential interiors, adding a refined edge to any space.
Granites with light-grey colour tones, such as our Silhouette Granite or Ocean Grey Granite, can be a trendy choice for your kitchen.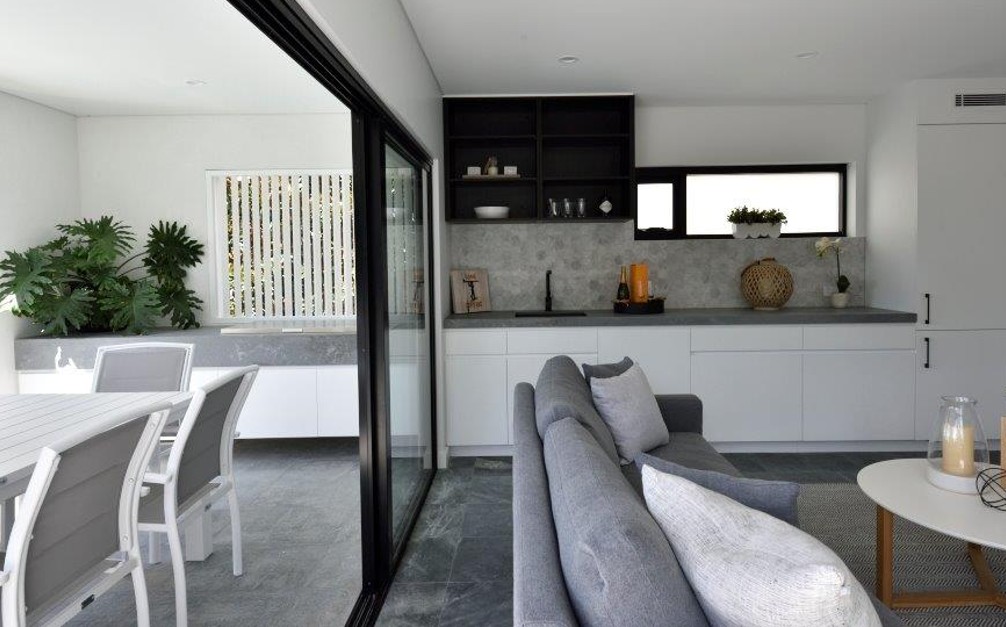 Porcelain tiles can provide a similar look to natural stone with streamlined maintenance since this man-made material is less porous and less sensitive to moisture than natural stone.
When selecting porcelain tiles for your kitchen, you can choose Marble, Granite, or Limestone lookalikes that imitate the appearance of natural stone.
In the Kings Langley House, Chateau Architects + Builders selected white and dark grey Marble lookalike porcelain tiles to give the kitchen a clean and modern look.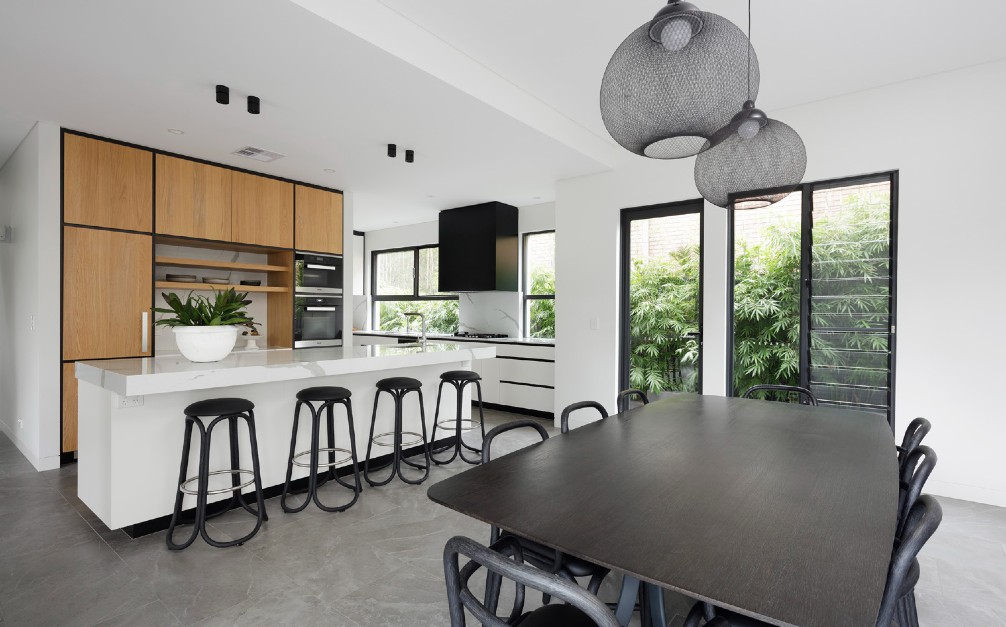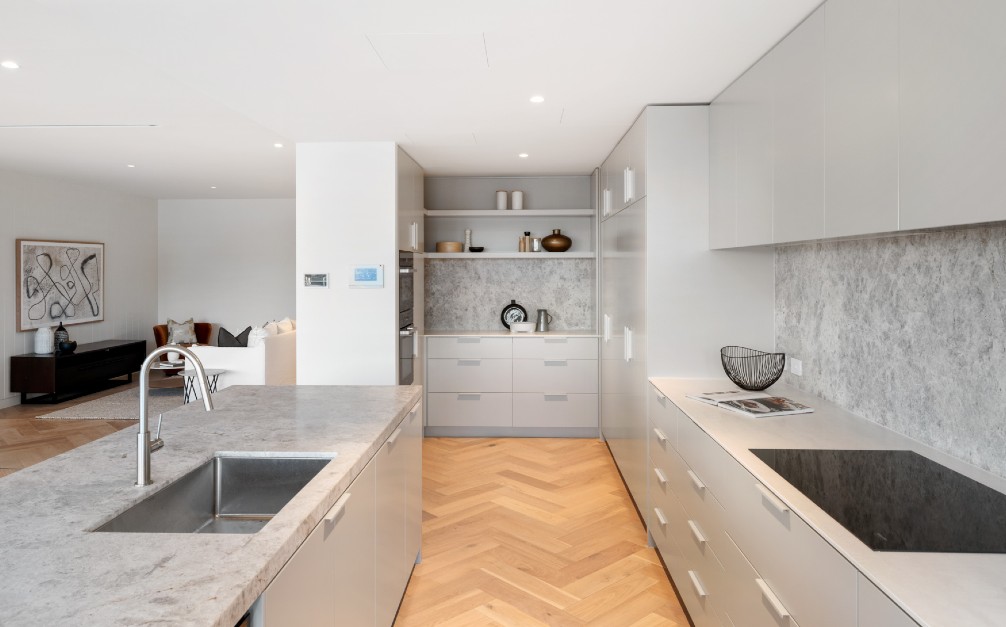 Porcelain tiles offer endless options for your kitchen. Aside from natural lookalikes, you can select colourful, decorative, or subway tiles, which are a popular choice for kitchen splashbacks, since they offer easy maintenance and can add vibrance to the design.