Australians love living outdoors as much as possible, and the outdoor living spaces in our homes are so precious. We want to make the most of the space, no matter how big or small.
Whether it's for lazing around by the pool in summer or snuggling up by the fire pit in the colder months, we love to enjoy good food, a glass of wine and time with family and friends outdoors.   
There is a growing design trend right now to transform your backyard into an outdoor retreat. As many of us have now worked and studied from home, we've started looking at our space differently, and need somewhere to unwind and relax, which is only a few steps away from our home office. 
The alfresco area in a retreat design style is an extension of the living space and serves as a tranquil weekend getaway destination. You are transported into your ultimate retreat as you step into your outdoor living space.
But how can you recreate the feeling you get when you spend a day on holiday in your own home? Read on to find out the design elements which can transform your garden into a private sanctuary.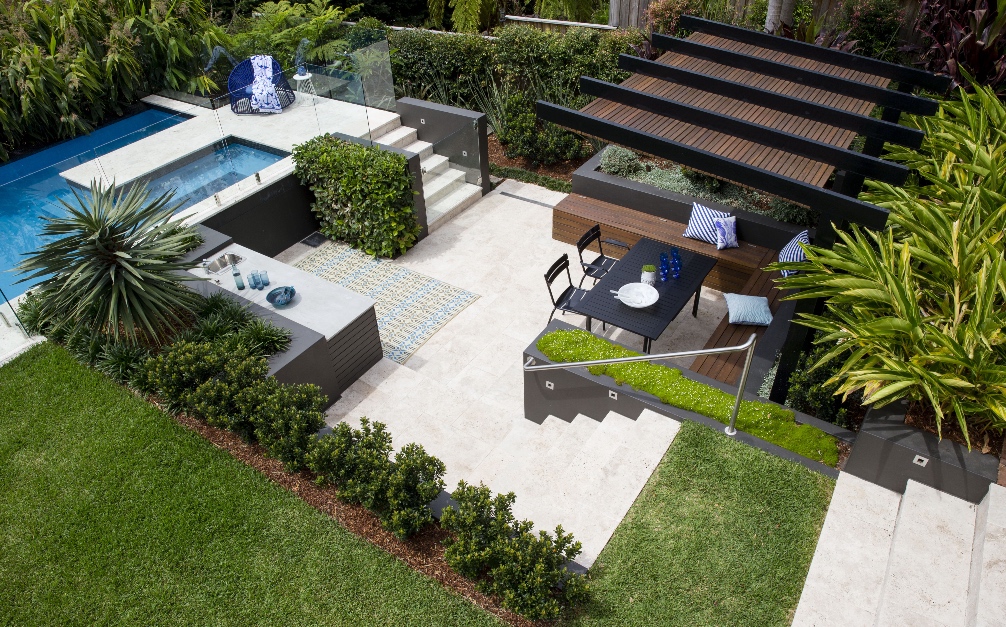 Unifying Design Vision
Before selecting your core elements and furniture pieces for your alfresco area, think about the colour and material scheme that would bring the whole project together. 
Your retreat can take on different looks, from a tropical vision full of greenery to a tranquil retreat with a soft cream colour scheme or a trendy grey vibe. The outdoor style should also be suited to the overall style and personality of the landscaping and interiors of your home. 
Using natural stone that suits your design vision, such as Tavira Limestone for elegance or Silhouette Granite for a modern look, effectively connects different elements within your project.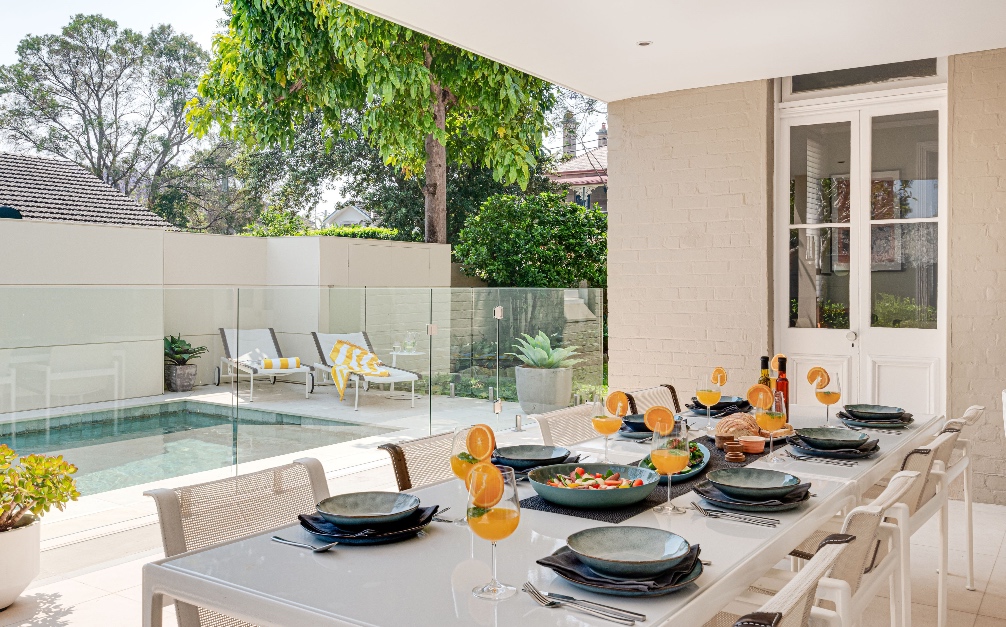 Create Your Dream Pool Design
A swimming pool in your outdoor retreat brings a relaxing vibe and serenity, adds a touch of elegance, and makes your outdoor space more architecturally interesting. When building your pool, consider the architectural elements and your primary desired function of the pool. 
A small geometric pool provides a classic look and a fun destination for the whole family. The curved design can match your interiors, a colourful fully-tiled plunge pool is perfect for a quick dip in a small backyard, and a lap pool can be an excellent place for a morning workout. Add a water feature or a jacuzzi to make your pool a relaxing destination for you and your friends.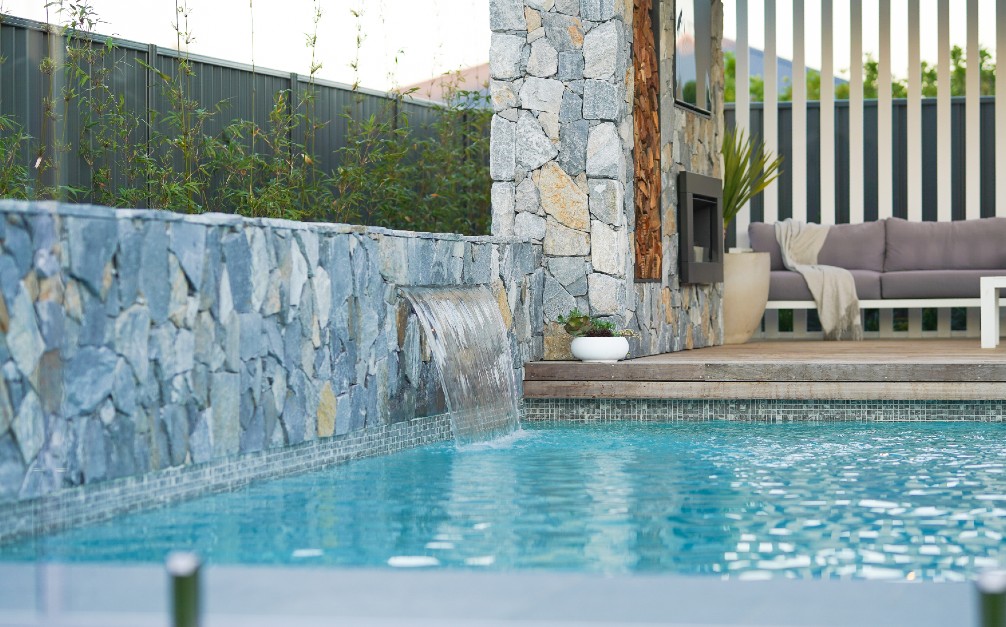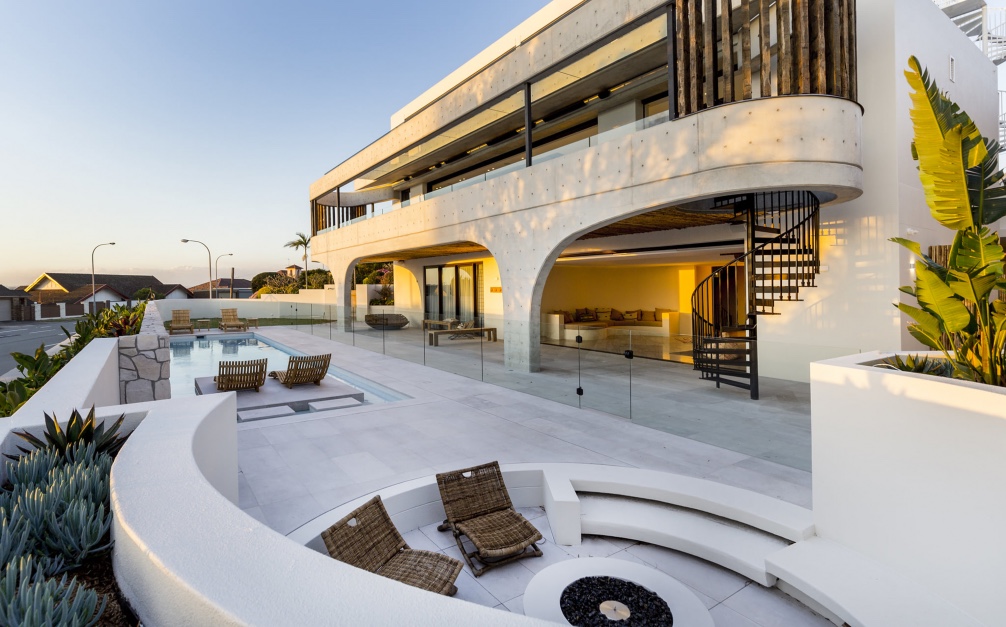 The pool doesn't have to be the only place you can cool down on a hot summer's day. Outdoor showers are growing in popularity and provide an additional visual element and enhanced functionality for your garden retreat area.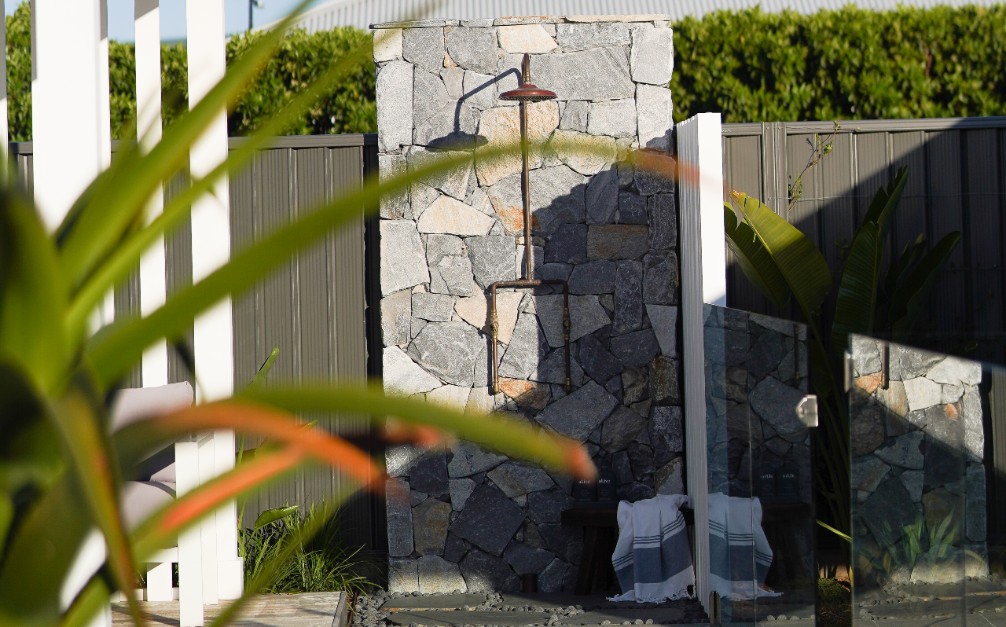 Using natural stone around your pool and for the pool coping connects to nature, making the pool safer and more inviting. You can add a natural stone wall cladding for a shower wall or a water feature to make them stand out within the design. 
Zen-scaping
Landscapers can create a "zen" atmosphere by using various textures, materials, and zones, such as combining green areas and tropical plants with light concrete sections, gravel, or stepping stones, making your outdoor retreat even more exciting and organic.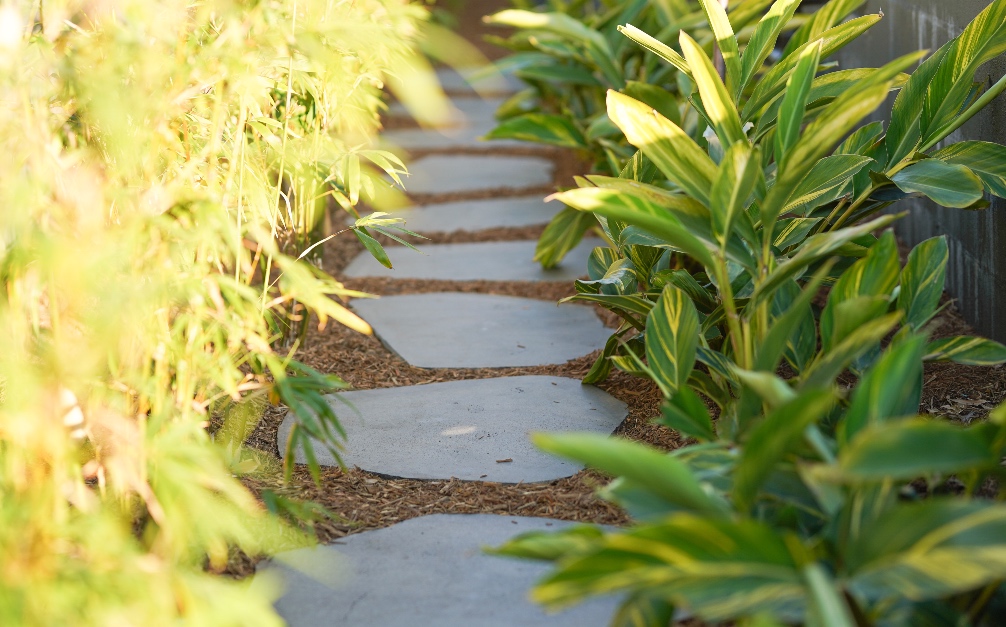 While an abundance of greenery and plants are a crucial element that makes your garden feel more relaxing, you don't need a large area or advanced gardening skills to achieve this. Instead, it's important to stay realistic with how much time you can dedicate to your garden and then select the plants accordingly. 
It is still possible to create a garden full of greenery while still keeping the required maintenance to a minimum by selecting succulents that don't require constant attention.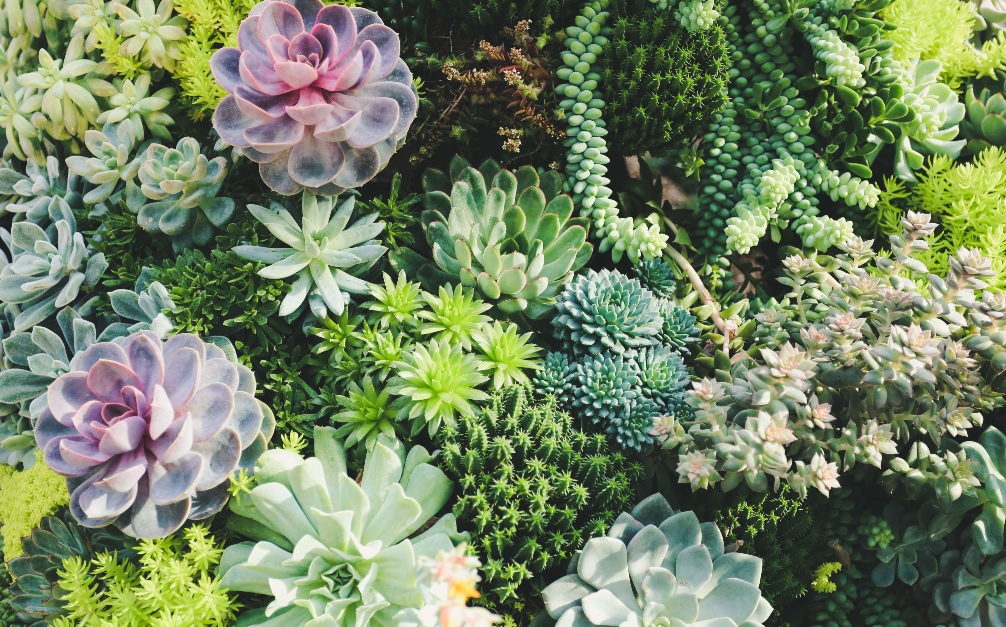 Tom from Authentic Landscapes gives his insight when creating a subtropical vibe in Marrickville: "People desire a lush-looking garden that requires minimal maintenance. They want to minimise the time they spend tending and trimming their garden and maximise the time they get to enjoy it."
Outdoor Living Room
Creating an outdoor living room with comfortable furniture pieces, a separate pergola, or a gazebo is an effective way of separating different sections within your garden and extending the feeling of being inside to the outdoor area.
When adding furniture pieces, don't stop with the dining tables or sun lounges. You can also add side tables, chairs and lounging areas and get creative with different materials such as concrete, rattan or steel.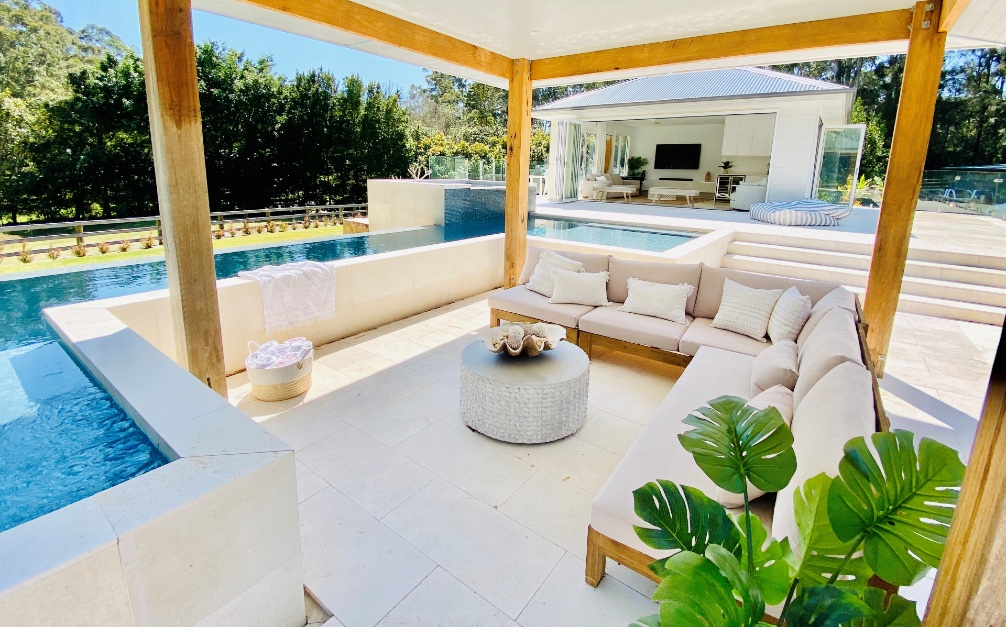 Chill Out In The Shade
Adding a shaded area will ensure that you don't have to hide inside during the midday sun and makes your retreat much more comfortable. 
The elements providing shade aren't only functional but can be stylish too. Use umbrellas to provide shade for your lounge or dining area, trees and greenery to create a natural shade, or get creative and install screens, trellises or stylish and durable shade sails that will ensure the outdoor space also stays dry during the mid-summer showers. 
If you're thinking about the addition of a roof to create shade and protection from the elements, consider including ventilation, such as installing ceiling fans, or create a design that ensures there is cross ventilation that keeps your outdoor retreat cool.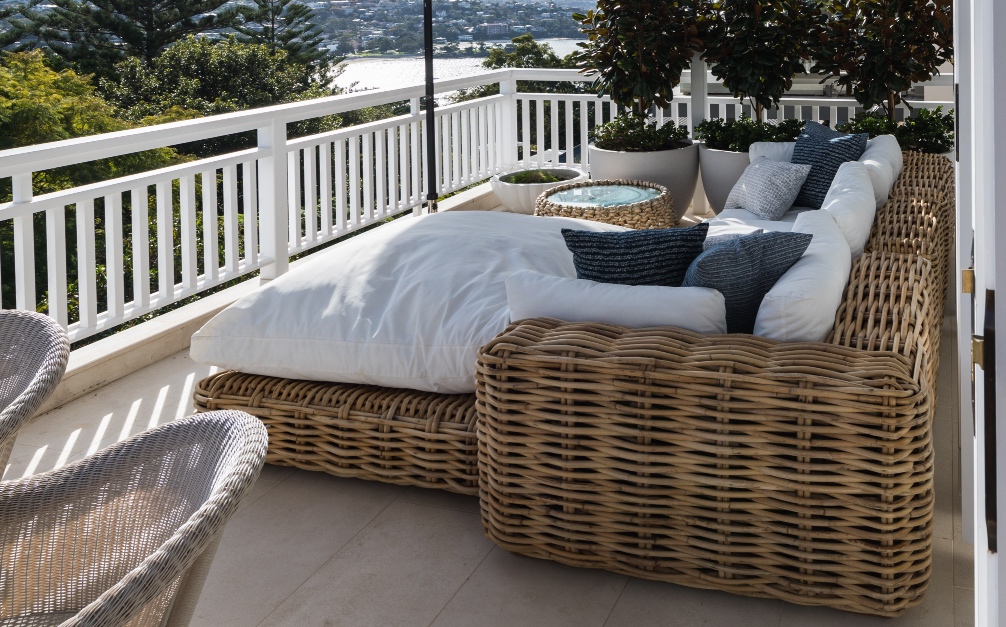 Different Zones and Features
Imagine having a weekend at a tropical retreat. There will be plenty of zones to spend your time, including the lounge area, the spa or the pool bar. 
While we are not suggesting that you build a pool bar in your back garden, although feel free to do so if you want to, creating different sections, such as a BBQ zone, seating around the fire pit, koi pond, outdoor kitchen or a jacuzzi, will enhance your outdoor sanctuary.
Adding a firepit will keep you cosy in the evenings and cooler months, which allows you to stay in the garden for longer. Including an outdoor kitchen will eliminate the need to go in and out, and enable you to stay outside while making a coffee, family dinner, or a midday snack.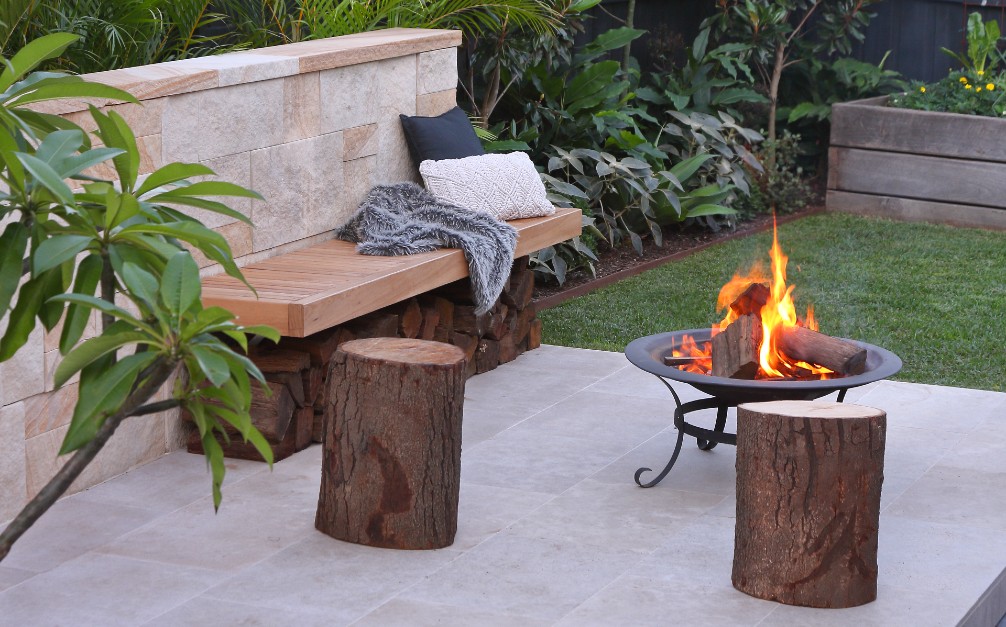 Style For Comfort
Decorating your alfresco area will make it more relaxed, sophisticated and comfortable. You can decorate by adding different colours, materials, lighting or furniture pieces. 
Textiles, throws and cushions will enhance the comfort and provide an opportunity to add a pop of colour to your outdoor retreat.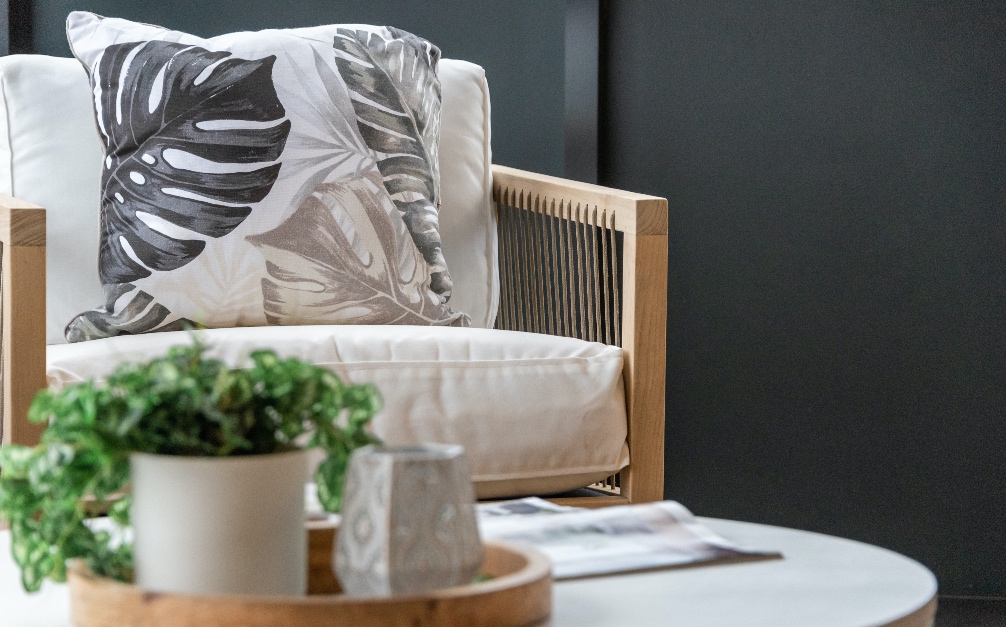 When adding furniture pieces, think about everything you want to do in your outdoor retreat and what you need to make it possible. Add side tables to have a place to comfortably rest your morning coffee, or an evening glass of bubbly, or rocking chairs and hammocks to relax on a Sunday afternoon. 
When adding lighting to your outdoor retreat, think about the functional general lighting first, then add mood lighting with lanterns, fairy lights and candles.  You can also enhance the functionality of the space with festoon lights. 
Privacy 
You might argue that you can't relax in your home retreat if you can see your neighbours, but you don't have to be in a remote location to escape from reality.
Creating a private space is possible even in small city gardens by adding a strategic privacy wall with trees, screens or a natural stone cladding wall. 
The goal of the garden transformation in Mosman, in collaboration with Joanne Green Landscape & Interiors, was to use landscaping to create more privacy in the entertaining area. The natural stone wall using our Cotswold cladding and a new boundary fence succeeded in providing more intimacy and made the areas look stylish and beautiful.