With tiles being a dominant feature of this space, natural stone can make your bathroom stand out within your project. Natural stone looks great on floors and walls, which is ideal for a shower.
Natural stone is a suitable product to be used in a wet environment, as long as the selected material is high-quality and is installed, sealed and maintained properly.
What Natural Stone Is Best in a Shower?
The natural stone tiles used for floors and walls can completely transform your bathroom. The selection will depend on the overall design of the project. However, the type of stone you select will also affect the amount of maintenance required.
Here are the types of natural stone suitable to be used in a shower.
Marble
With its striking look, white colours and the tradition of exclusivity, Marble is a popular stone used for showers. Classic Italian Carrara Marble is associated with a sense of luxury and its light grey veining can add interest to your bathroom.
Factors to Consider Using Marble in a Bathroom
When selecting Marble for your bathroom, it is important to select the higher grade Marble with minimal veining and inclusions. This will make the stone more resistant to damage since the vein composition can be vulnerable in a wet environment.
While white Marble is usually the first choice among customers, the colour can be subject to discolouration over time because of its high naturally occurring Iron content.
Consider other colours to streamline the maintenance of your Marble bathroom. Dark brown colours of our Pietra Grey Marble or silver tones of our Silver Ocean Marble, are becoming increasingly popular and can add an interesting touch to bathrooms.
Regardless of which Marble you select, in order to preserve its natural beauty, it's important to seal and clean it with suitable products made for natural stone.
Granite
Granite is known to be a highly durable and dense material that is, therefore, more resistant to damage and can be easier to maintain.
Even though Granite usually doesn't come to mind as the first choice for a stone used in bathrooms, it can contribute to a sophisticated industrial look in your interior space. Lighter granite with a slight shine, such as our Silhouette Granite, looks modern, especially in bathrooms.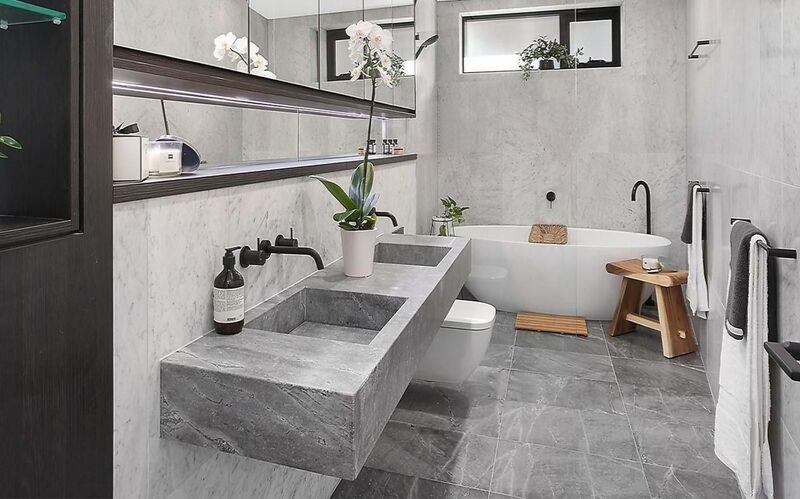 Factors to Consider Using Granite in a Bathroom
Even though Granite is generally denser and more durable, it still needs to be expertly sealed in order to protect its natural beauty and make it look good as new for the years to come.
Limestone and Travertine
Limestone and Travertine are more commonly used in bathrooms and are a natural choice for a contemporary design. The earthy beige tones make it easy to style with the rest of the interiors and provide a classic feel.
Installing Limestone or Travertine on the walls of a shower presents an opportunity to select a calming or eye-catching design.
Limestone with a natural colour palette, such as Tavira, can bring a calming vibe to your bathroom. If you're looking for a striking design, Vein Cut Travertine, such as our Coliseum or Striato Domus, can add visual detail and an organic feel.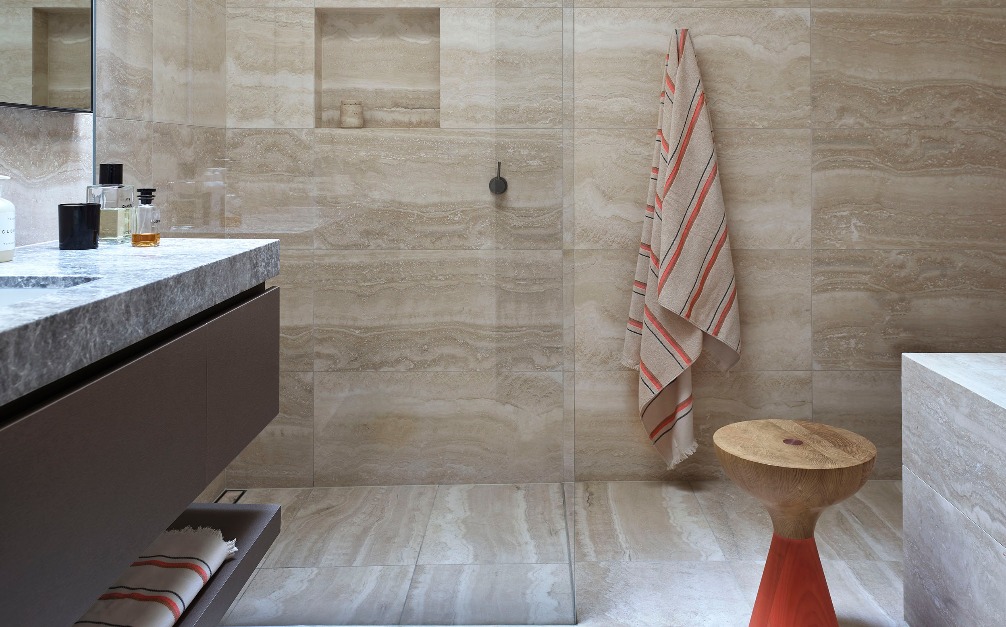 Factors to Consider Using Limestone and Travertine in a Bathroom
Selecting filled and honed Travertine for your shower will make the tiles easier to clean.
Just like with selecting Marble for your bathroom, it's important to select the highest-grade stone. We recommend talking to a natural stone specialist to help you select the natural stone suitable for the wet environment.
Ensure the stone is properly sealed to preserve its natural beauty and protect it from stains or other damage.
Wall Cladding
Wall Cladding in your shower can create an effect of a spa or retreat within your own home. It can contribute to an organic look and add a unique interest to your bathroom.
Factors to Consider Using Wall-Cladding in a Bathroom
Since Wall Cladding can be made from various types of stone, it creates an array of unique looks for your bathroom wall. Wall Claddings can consist of Granite but also Limestone or Sandstone, each of them contributing to a different design.
You can select Wall Cladding in colour tones that compliment the look of tiles used for the bathroom floor, creating a seamless look.
Selecting a less textured Wall Cladding will ensure the stone is easier to clean and smoother to touch, providing a softer look.
Slate
Slate is commonly used in showers because it comes in a variety of colours and presents a more cost-effective option than Marble or Granite. It sits at a lower porosity scale, which makes it suitable for wet environments.
Factors to Consider Using Slate in a Bathroom
Ensure you select a higher quality Slate since some types are known to be flaky and can deteriorate over time, especially in a wet environment. Like with Granite or Marble, sealing the stone will enhance its longevity.
Outdoor Showers
The trend of outdoor showers is becoming more popular as an addition or alternative to an outdoor pool.
An outdoor shower can be an easier and more affordable option to cool down during the hot months. If you live close to the beach, this addition to your home can be a practical and stylish way of keeping your interiors sand-free.
Apart from their practicality, the outdoor showers can add value to your home.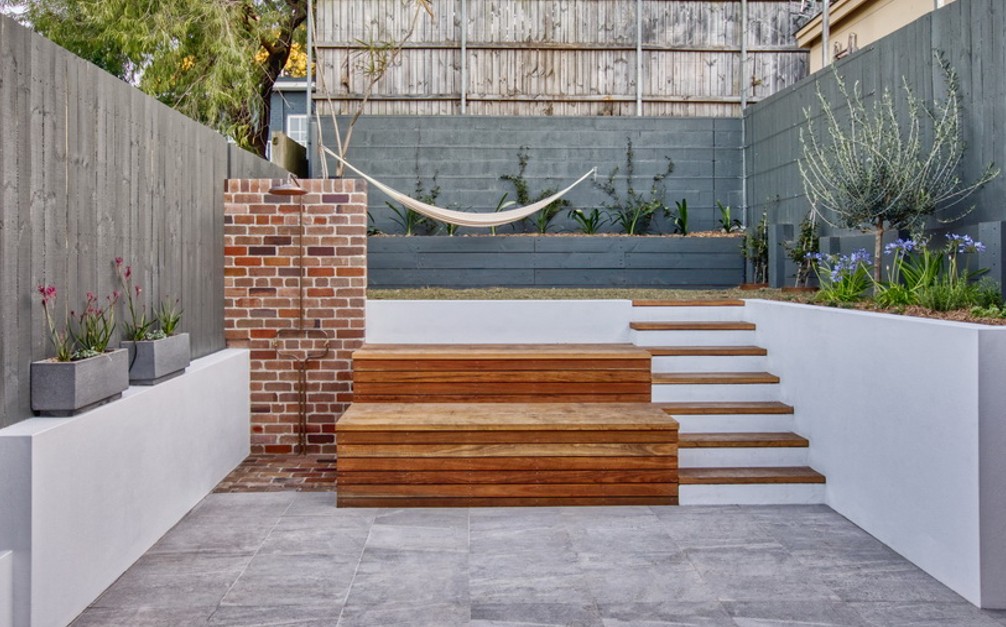 Outdoor showers present an excellent opportunity to combine natural materials and create a private oasis at your home. With the variety of design styles, from rustic to modern, lush to minimalistic, the natural stone can be a great way of completing the look.
Maintenance
People can shy away from using natural stone in their showers because they are concerned about its maintenance. However, any wet area requires maintenance and a white bathroom will need to be thoroughly cleaned regardless of whether it's tiled with natural stone or porcelain.
Actions to Take to Streamline Maintenance:
– Selecting natural stone with less texture will make it easier to clean
– Remove excess water after use
– Keep the area ventilated
– Use non-acidic cleaners with neutral pH and clean the stone regularly to prevent grime build up
– Clean grout lines regularly
– Use high-quality sealer
– Some Marble can benefit from re-honing it every 3 to 5 years since it might lose its lustre due to exposure to water and calcium
Sealing Stone in Showers
As mentioned, no matter which stone you select for your shower, sealing is crucial and will create a protective layer that will prevent the dirt from penetrating the stone and make it easier to clean.
Always use a high-quality sealer made for natural stone and consult a professional to select a suitable product.
Slip Rating
For wet environments like showers and bathrooms, when natural stone tiles are used for floor surfaces, we recommend selecting stone with a higher slip rating.
We do not recommend polished tiles or tiles with a P1 slip rating for floors in the bathrooms, since these are slippery when wet. These are not practical and can be dangerous to use in showers.
Does Size Matter?
For smaller areas like bathrooms, laundries and showers, selecting a particular size of tiles can influence the overall look of the space.
Smaller tiles can make the bathroom appear more spacious and laying the tiles in a Herringbone or a French pattern can add a visual aspect to the room and make the space look more inviting and welcoming.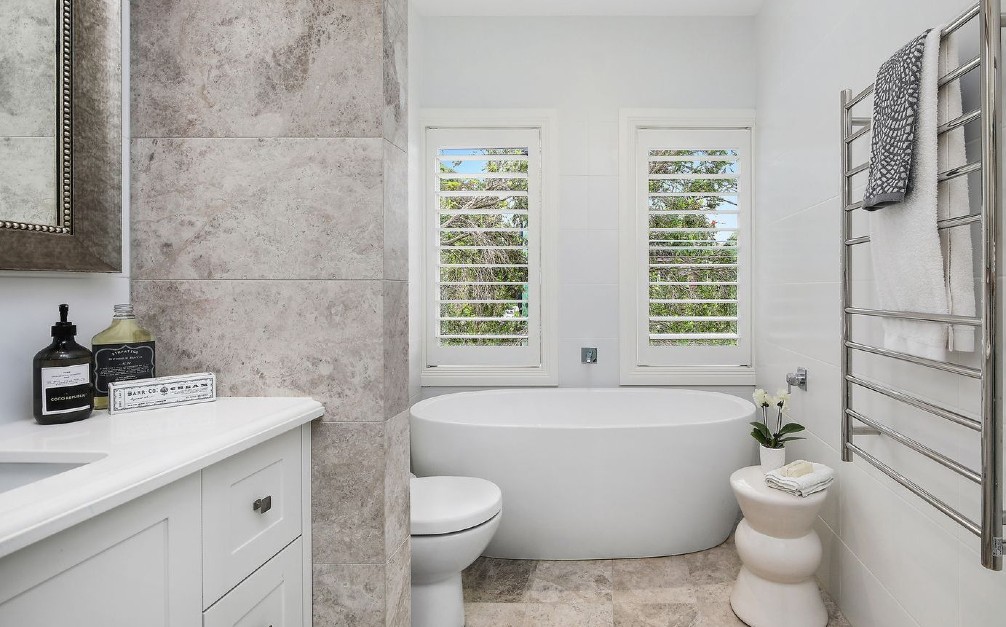 Natural stone provides timeless beauty, connection to the Earth, incredible versatility, and a wide range of design options.
As long as you seal the stone with a high-quality sealer and follow the basic maintenance guidelines, there's no reason why to shy away from using natural stone in a shower.