Their inspiration was drawn from the look of Pat Rafters house. Their vision in terms of design was flexible and evolved over time through discussions with architects. Interiors were to be open and light-filled, with plenty of space for their hobbies of table tennis, dancing, karaoke and their collection of Koi fish.
Site Challenges
The clients dream home was to be built on a moderately steep site with 4.5m fall rear to the street and 2.8m rise from street level to front door.
With the site topography and the house set back only 6.5m from the front boundary, material handling and storage were limited. This required careful planning and programming by the construction team.
The solution to the rise from street level to the front door was concealed by a staggered staircase integrated with beautiful landscaping work designed by Eco Design and installed by The Other Side Landscapes.
Our Charcoal Grey Granite was specified in the design for the front entry. In combination with the greenery, the 20 steps leading to the front doors were transformed into an inviting entrance.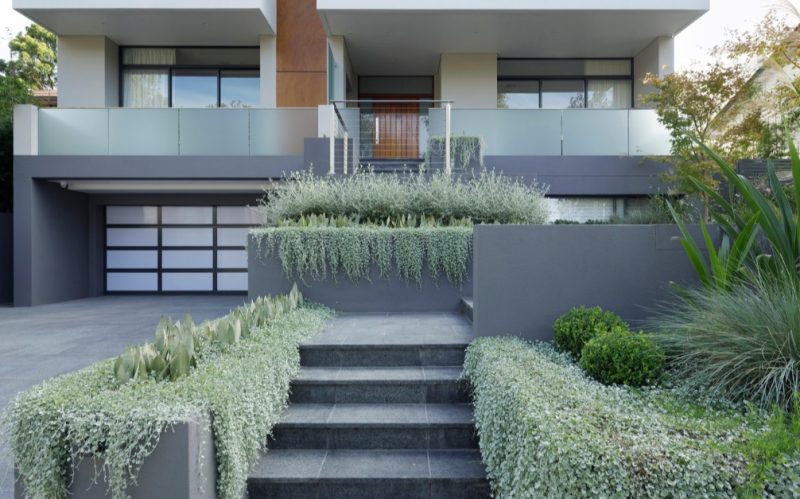 Marble Look Interiors
For the interiors, the clients chose the Marvel Pro Grey Fleury Matt Marble Look Porcelain tiles as well as Statuario Calacatta Matt White Marble Look Porcelain tiles.
The kitchen and living room showcase the variation of grey Marble look tiles. While the light-filled open plan design utilises neutral contrasting colours, the Marble porcelain tiles add an urban feel and contrast beautifully with the white kitchen design, light-coloured furnishings and black dining area.
The clients kept the Marble theme throughout the space with details such as a Marble lookalike kitchen benchtop, a Marble look living room table as well as small Marble decorative pieces, tying the whole space together.
Bathroom Minimalism
The vision brief for the bathrooms was a minimalistic yet sophisticated look. The Statuario Calacatta Matt White Marble Look Porcelain tiles were used for the main bathroom and the Ensuite floor.
Statuario Marble is considered an exclusive stone and consists of distinct striking bold grey and white veining mixed with thinner patterns. With minimalistic decorative pieces and consistent use of white colours, the bathroom radiates an elegant and sophisticated look.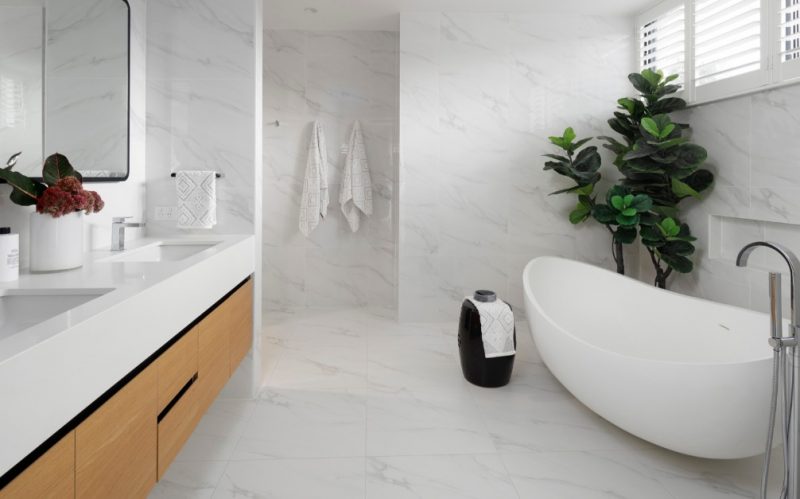 Keeping the consistency of Marble-look bathrooms, the clients chose a grey Marble variant for the walls in the Master Ensuite, Marvel Pro Grey Fleury Matt.
These tiles offer a faithful interpretation of the graphic depth of natural Marble and their grey colourway in a matt finish add a refined touch to space.
Connecting Entertaining and Living
The house showcases connecting different areas within the house by the consistency of design elements. The Marvel Pro Grey Marble look tiles have been carried through from the Master Ensuite to other living areas such as the hall with the dominant staircase, Laundry, Powder room, Garage floor, as well as Lounge room and main Living area.
The clients wanted to include the element of leisure and their hobbies within the house, making it functional but also being able to entertain family and friends.
The Lounge room is beautifully connected to the rear garden area with dining, BBQ and fishpond as a place to relax and host guests. Our Charcoal Grey Granite was specified by Eco Design for the rear garden. The grey colourway used for floors helps the spaces to flow and integrate the outdoor area with the house.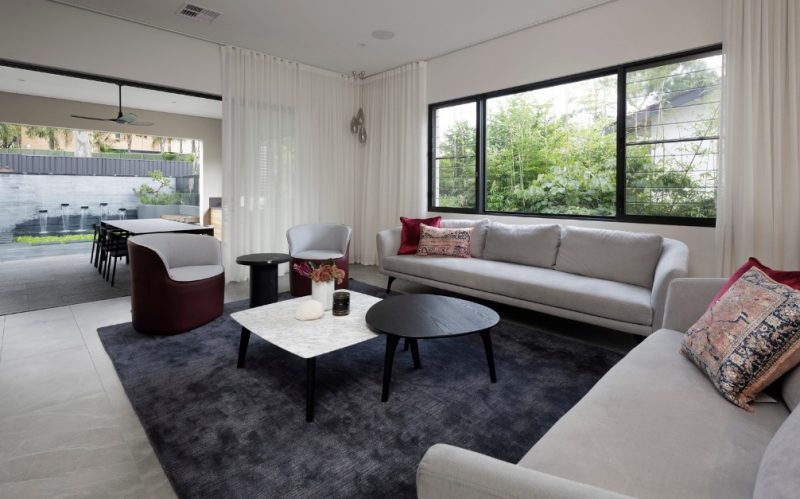 Focus on Personal Style
The style of architecture used is modern with warmth achieved through a variety of finishes including engineered timber panels on the front façade.
Interior Designer Louise Spicer, principal of 'Onefour Interiors', collaborated with the clients in choosing statement colours and finishes to create a unique and personal style that compliments the architecture. Custom designed cabinetry with select stone benchtops were constructed by Avere Joinery.
Internally the focus was to create light-filled spaces with an open plan modern layout. Interior details include a large central stair void with a steel spine staircase with skylights over. Recessed shadowline cornice, architrave and skirting details required exacting construction.
The landscape was designed by Eco Design, with the brief to complement the style of the house and to incorporate a Koi Pond as a feature of the back garden.
The Basement Level is a games and activity centre with the Garage being fitted out so it can double as a gym and party zone.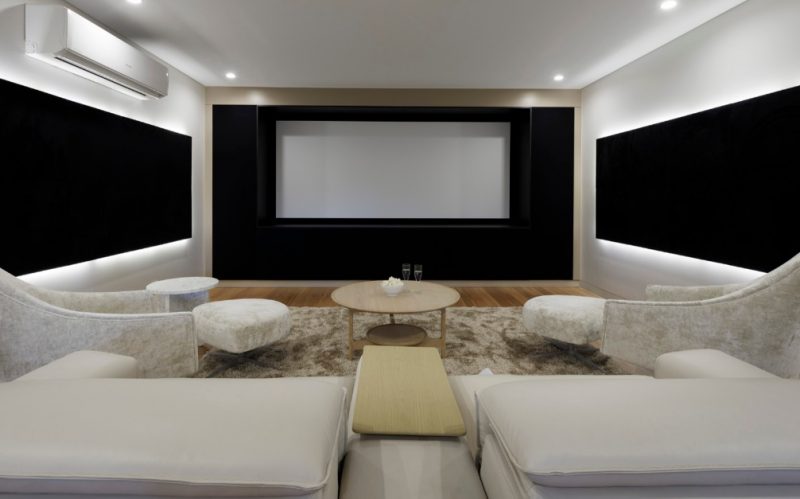 About Chateau Architects + Builders
Chateau Architects + Builders was established over 50 years ago in 1970 by Malcolm McDonald to build quality custom design homes and provide an alternative to project home builders. The company now run by his sons Roderick (Director of Architecture) and Alex (Director of Construction) have a reputation for delivering uncompromising quality homes.
"Every site and client is unique so therefore so too must be the homes we design and build for them. Homes that will last and most importantly, protect and preserve that which is a family's most precious asset. Ours are homes that enhance the lives of our clients and their families for years to come. We pride ourselves on creating homes that have become a benchmark for quality in Sydney for over 50 years," says Rod.
Continuing their father's legacy of building quality custom designed homes, 2020 brought further recognition with Chateau winning two prestigious MBA Awards. This house was also nominated as a finalist for the following awards:
2020 MBA NSW Excellence in Housing Awards: Design & Construct – Houses $2 million to $3 million – Finalist
2020 HIA NSW Housing Awards: Custom Built Home: $2 million to $4 million – Finalist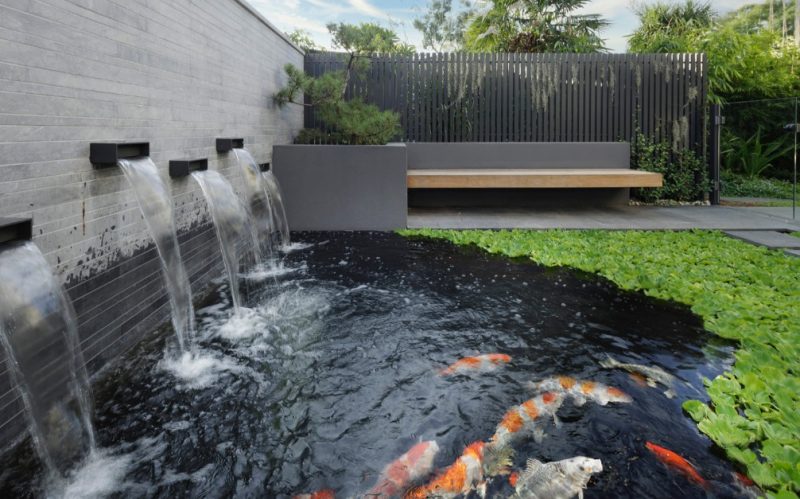 EXPERT TIP for homeowners looking to build a home like this
Roderick McDonald, Director of Architecture, had pointed out the benefits of having a single point of contact and one company accountable for the whole project which provides peace of mind for clients who want a quality custom designed and built home.
Chateau's team, including the architect, quantity surveyors and builders, work through various design options until a plan is developed that matches both the client's brief and budget.
Sareen Stone works in collaboration with Chateau Architects + Builders to assist clients in selecting hard surface finishes in line with their design vision.
Photography: Alex Nikulin of Reflex Digital
Interior design: Louise Spicer of Onefour Interiors