Natural stone pavers and pool coping can enhance your pool design, and also provide functional benefits, such as a safer environment around the pool. 
There are a variety of natural stone products with a suitable finish that can be used outdoors and around pools, including Limestone, Travertine, Granite, Sandstone, or porcelain. 
Select from our pool copings, skimmer lids, glass mosaics or Wall Cladding to complete your outdoor oasis.
Limestone, with its solid neutral colours and comfortable texture, is a popular choice in the coastal areas of Australia. Using limestone adds warmth and a touch of elegance to your pool design. 
This lightly coloured Limestone echoes the look of the sand at the beach with an elegant but relaxed atmosphere. Tavira Alfresco Limestone remains soft underfoot, adding a comfortable vibe to your outdoor area. 
This project in collaboration with Gardner Design used the Tavira Limestone for the whole pool area, including the outdoor dining, providing a luxurious and calming touch to the space.
The Cathedral Limestone looks stunning in the outdoor area and around the pools. It has a unique tumbled finish that is reminiscent of European cathedral floors and provides a timeless look.
The large-format tiles make the design look seamless and suited to both traditional as well as modern aesthetics.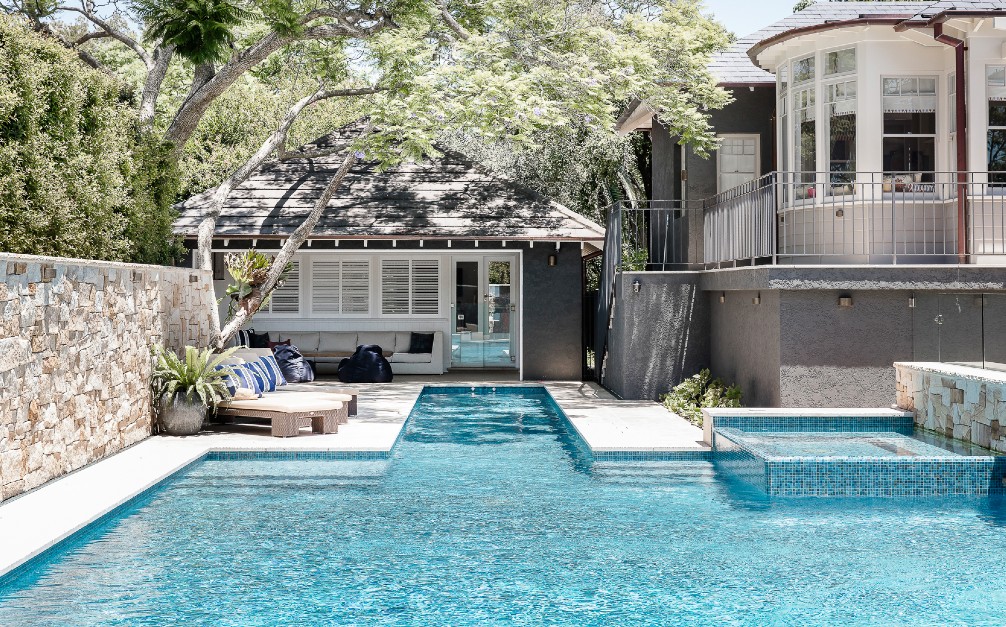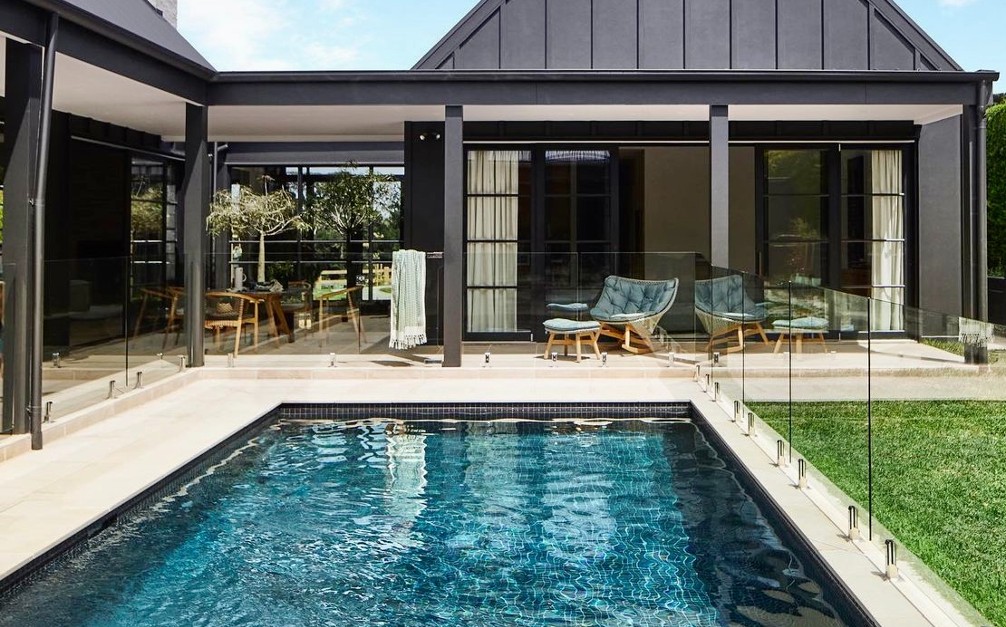 This elegant cream-coloured Limestone provides a decadent feel to your pool design and works great in combination with a contemporary aesthetic. It can be combined with the honed tiles to create a seamless transition from inside to outside. 
In this project at Macmasters Beach, Balanced Building used the Crema Vialle for the area around the pool, the cabana as well as the poolside living room. Balanced Building won the MBA awards 2021 with the design, in the concrete pool category.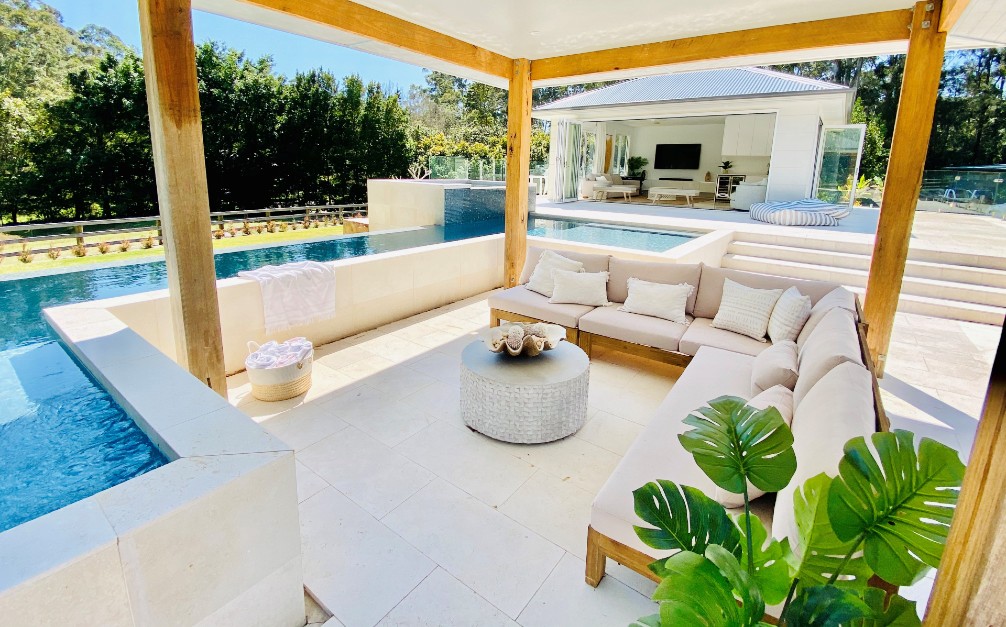 This light grey Limestone provides trending colour notes, adds a modern look and can bring lightness to your pool area. It works well with the green colours of the surrounding landscape and the blue colours of the pool.
It can be paired with the Luna Chiaro tiles in a honed finish for a seamless design and with our Clairvaiux Wall Cladding for a light-coloured aesthetic. Project image in collaboration with RNB Property Group, Maxine Scalabrino- Fine Architects and Green Coast Landscapes.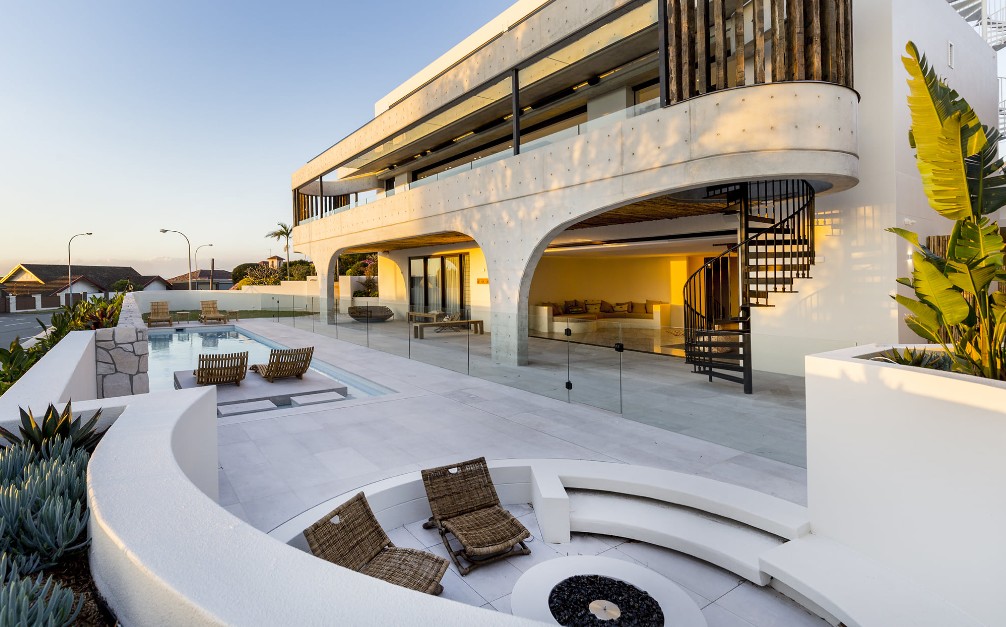 Our bestselling Manhattan Limestone, which is reminiscent of Marble with its beautiful variation and the appearance of grey and white clouds, comes in an alfresco finish suited to your pool area, providing an eye-catching sophisticated look.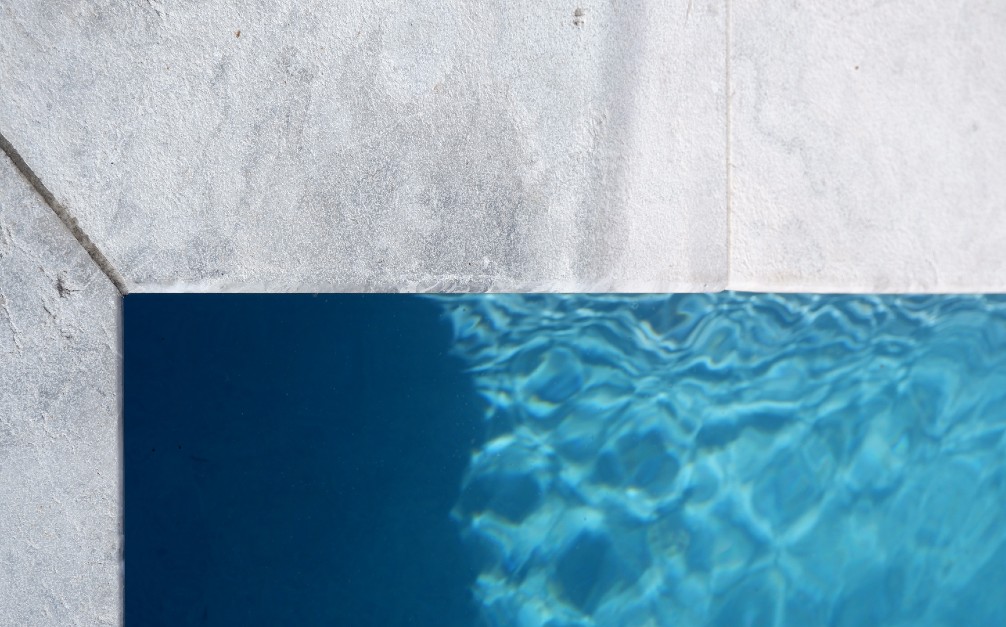 Travertine is a classic choice for pools, popular for its natural beige colours, beautiful natural variation and organic look. Choose from our range of tumbled Travertine to find a look best suited to your design. 
Our First Choice Classic Travertine is expertly-sourced and comes with minimal holes or inclusions. It is our most popular Travertine for residential projects because of the versatility of its neutral beige colours that fits a variety of designs. 
Authentic Landscapes selected this Travertine and created a subtropical vibe around the pool in this Marrickville project. In collaboration with Crystal Pools.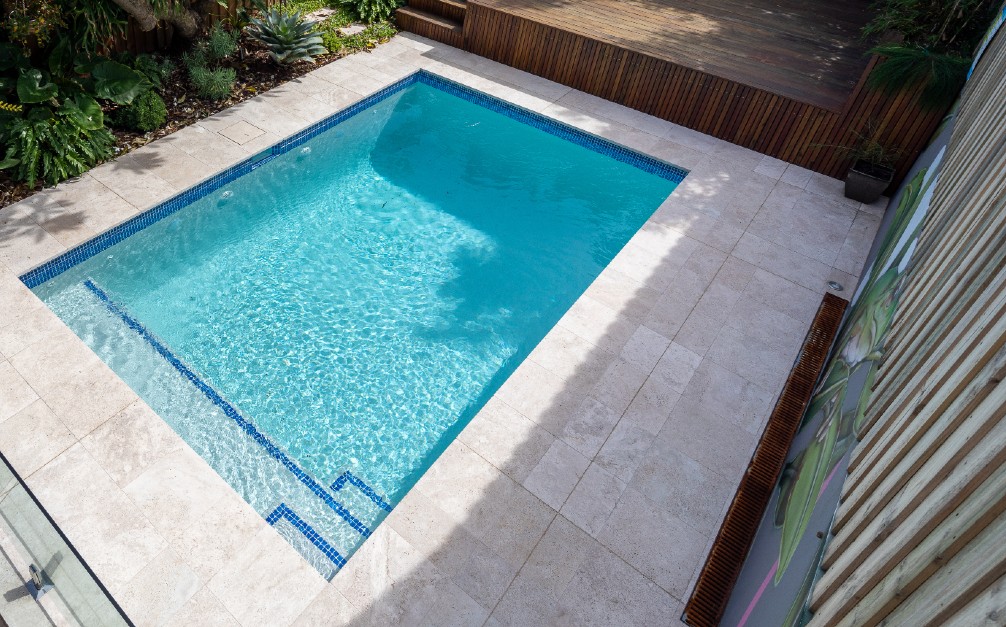 Project Image in collaboration with Landart Landscapes.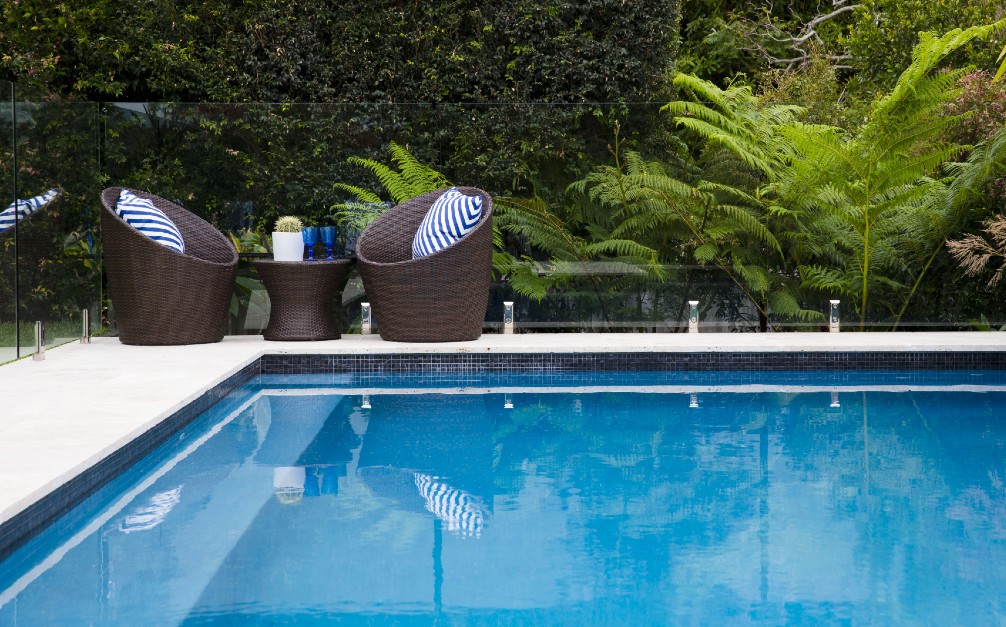 This mid-tone grey Travertine has bolder colours, is suited to sophisticated designs and can add a dominant backdrop to your space. The brown and dark ash tones are interwoven into the stone showcasing the natural variation and can add an interesting touch to your pool. Project image: Freestyle Pools.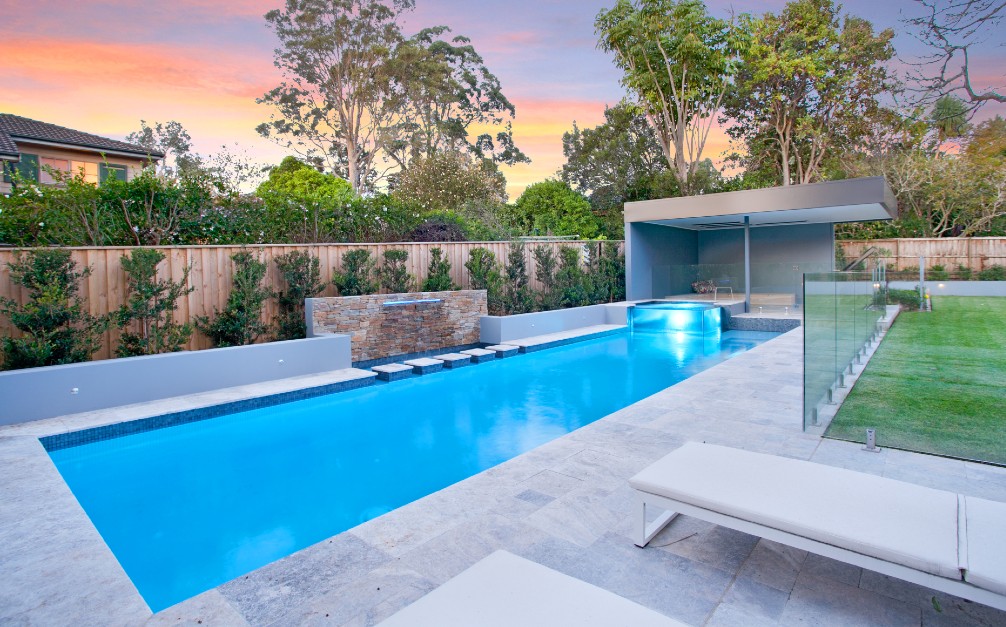 In this project with Mallinger Constructions and Crystal Pools, our Silver Ash Travertine was used for the alfresco as well as indoor areas, creating a fresh contemporary design and completely transforming the space.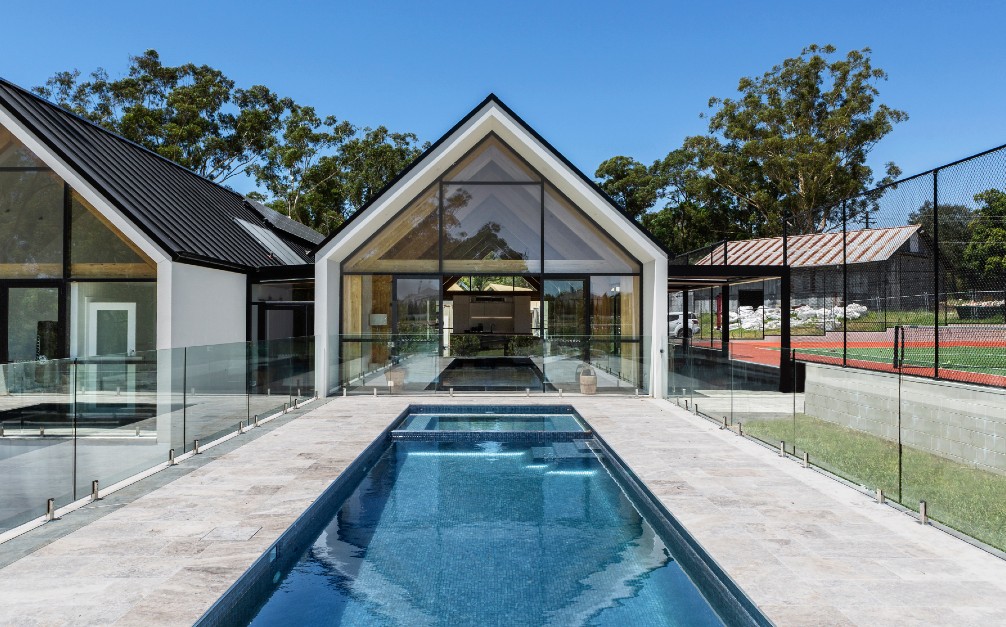 Warmer and richer in colour than the Classic Travertine, the Noce adds depth and warmth to any design. Project in collaboration with Freestyle Pools.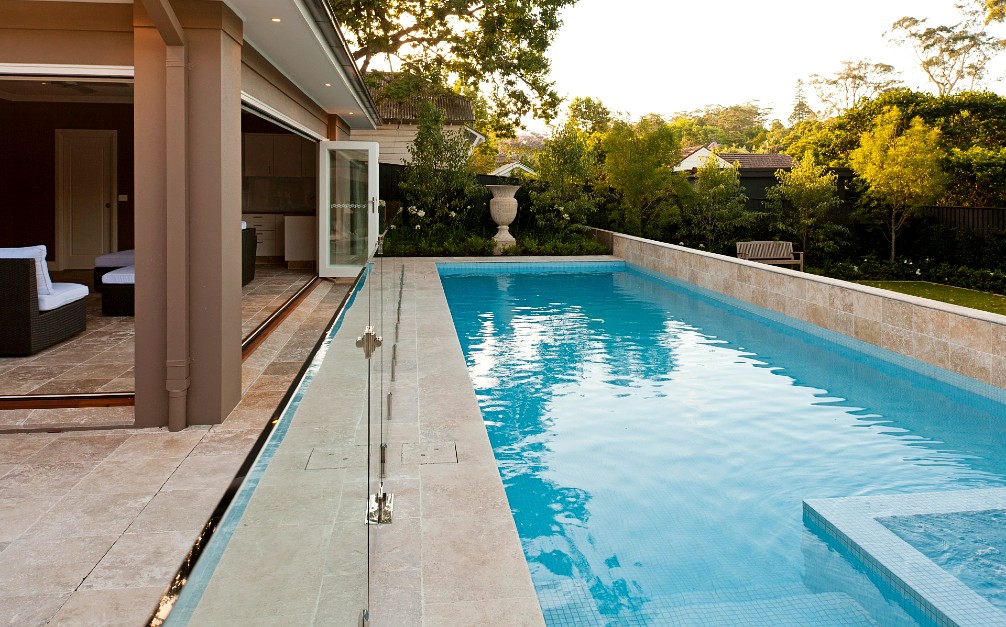 Our Himalayan Sandstone comes in two district finishes that both offer a warm yet distinguished look that will bring beach vibes to your pool area.
The Himalayan Sandstone in an alfresco finish comes with great colour consistency and is soft underfoot while providing a suitable antislip finish for outdoor spaces. 
On the other hand, the Himalayan Sandstone in a natural finish offers a rich variation of colour and texture with tones ranging from dark creams to light while still maintaining its antislip properties. Project image: Outdoor Escape Landscaping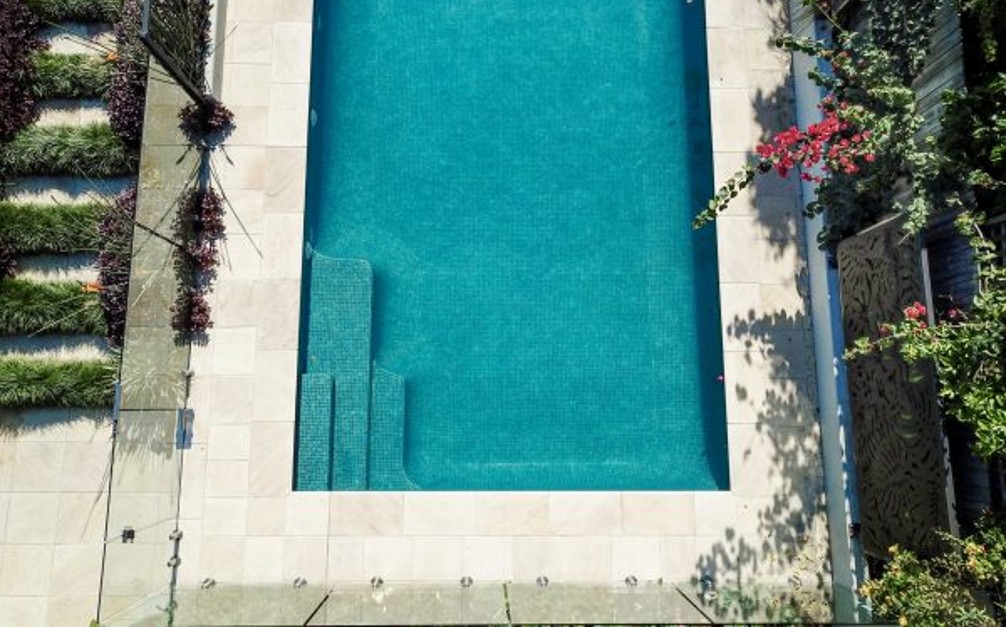 While commonly associated with commercial projects and used in high-traffic areas because of its high resistance, durable composition and easy maintenance, in recent years, Granite has become a popular choice for pools, especially for bold designs. 
This dark grey Granite in a flamed finish offers a bold colourway that offers versatility and extreme durability and can provide an interesting feature to your pool design.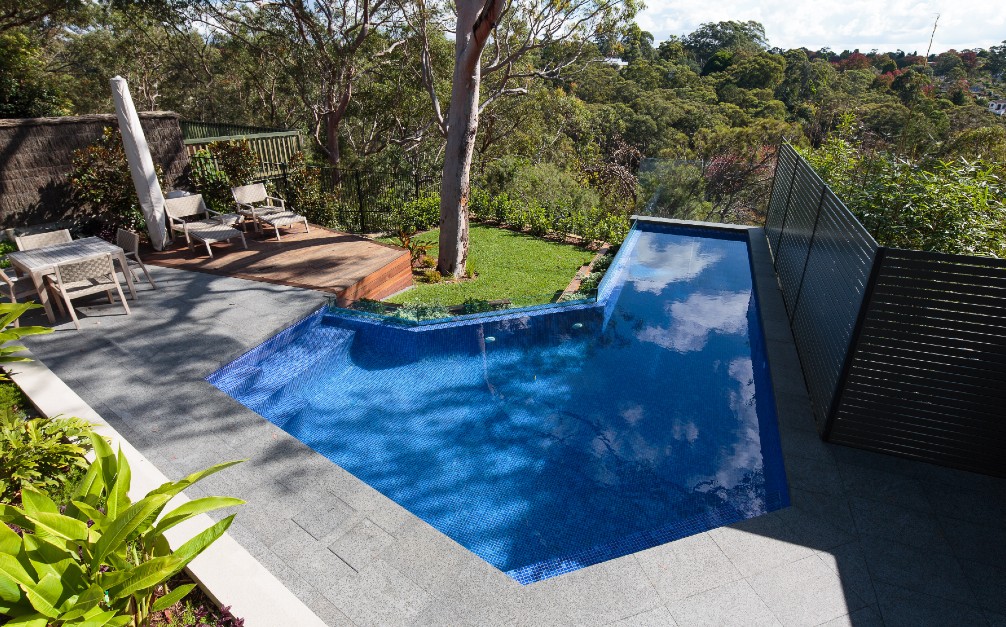 It has been used for the luxury Spicers Sangoma Retreat in the Blue Mountains just outside Sydney that has been recognized by the Conde Nast Traveler Readers' Choice Awards.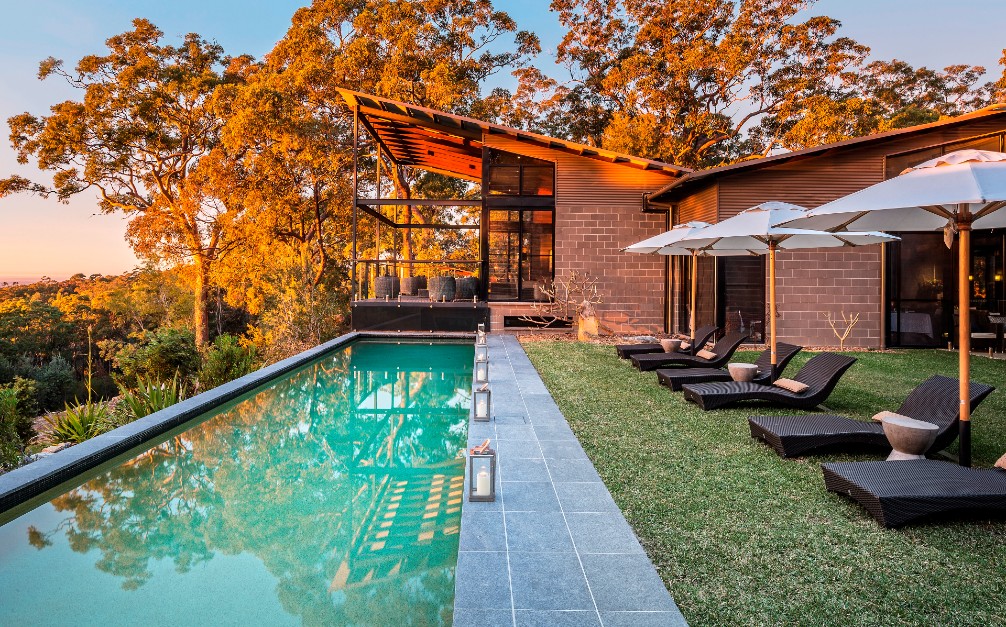 The Silhouette Granite is our most in-demand Granite, popular with renowned landscape architects and designers. It has been used for the iconic Cove House in collaboration with Secret Gardens and in the Sofia Rose House with Noho Architecture. 
Its eye-catching light and mid-grey colouring with less of a speckle typical of Granite can complement the white and green colours of the pool design, bringing a cooling quality while providing easy maintenance.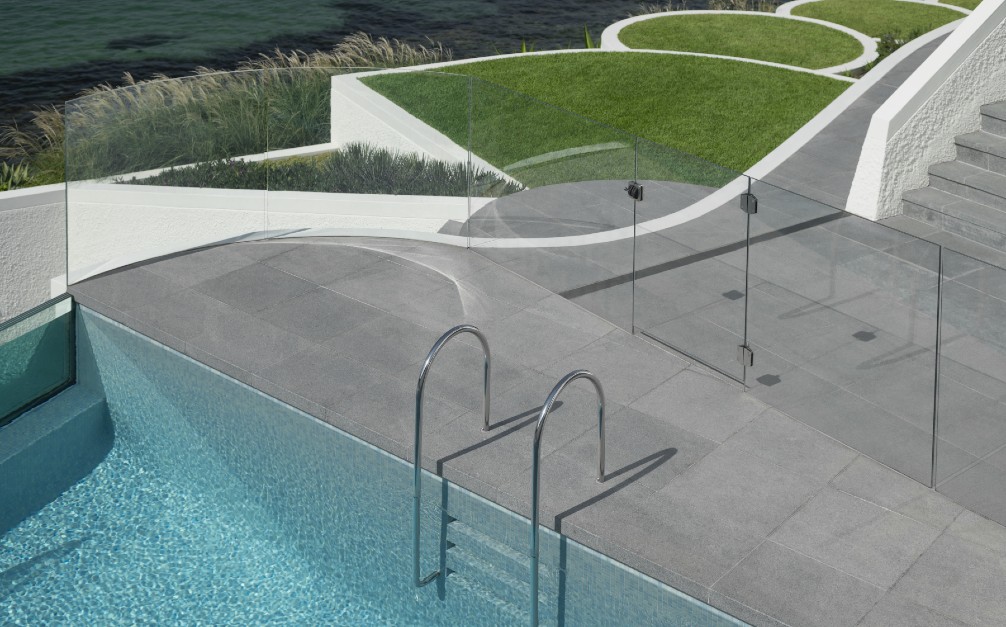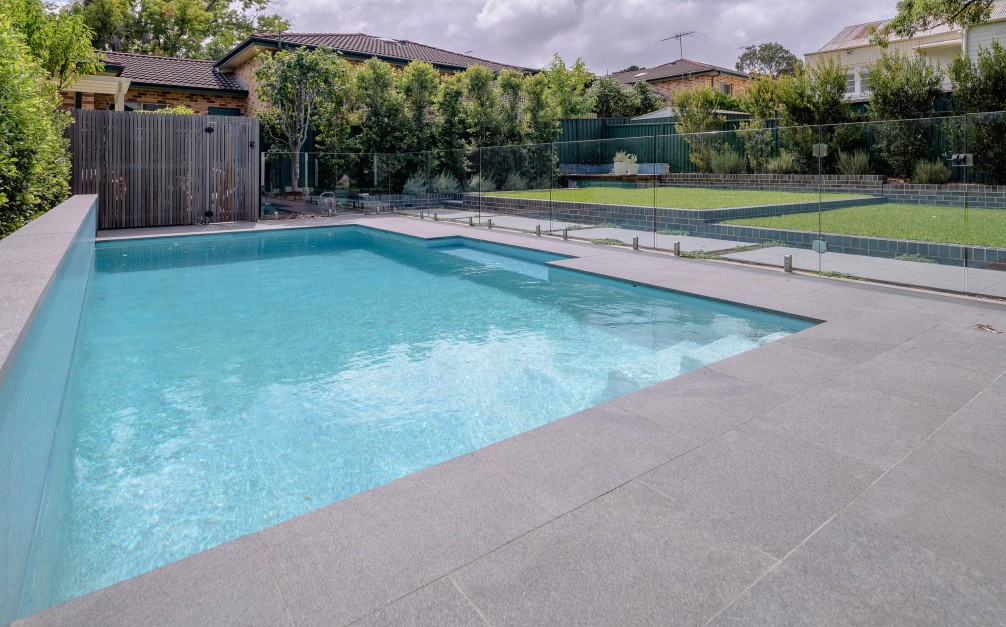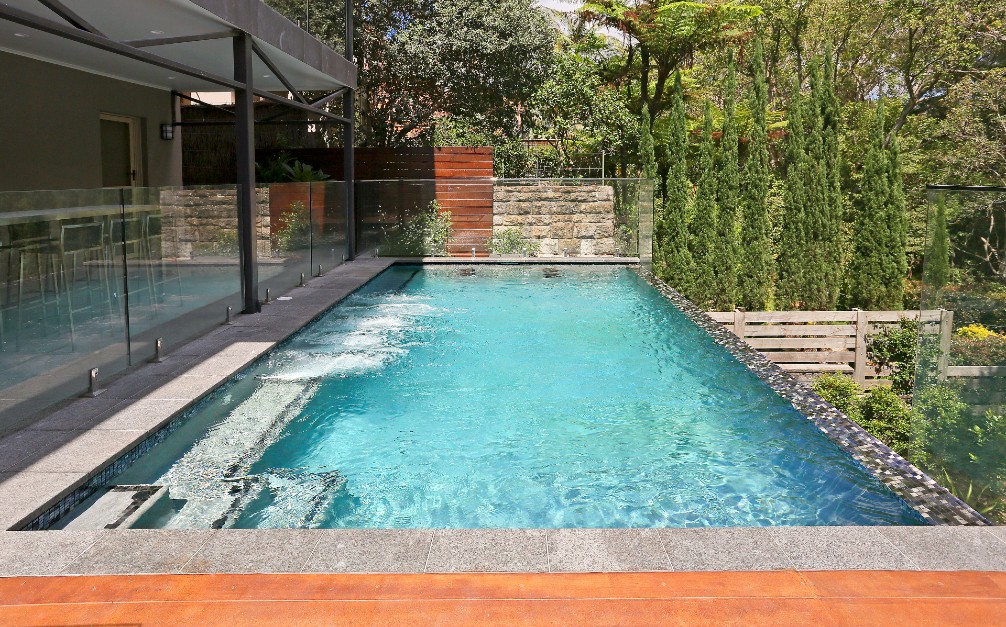 Project image: TDDP Architects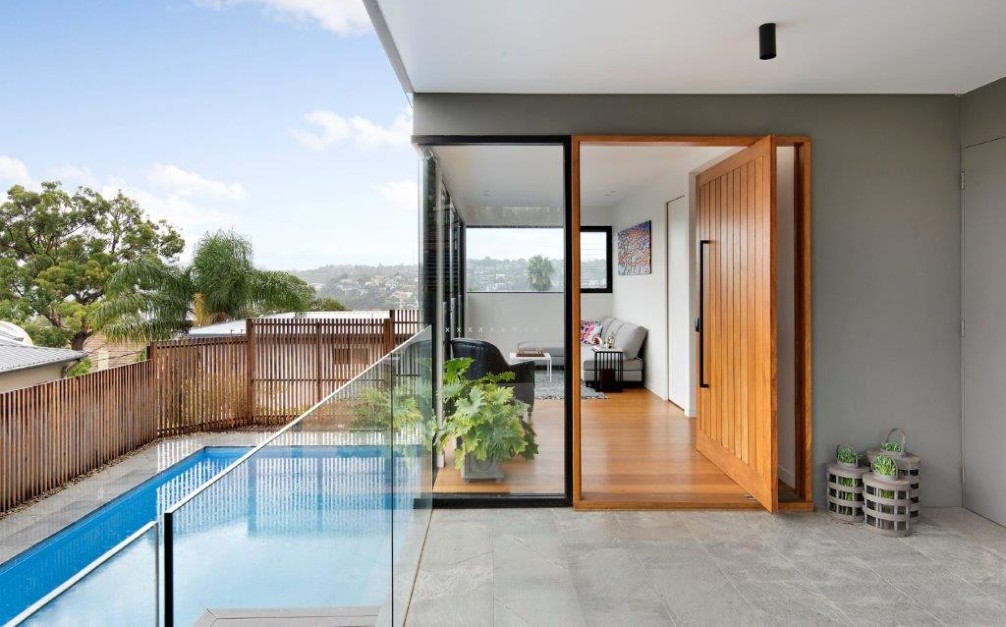 Our Stone Wall Cladding can provide a stunning finish for your feature wall or transform your area into a unique oasis with a water feature. In collaboration with Crystal Pools.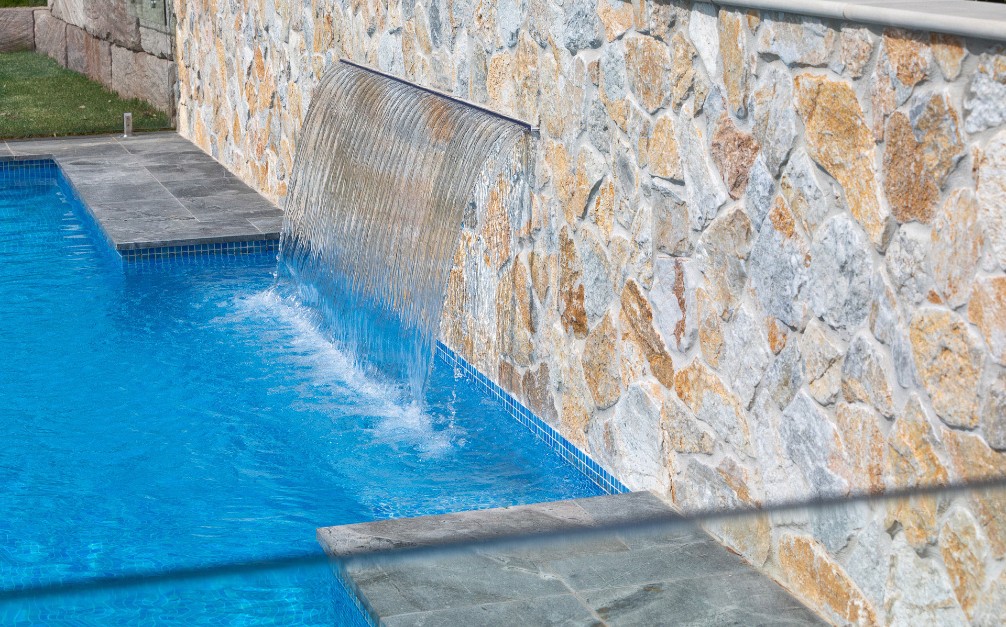 Sareen Stone's outdoor natural stone range can be integrated into the skimmer lid kit allowing you to achieve a seamless and flush pool surround, without the unsightly plastic skimmer lid. The kit includes a stainless steel tray, paving matched stone insert and a stainless steel key.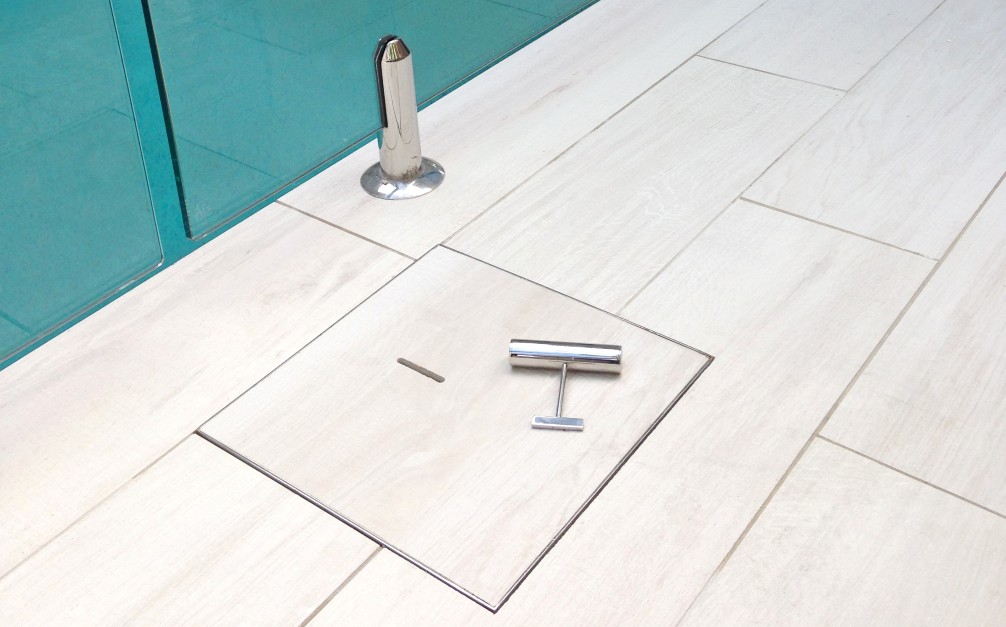 Create a unique and exclusive design for your pool and choose from a variety of colours, shapes and sizes within our range of high-quality glass mosaic tiles that are suitable for both waterlines and fully tiled pools.
The waterline tiles are set directly under the pool coping and provide the benefits of easy cleaning as well as avoiding the formation of the bath-ring effect.
If your budget allows for the fully tiled pool, the glass mosaics can protect its longevity, reduce the pool maintenance costs and make it look more attractive and durable. In collaboration with Crystal Pools.