Natural stone is synonymous of sophistication and charm. Whether your interior design leans toward the classic of the contemporary, the addition of natural stone effortlessly elevates the visual appeal of the room. It transforms an ordinary fireplace into an extraordinary centrepiece that exudes luxury.
One of the most compelling reasons to choose Natural Stone Wall Cladding for your fireplace is its remarkable durability. It can survive the extreme temperatures generated by a fire without showing signs of wear and tear. It won't warp, crack, or discolour over time, ensuring that your fireplace maintains its beauty for generations to come.
Natural stone has exceptional heat-retaining properties. When the fire is on, the stone absorbs the heat and then radiates it gently into the room. This provides a steady and efficient source of warmth even after the fire has died down.
Furthermore, Natural Stone is not only beautiful and durable; it also stands as a sustainable choice. Sourced directly from the earth, it requires minimal processing, reducing its environmental footprint. This eco-friendly aspect aligns perfectly with the growing demand for sustainable building materials.
Incorporating Natural Stone Wall Cladding into your fireplace design is a decision that blends aesthetics, practicality, durability, and a touch of luxury. It is an investment that not only enhances the visual appeal of your space but also stands the test of time. Moreover, its sustainability credentials make it a choice that aligns with a more environmentally conscious lifestyle.
Natural Stone Wall Cladding for your fireplace provides a visually striking and customisable design element that can enhance and transform your living space. It adds texture, depth, and a unique focal point to the room. Additionally, it can provide protection, insulation, and a durable backdrop for your fireplace, making it both and aesthetic and functional choice.
In this Seaforth project with Chateau Architects + Builders and Crystal Pools, the design combined our Summit Wall Cladding around the fireplace both inside and outside, as well as Lavarosa Limestone tiles in the alfresco area. 
The use of Summit Wall Cladding displays timeless elegance and warmth. Its natural beauty and excellent heat retention make it a stunning and practical choice, adding a touch of sophistication.
Luna Chiaro Limestone ignites a harmonious blend of sophistication and coziness. Its exquisite texture and subtle colour variations create a captivating backdrop for any fireplace, while its exceptional heat-retaining properties ensure a warm and inviting atmosphere. The contemporary 600x300mm format is easy to install and can be used for a variety of design schemes.   
The contemporary 600x300mm format is easy to install and can be used for a variety of design schemes.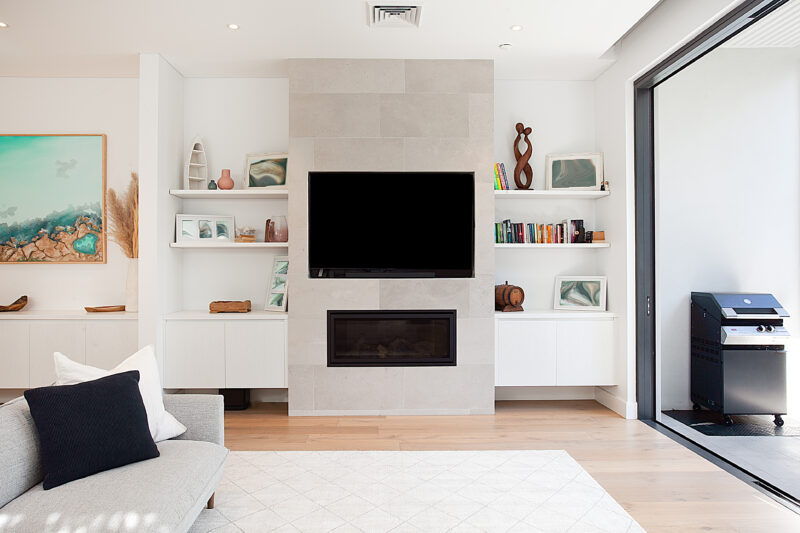 Cotswold Wall Cladding in fireplaces sets your space ablaze with rustic charm. The distinct textures and earthy hues of Cotswold create a captivating and cozy ambiance. Random-sized pieces of durable Granite of Cotswold Wall Cladding can provide an earthy and modern visual. 
Evoking a European look and old-world charm, especially stunning as a dry-stacked wall. It looks natural, and solid and provides a cozy atmosphere.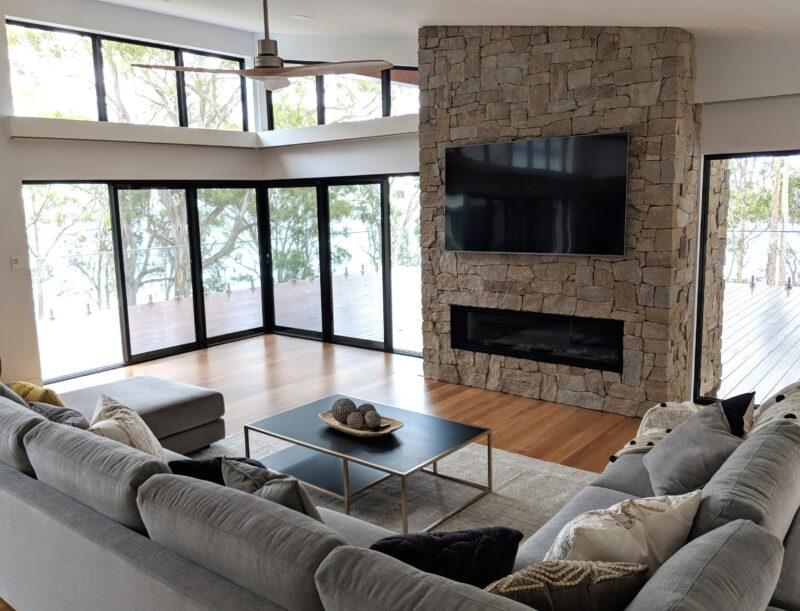 Marble is an elegant natural stone that has been prized in architecture for centuries and was traditionally regarded as a symbol of culture and refined taste. 
Using Marble tiles around your fireplace, with its characteristic veining, creates a sophisticated and graceful look. With the variety of colours, the Marble will work with any modern interior design brief, breathing a luxurious atmosphere into your room.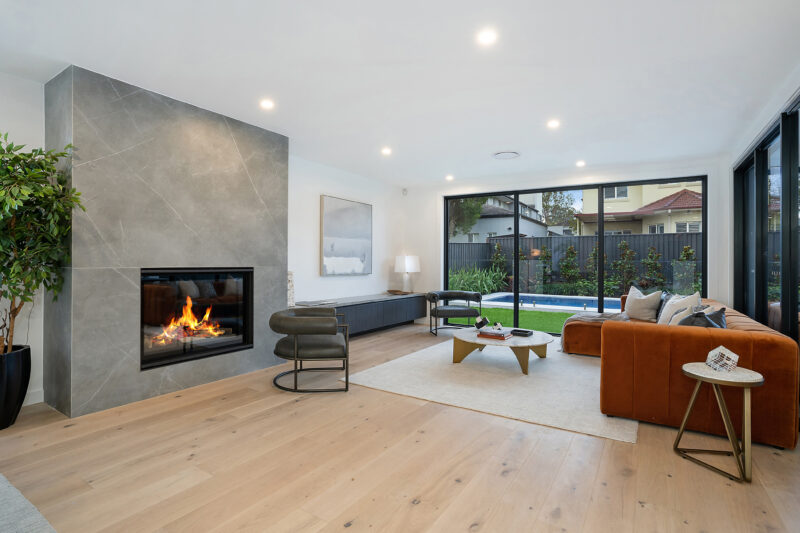 Pietra Grey Marble in fireplaces makes a statement of refined elegance. With its deep grey tones and striking white veining, it exudes a sense of modern sophistication. When used in Natural Stone Wall Cladding for fireplaces, Pietra Grey Marble transforms the hearth into a focal point that blends contemporary aesthetics with the timeless beauty of natural stone.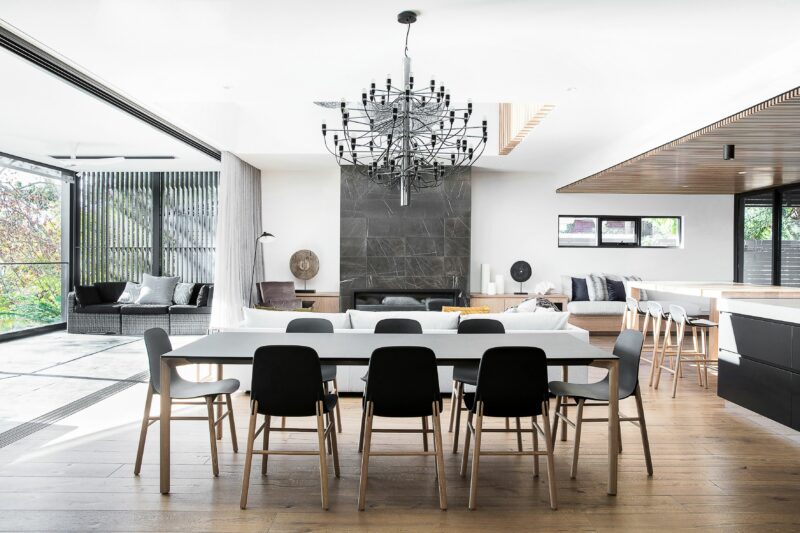 Hotham Wall Cladding in fireplaces encapsulates the essence of urban sophistication. Its sleek light to mid-grey tones, reminiscent of a metropolitan skyline, create a striking and modern focal point in any room.
When paired with the warm glow of a fireplace, Hotham Wall Cladding transforms your living space into a contemporary haven, where the charm of the city meets the comfort of home.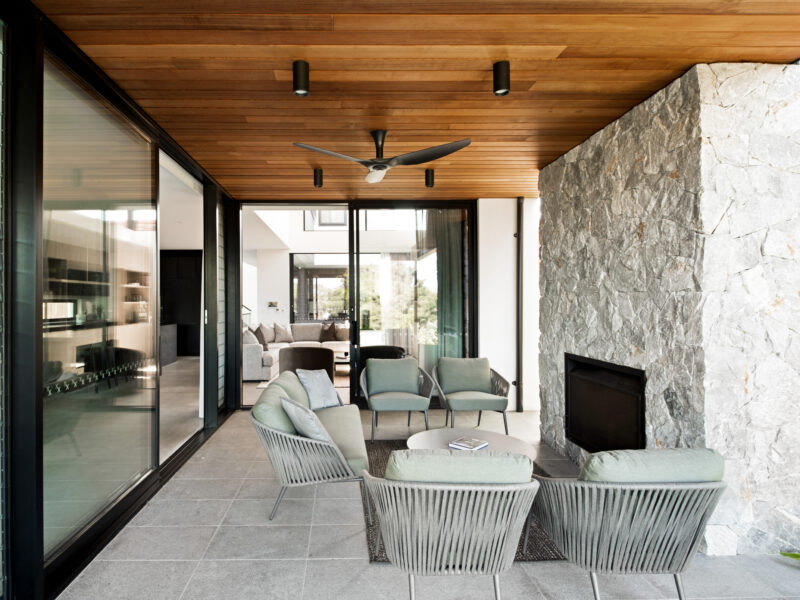 Josh Hill Photography