2023 Driveway Style Guide using Premium Cobblestones
A way to connect indoor-outdoor design is by integrating outdoor living spaces, such as patios, pathways, decks, and outdoor kitchens, into the overall design of the home. This can make the transition between indoor and outdoor spaces feel more seamless and can make outdoor spaces feel like an extension of the indoor living areas.
When choosing natural stone for a driveway, you will need to remember that the stone needs to be versatile enough to:
Provide a hard surface for vehicles to drive on and park
Enhance the aesthetic of the property
Improve access to a home or building
Reduce erosion and sediment runoff
Ultimately, the key is to choose a natural stone that will enhance the charm of your home while being functional and long-lasting.
Cobblestones for the Classic Driveway
Cobblestones are a natural building material that is actually more durable than both concrete and brick pavers.
The first recorded cobblestone roads appeared in Rome during the third century. The Roman road system was one of the most advanced of its time, and it was built to withstand the heavy use of the Roman army and the transportation of goods and people throughout the empire.
Nowadays, cobblestone streets are primarily used as decorative elements in historic districts, or in driveways, patios, and sidewalks of luxury homes, giving a touch of elegance and charm to the property.
Via Margutta Rome
Via Margutta is a charming street located in Rome, in the heart of the historical center, just a short walk away from Piazza del Popolo, the Spanish Steps and Piazza di Spagna.
Going back 2000 years, Via Margutta is narrow, paved with cobblestones and popular for its picturesque setting and traditional old-world architecture.
Nowadays Via Margutta is best known for the 1953 movie, Roman Holiday starring Audrey Hepburn and Gregory Peck.
Mostly residential, lined with ivy vines and ochre stucco, cobblestones and window boxes, art galleries and artists' studios, Via Margutta is one of the most beautiful streets anywhere.
Just as Roman Holiday remains a classic, so do cobblestones.
To create your own Via Margutta, Sareen Stone recommends using our Charcoal Grey Flamed Cobblestone, paired with a Negroni, Campari or Prosecco.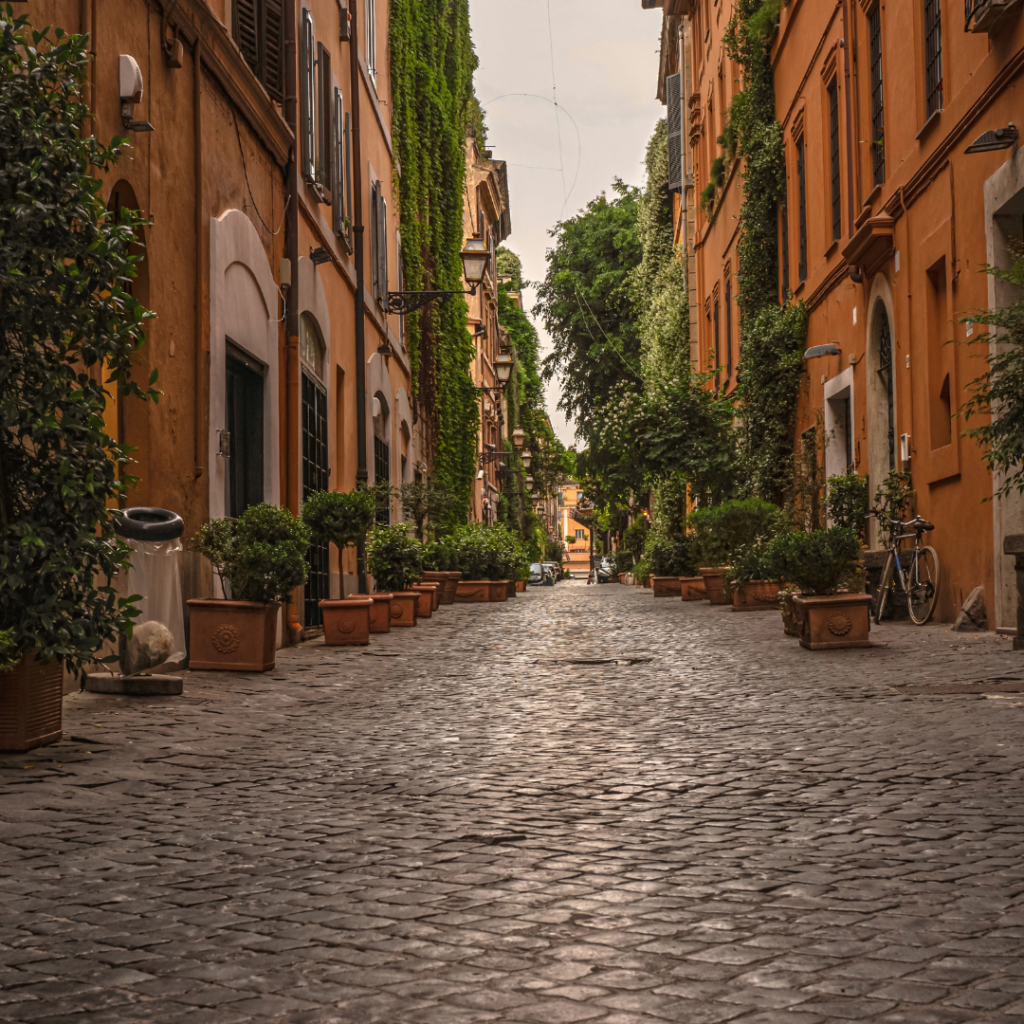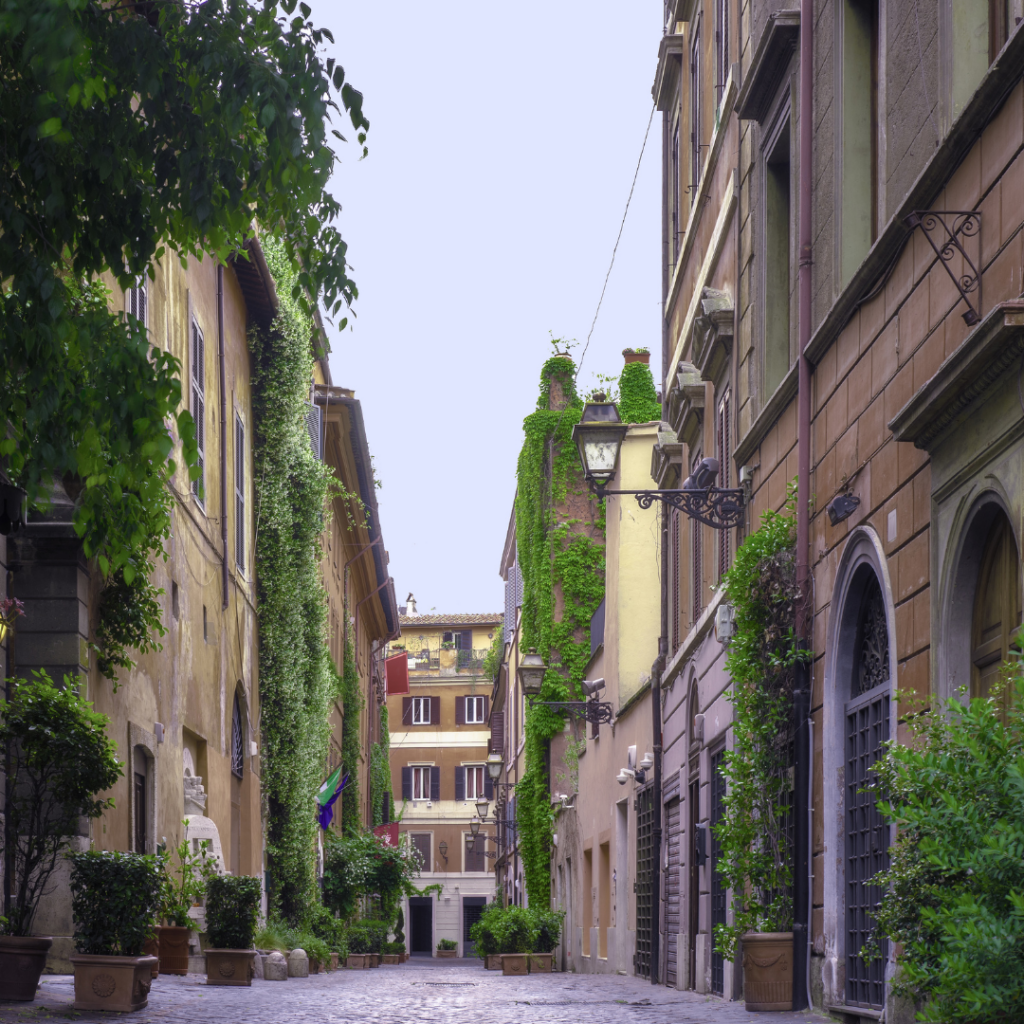 Custom Order Cobblestones for Guestlands Italia in Sydney
Guestlands Italia is a replica Italian village in the heart of Sydney, complete with belltower, piazza and cobblestone street. To create the quintessential Italian village ambience, Sareen Stone provided two cobblestone products from our premium custom stone range.
The charming cobblestone street seen below, was created with Sareen Stone's Silhouette Grey Granite Cobblestones, tumbled with a natural finish and in individual pieces.
To incorporate the essence of Italy into Guestlands, custom ordered fanned Charcoal Granite Cobblestones with a flamed top and sawn bottom were used outside the stables. (second image below)
Together the cobblestones add authentic charm as well as being low maintenance and hard wearing, best enjoyed with a fine glass of red wine.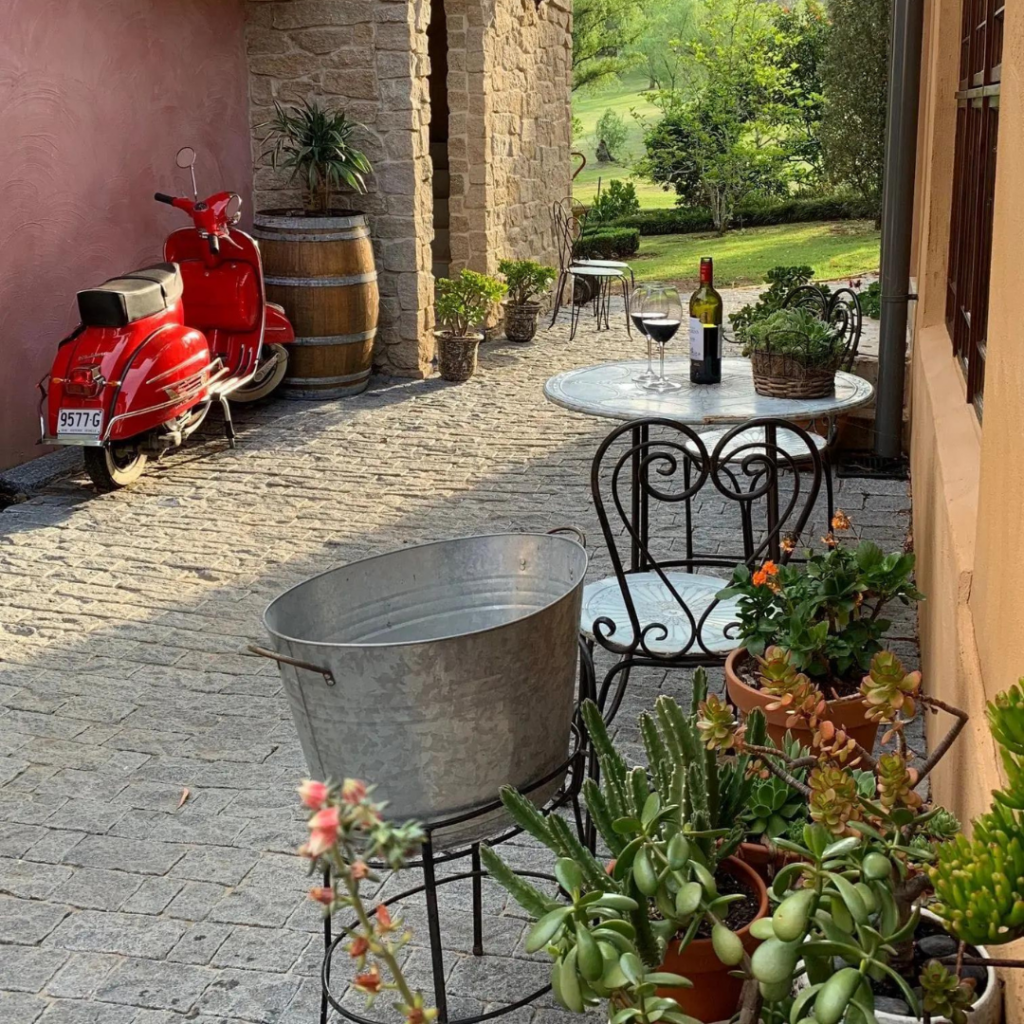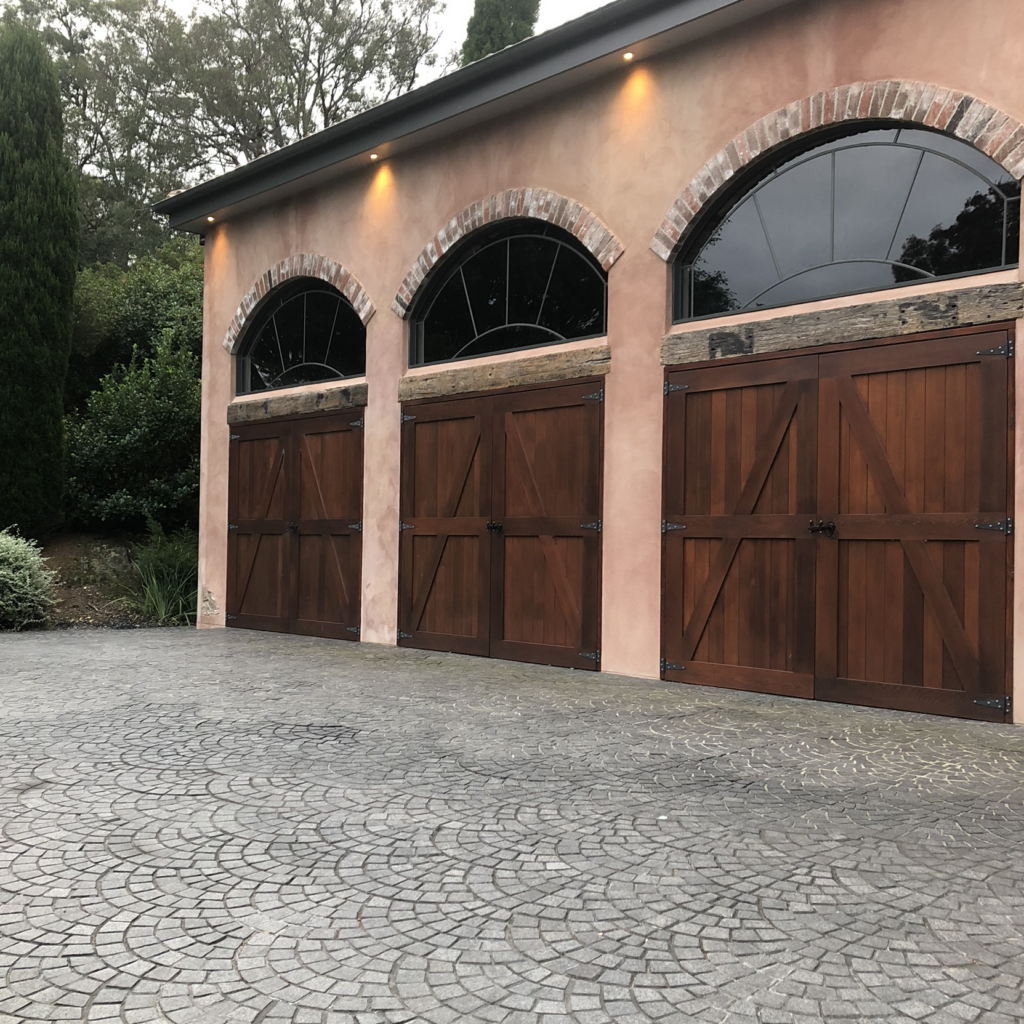 Crazy Paving for the Mid-Century Design
Crazy Paving, originating in Ancient Rome, is when stones of irregular size and shape are laid in a haphazard manner to create paving that is visually appealing.
Having gained popularity in the 1970's, Crazy Paving is now considered as a means to recycle paving materials and create a unique feature in residential and commercial spaces.
The stones are typically laid in a pattern that is random or seemingly haphazard, rather than in a more formal, ordered arrangement. In the last few years, we've seen Crazy Paving used to create paths, patios, or other outdoor surfaces in gardens and other driveways, specifically in Mid-Century design.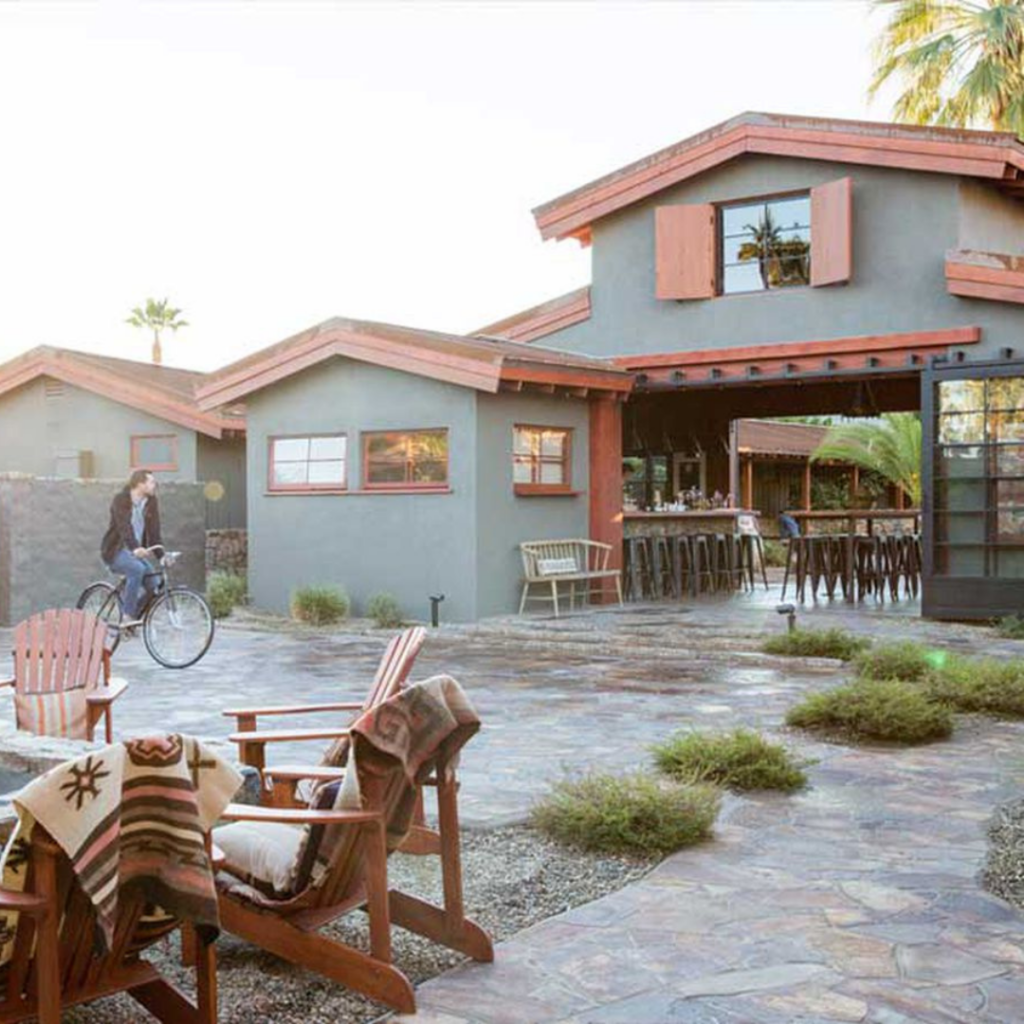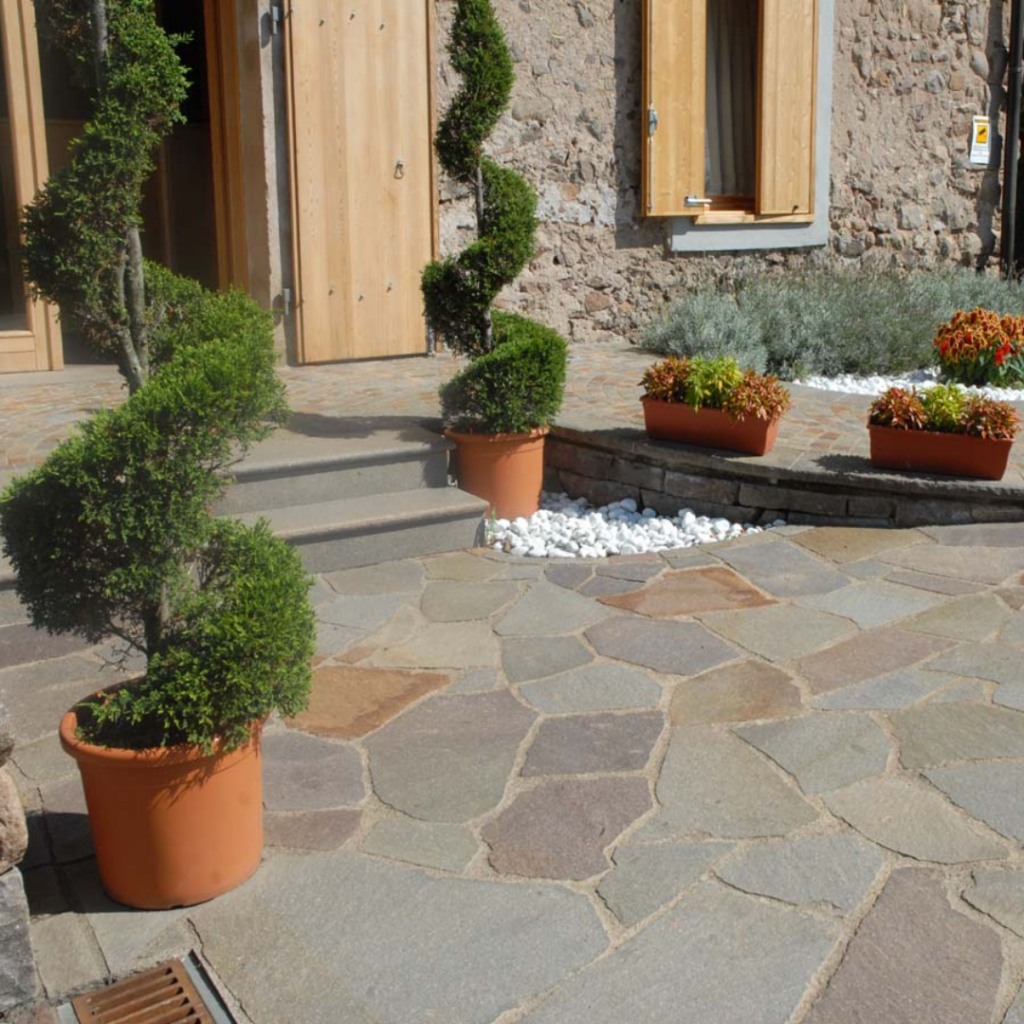 Elements of Mid-Century Design
The mid-century modern home may be rooted in the post-war era of the twentieth century, but in the twenty-first century they stand the test of time and remain a design inspiration for Australian homeowners.
Elements of mid-century modern interior design include clean lines, muted tones, a combination of natural and manmade materials, seamless connection between the indoor to outdoors, and graphic organic shapes. The simplicity of mid-century design lends itself to showcasing the colours and texture found in Crazy Paving.
Crazy Paving Meets Mid-Century Design
Fallingwater, architect Frank Lloyd Wright's mid-century masterpiece, uses larger Crazy Paving which was referred to as flagstone flooring at the time. The use of the porphyry coloured stone connects the indoors seamlessly to the changing nature of the environment and seasons.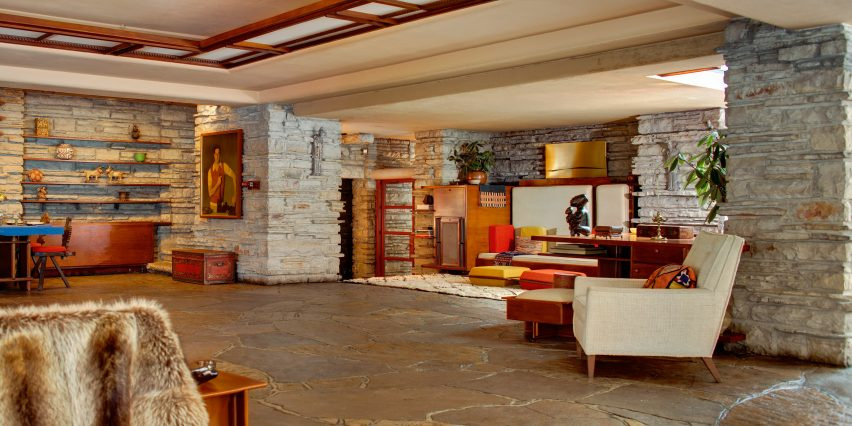 The irregular shapes of the stones make a surface more slip-resistant, making Crazy Paving a practical choice for areas that receive a lot of foot traffic.
Sareen Stone's Crazy Paving is made from Porphyry stone which is similar in colour to the flagstone in Fallingwater. Porphyry stone is desirable for their durability, extreme resistance to pressure and chemical attack, non-slip properties and colour variety, and best paired with a hand-crafted cocktail.
Sareen Stone Custom Stone for Crazy Paving
Additionally to our in-house Crazy Paving stone, we also source high-quality natural stone from around the world to be turned into unique and individually cut pieces for custom design.
Filetti for the One-of-a-Kind Driveway
Filetti is Italian for fillet, and as the name suggests, the stone uses long, thin pieces of porphyry to create visual interest and textural relief as an alternative to the traditional cobblestone driveway.
As Filetti is a natural quarried product, every piece is unique and carries the markings of its formation history. No two pieces will be the same and that is the beauty of natural stone. Variation is intrinsic in natural stone and ensures that every installation is unique.
With their ability to endure heavy loads, the Filetti stone provides an alternative to the more conventional cobblestones. The stone is strong because of the tight format they are laid in.
Rich from Quercus Gardens loves working with Filetti due to its versatility and natural organic look. He also loves how the stone can be laid on any side, and work with varying levels and best paired with Amaretto.
Filetti Driveway in Fairlight
One of the standout projects of 2022 was the Filetti driveway in Fairlight when the area was transformed from an old, cracked concrete to a beautiful Italian Villa style driveway.
The client was initially seeking a more traditional cobblestone for the driveway. Once we learned the specifics of the situation, we recommended the Italian Filetti and now they're thrilled with their unique driveway.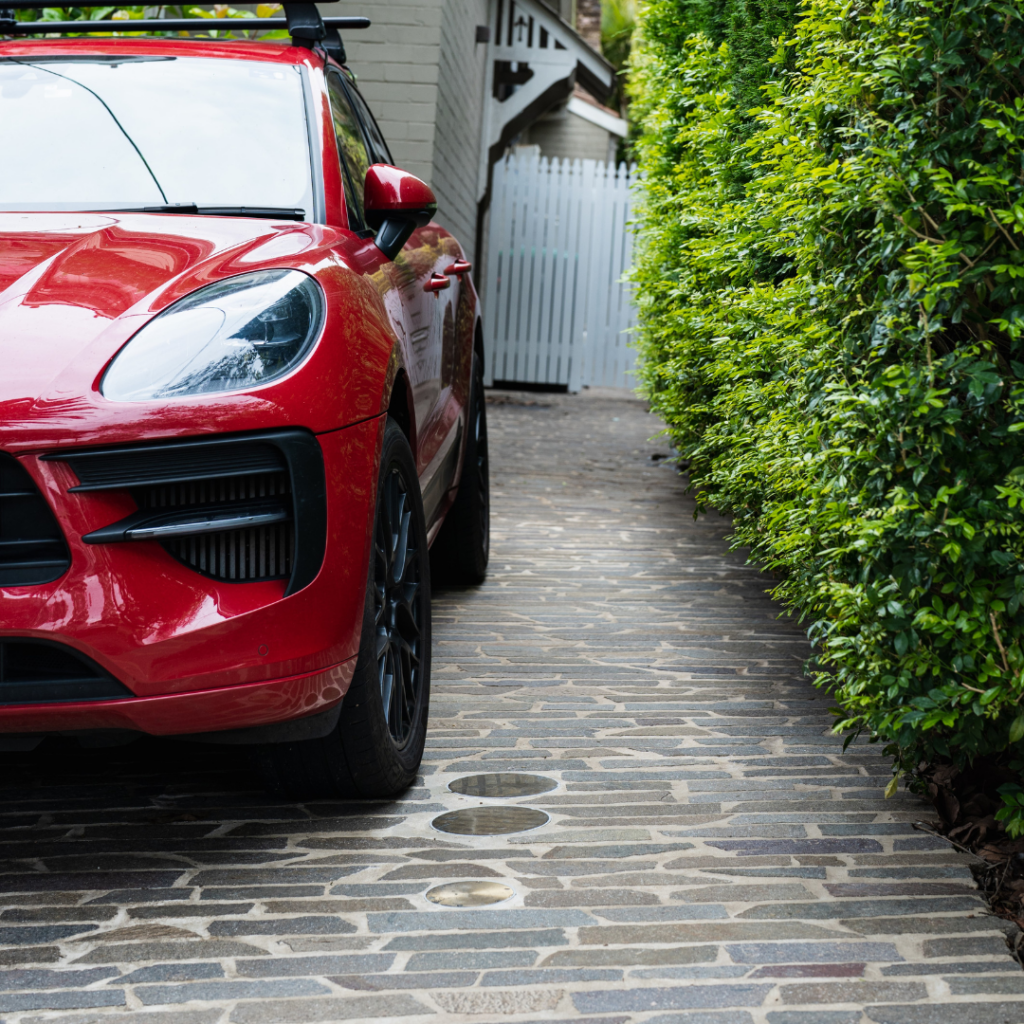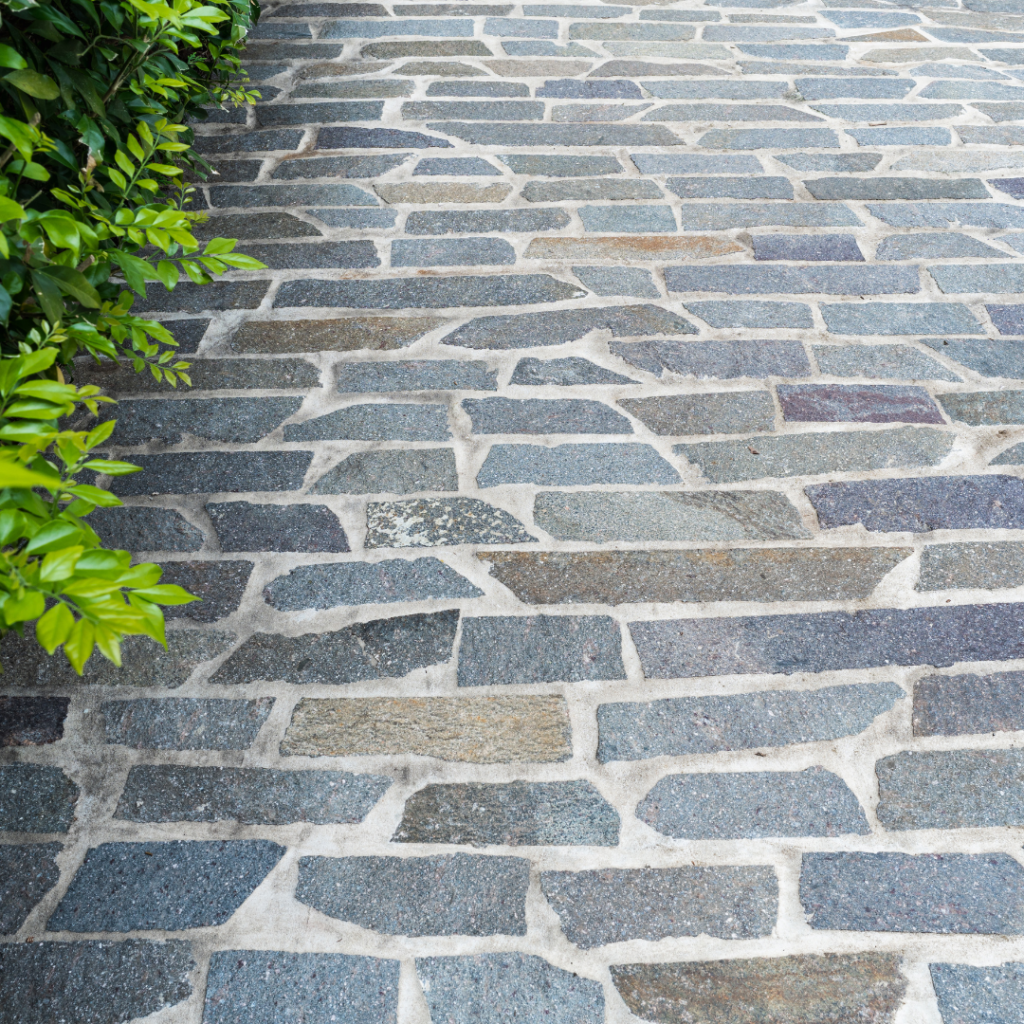 Natural Stone Products Featured