When selecting tiles for your project, there are endless options. Along with natural stone, there is a growing range of porcelain tiles available today, offering a timber, Marble, Limestone, Granite, as well as concrete look.
While selecting the right design can be overwhelming, there are further differences between natural stone and porcelain to help you figure out whether the material is the best fit for your project.
We will cover the differences in terms of design, texture, cost, installation, maintenance as well as longevity of both materials.
While deciding between the two comes down to personal preference and the requirements of the project, this article aims to explain the differences and things to consider that will enable you to make an informed decision about which material will be most suitable for your project.
Appearance
Natural variation is the most unique aspect of natural stone. Since no two pieces of natural stone look the same, it ensures that your installation will be unique.
The man-made natural stone lookalikes are made from ultra-fine clay fired at very high temperatures and resemble the appearance of Granite, Marble, Limestone, or Travertine.
While the developments in technology mean that the natural stone imitations are getting better, the variations of porcelain tiles are much more predictable and uniform.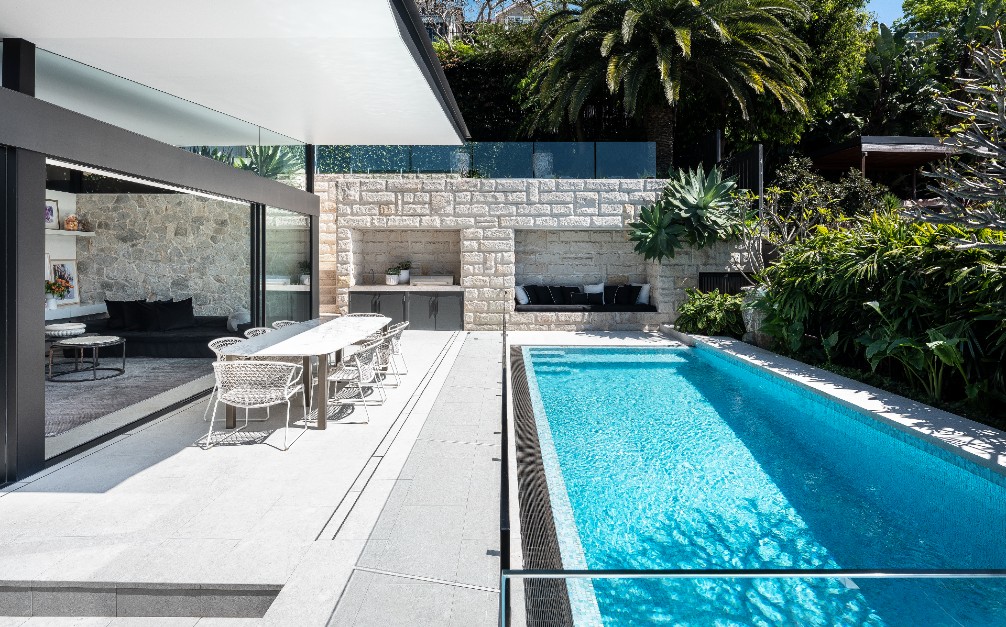 While the porcelain tiles resemble the look of natural stone, the natural variation and timeless beauty of natural stone remain impossible to replicate.
On the other hand, porcelain tiles can be made to look like most types of flooring, including timber, Marble, Granite, concrete or slate, making it easy to select a product suitable to your tastes.
For clients that are looking for a uniform look with little variation and predictable pattern or are specific about selecting colours or patterns that don't naturally occur in stone, man-made porcelain tiles might be a more suitable choice.
Feel and Texture
While porcelain tiles may have a similar appearance, the unique texture of the natural stone is not easy to replicate.
Many people select natural materials for their outdoor areas to make them feel more comfortable, inviting, and soft underfoot.
Its texture makes natural stone organic, unique, connected to the Earth, and makes the area feel embedded in nature.
If the texture doesn't play a big role when selecting your design and you want to prioritise the look or straightforward maintenance, porcelain can be a good candidate to use for your project.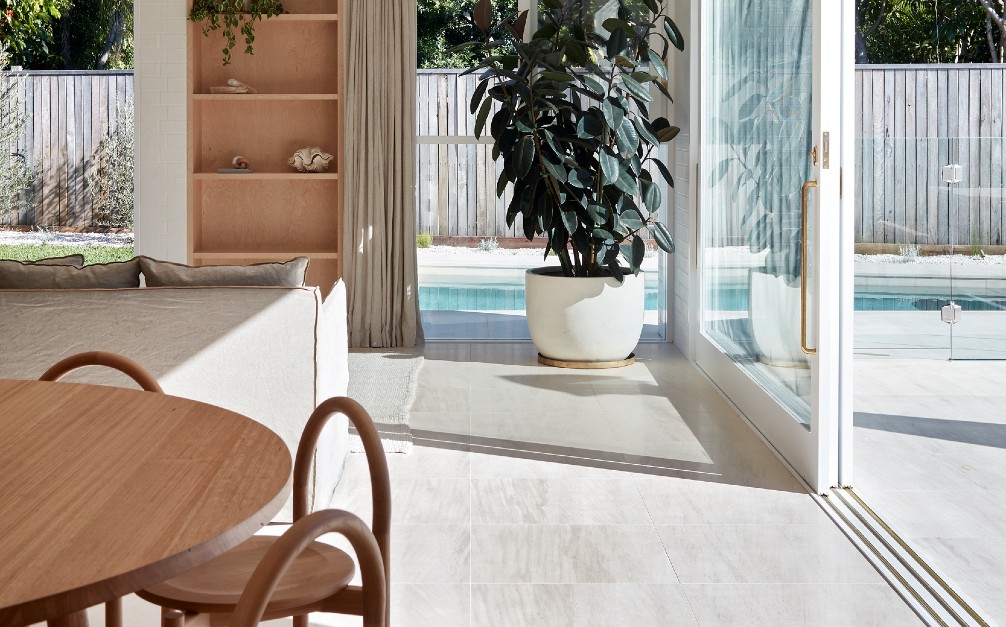 Cost
While natural stone can be more costly, this is not always the case.
As natural stone comes from many parts of the world, the cost will vary according to the country of origin and can differ quite significantly. The cost will also depend on the material, size, finish, and how it's manufactured.
The cost accounts for the additional work as well as the limited supply of the product, which makes it a more desirable option.
The price of natural stone also depends on which product you choose, and while some premium materials, such as Marble, can be expensive, there is natural stone suitable for every budget.
To give you a rough guide, our range of natural stone can cost anywhere from $100/ m2 to over $150/ m2.
There is a wide range of prices when selecting porcelain too. The cost will depend on the quality and exclusivity of the manufactured material. For example, porcelain tiles from a Chinese producer will be much more affordable than exclusive tiles made in Italy.
So, while the plain white wall porcelain tiles could cost only $40/ m2, you can pay all the way up to and over $140/ m2 for a large format (750×1500) marble look porcelain tile.
Natural stone can come with a higher cost, however, it is an investment into your property, and can increase its resale value.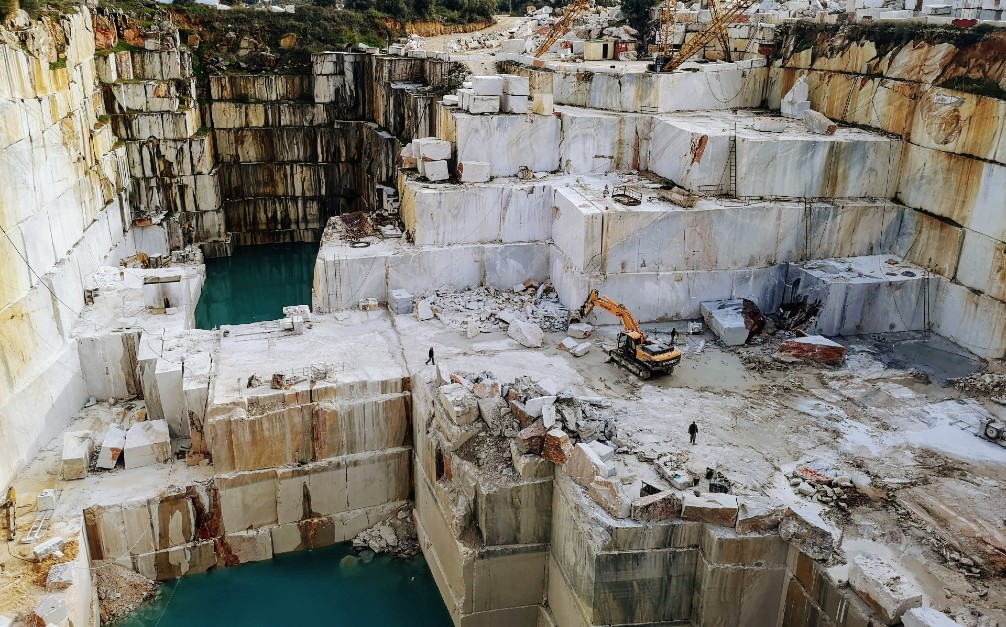 Installation
While natural stone requires expert installation which can be more expensive, when it is done properly, it protects you from complications, such as discolouring or efflorescence.
The disadvantages that come with the installation of porcelain tiles can be challenging due to the hard nature of the material which makes it more resistant to adhesives, and therefore, more difficult to bond to the tile.
In addition, since porcelain is a manufactured product, cutting on-site will remove the nice factory-cut edges of the tiles, which might make the finishing product look less consistent.
Moisture Resistance
Porcelain is manufactured and, therefore, more impervious to moisture than natural stone. This can be useful for areas like bathrooms if you want to prioritize easy maintenance.
While stone is more porous and sensitive to moisture infiltration, when it's sealed and maintained properly, it will cause you no issues.
Being a man-made material, porcelain is non-porous and extremely tough. It can withstand harsh weather and resist extreme temperatures.
For example, if you're selecting tiles for damp areas or south-facing properties that don't get much sun and are prone to mould, this is a factor that you should take into consideration when making your selection.
Maintenance
The maintenance requirements depend on the type and texture of stone that you select for your project. While Granite tiles installed outdoors are easy to clean with a garden hose, a textured Limestone wall cladding used in a shower will require more regular maintenance.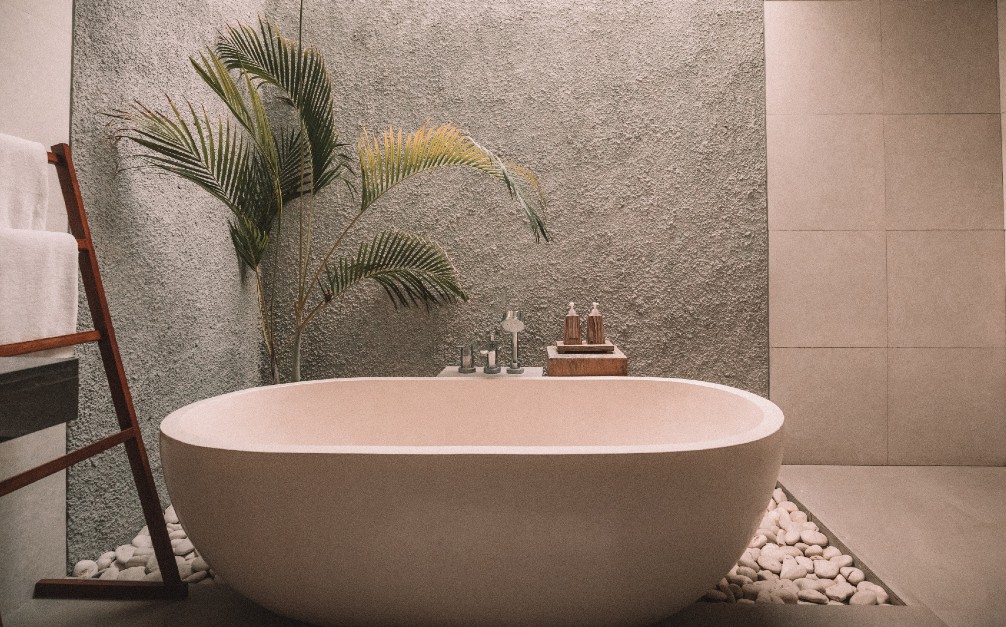 In general, stone with more texture will demand some degree of maintenance but when it is properly sealed and used outdoors, it can be cleaned quite easily.
Standard rules when cleaning and maintaining the stone apply. We recommend using pH neutral cleaners made specifically for natural stone and trying to avoid oily or acidic spills.
If you are a big family with messy kids and dogs and you are concerned about the upkeep of your stone, selecting Granite tiles or Limestone and Travertine with plenty of natural variation will make the maintenance easier.
The benefit of using porcelain for your project is that this material is hard-wearing and not sensitive to more aggressive cleaners, containing acid or bleach.
While porcelain doesn't require sealing, if you have grout or joints in your installation, you need to seal those areas. The grout, as an integral component of the installation, might need more upkeep than the porcelain itself.
When selecting tiles for messy areas such as a mudroom, entrance hallway, garage, or kids' rooms, porcelain can be a more convenient choice.
Longevity
As we've mentioned, since natural stone adds value to your property, it is seen as a more valuable investment into your home that can last a lifetime.
Unlike porcelain tiles, natural stone offers timeless beauty that is not susceptible to trends. If you decide to install natural stone in your living room or alfresco area, you can count on it being in style for the years to come.
Porcelain tiles also offer reliable longevity and long-lasting wear resistance. Both materials are hard-wearing and will last.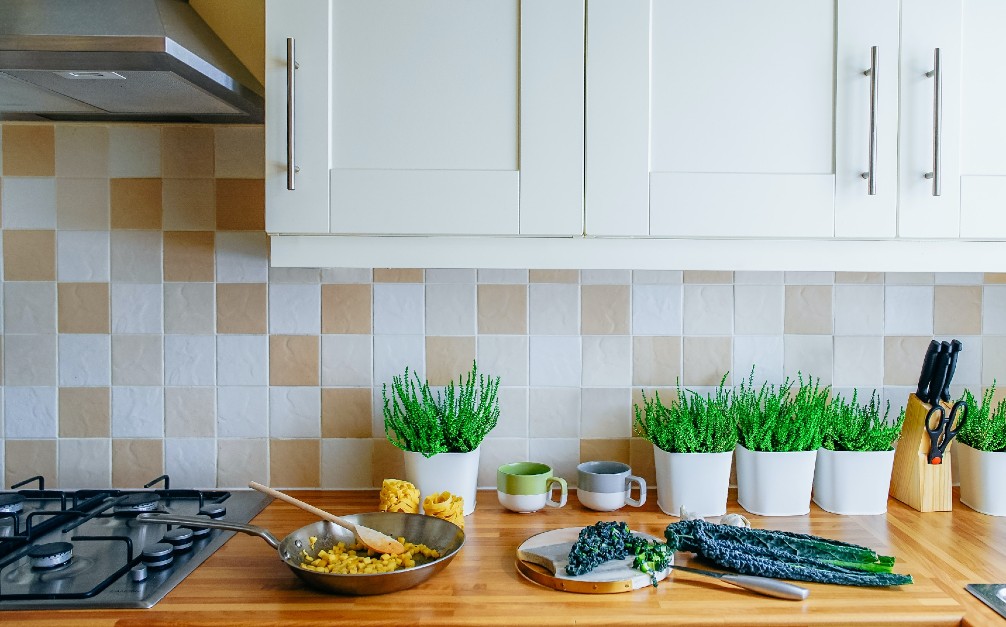 Natural Stove Vs Porcelain: Which One Is Best For Your Project?
While today, both natural stone and porcelain can offer a similar look, there are more differences to consider. The decision of which of the two materials is best for your project depends on your lifestyle, budget, and priorities.
While both products are durable and have a long life span, the comparison between the two is similar to that of real leather versus vinyl.
While the stone is the "real thing" that offers variation in colours, textures, and patterns as they authentically occur, porcelain presents a lookalike man-made alternative.
While we might be a little bit biased, we prefer natural stone for its unique variation, timeless beauty, and authentic texture.
But if you're looking for an easy solution and don't mind the predictable pattern, a manufactured material, such as porcelain, can be a fitting alternative.