The start of the year is a great opportunity for designers and architects to reflect on design trends and predict what we can expect to see in the next 12 months in this ever-evolving industry.
If you're starting a new project or planning to renovate your home, here are the top 12 trends you need to know to be on the right track with your design in 2022.
Shades of Brown
Colours and hues have a big influence on any design. In 2022, there is a predominant desire to connect the interiors with nature and the colours gravitate towards different shades of brown, including chocolate, caramel and tan notes.
"Chocolate browns, camels and caramels—there has been so much colour and pattern, especially pastels, the last few years and I think people will be ready for a palette cleanser." -Mark D. Sikes
Some designers go as far as to say that "brown is the new black" in 2022, choosing this colour as the base for any space.
The browns can extend to leafy, olive and emerald greens combined with floral motives that will further enhance the connection to nature.
You can still add hints of pastel colours, such as blue or pink, but when you do, use them for small details and incorporate them in a sophisticated way in combination with the dominant earthy undertones.
Textures And Luxe Touches
Continuing the trend that started in 2021, the texture and luxe details can bring life into the room and completely transform the space.
You can add texture to your interiors by including luxe fabrics, unique furniture pieces, small decorative elements, and textured floor surfaces.
The interior designer, Andi Morse of Morse Design says: "There will be more soft velvets and boucle fabrics mixed with woven furniture and sisal carpets. These elements help add warmth, creating an inviting space."
Similarly to the colour influence, these textures are inspired by nature and bring an organic feel to your interiors.
Selecting natural stone with beautiful texture, such as Cathedral Limestone or our other Alfresco Limestones will make your space look more inviting while nodding to the latest design trends.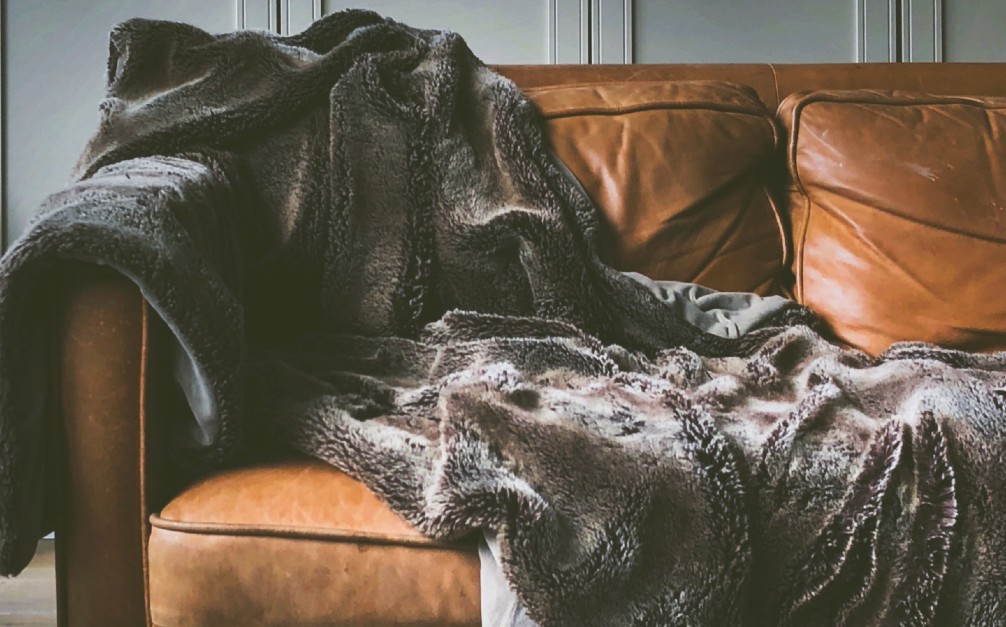 Curves
Designers are ready to leave straight edges behind in 2021 and open up possibilities for more fluidity with the rich use of curves and softer edges.
These curved designs are used to symbolise tranquillity as well as make the interiors feel more comfortable.
The vision of curved designs is adopted for furniture, pools, stairs, unique tables, fluid couches or windows to make the rooms and their elements look more organic, quirky and imperfect.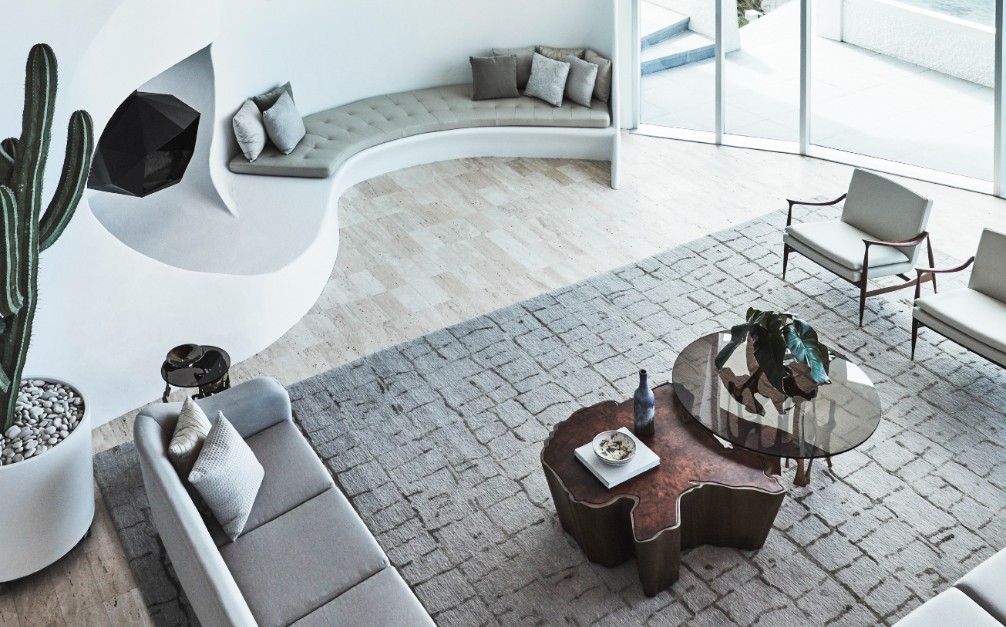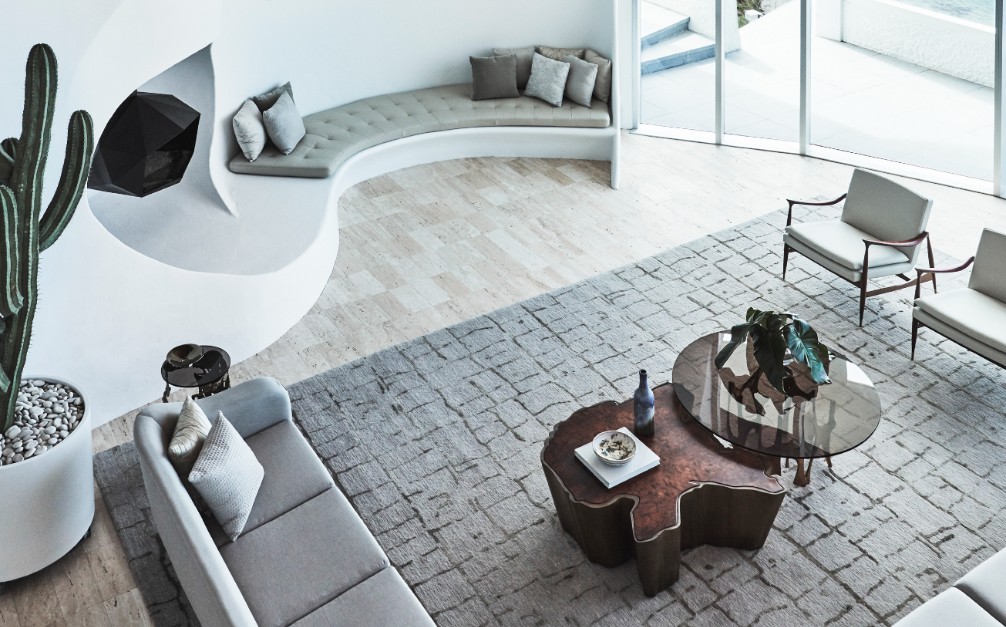 Project image: Cove House by Maree Homer Photography
Nature Inspired Interiors
Alongside the use of nature-inspired colours and textures in 2022, the designs will have a strong preference for natural materials, such as stone, timber, clay, or concrete, not only for the floors but also decorative pieces such as bathroom basins, kitchen equipment, walls and ceilings.
After spending most of the past two years at home, people now crave the connection to nature while staying indoors, trying to recreate the calming atmosphere in nature with the use of warm colours and notes, including terracotta and burnt orange.
The interiors take on the biophilic design principles and elements. These include the use of natural motives and forms, utilizing natural light in the space and embracing restorative patterns and processes.
The design moves away from any synthetic fibres, prioritising an organic look.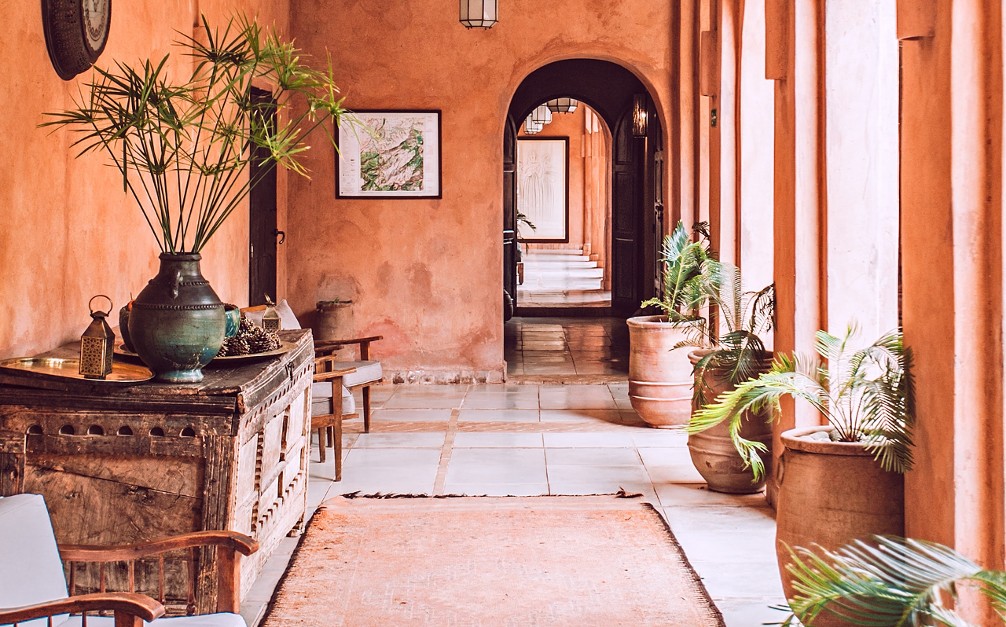 Artisan Objects
Sustainability, with a focus on upcycling, becomes a preferred choice, with restored furniture pieces and second-hand shopping of artisan objects. These come in organic free-flowing forms that highlight and embrace their own imperfection.
Decorative elements will be handmade and unique, sourced from small artists and local stores.
When selecting natural stone, 2022 is the time to embrace the natural imperfections and variations present in the stone, which will make the space more unique and organic.
Multipurpose Rooms
Since the pandemic, everyone had to adapt their homes and living rooms to serve as office spaces, home-schooling and exercise environments.
As we've established and become used to this new routine, in 2022, people are ready to adapt their space to serve different purposes in creative ways.
"Rooms will be designed for double duty; i.e. dining rooms walls lined with wine storage or books, guest rooms fitted with desks, bedrooms equipped with exercise equipment.
As people spend more time in their homes, they expect the spaces to work harder for them." – Timothy Corrigan
With the need for functionality and privacy, the open floor plans will be pushed away and interior design elements serve to create multipurpose environments with creative features such as hidden storage, folded beds, hidden desks and study corners.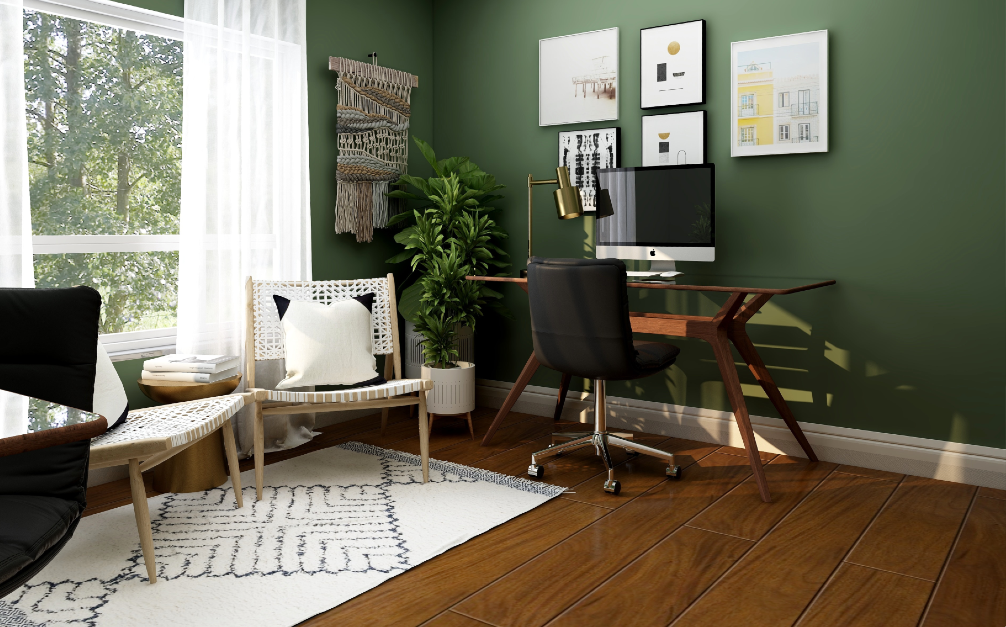 Feature Walls
The design in 2022 embraces the use of statement feature walls. These dominant pieces will be a form of artistic expression or simply express joy and add positivity to the space.
We will see wallpapers in unexpected places as non-permanent ways of getting creative with the design.
Just like in other areas, importance is placed on the texture and natural look of these walls, so beyond the wallpapers, the walls can come alive with the use of organic materials such as natural stone wall cladding or timber.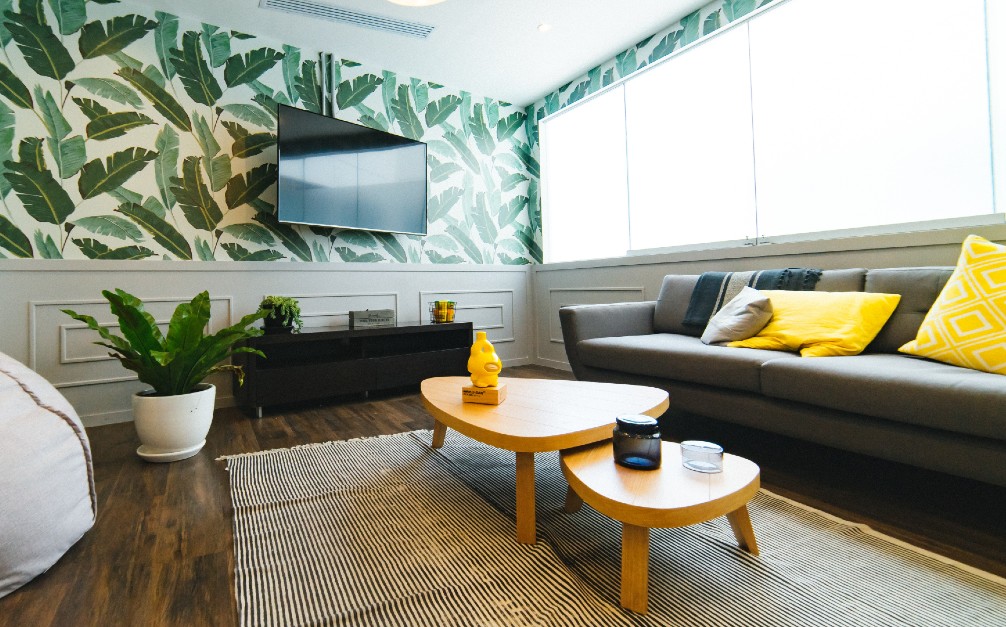 Bold Patterns And Colours
Among the calming atmosphere and natural colours, there is still space to create a big statement with clever use of bold patterns and colours.
We will see a rich use of floral patterns as a nod to the natural elements, used on small details as well as on a large scale, such as a feature wall.
When selecting the bold design feature for your interiors, selecting small details with a big statement will be the most effective. These can include a chandelier or a unique artisan furniture piece on the background of calming brown colours.
Minimalism
If you're not a fan of loud designs, don't worry, minimalism is here to stay.
The focus for this year is to create a simple zen-like atmosphere in your home and combine the clean strictures and geometric shapes with warm colours and hues.
Utilise minimalism principles by making the transition from one room to another or from one function to another within the same space as seamless as possible.
Indoor-Outdoor Living
The design elements in 2022 will blur the lines between inside and outside. The outdoor elements will be brought inside by incorporating plants inside every room, using natural materials and installing large glass windows to allow for plenty of natural light.
The same thing will happen the other way around and the outdoor areas will be similar to the interiors with cosy entertaining areas that have a "living room feel" and fully set up alfresco dining.
The transition from indoors to outdoors will be more seamless with the same natural materials, design elements and colour palettes used continuously from inside out.
Combine one of our honed natural stones inside with its alfresco alternative outside, such as Tavira Limestone, for ultimate consistency.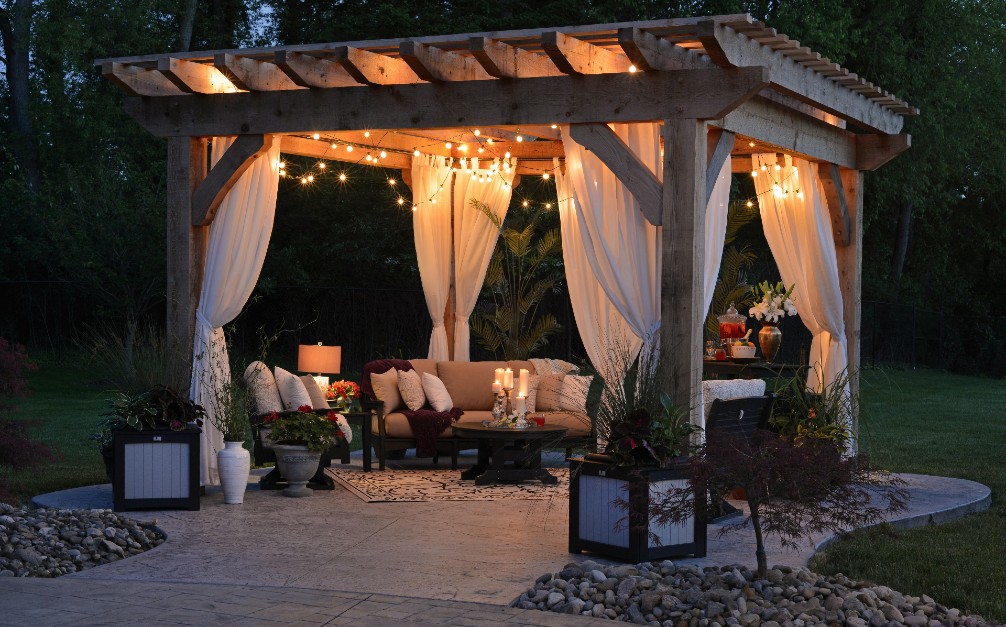 Bringing the 70s Back
In the spirit of sustainability and upcycling, the design will favour antique pieces and embrace the vintage elements to create groovy one-of-a-kind interiors.
We will see velvet, rattan and chrome materials, brown, aubergine and burnt orange clours, old-school novelty items that will be combined with modern elements to provide contemporary twists on the classic styles.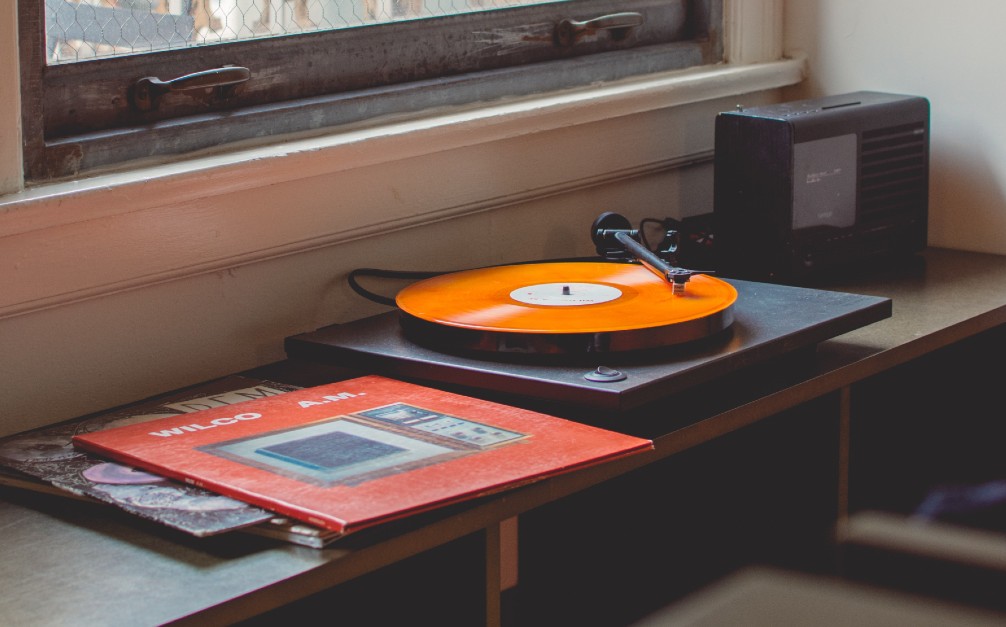 Nostalgic Floor Patterns
When it comes to the choice of floor tiles, we will see a rise of the Grandmillenial trend, the essence of which involves a young (ish) person taking ownership of granny's design elements and making them share space with their existing modern decor.
Natural stone or porcelain tiles cut in geometric and herringbone patterns, encaustic tiles and a combination of different colours will bring retro vibes to your home.