As 2022 draws to a close, we recently sat down with Michael to hear his thoughts about 2022 and the trends he anticipates in 2023.
What observations do you have to share from 2022?
People are ready to put Covid behind them and start looking forward to the future.
The interest rate rise has slowed a small percentage of the market, but I know of quite a few new projects that are commencing early next year where there has not been any impact by the rate rise.
What people were wanting and buying in 2022 and why?
I thought grey tones were on the way out but alas, architects and interior designers are still specifying them.
Once clients see our Luna Chiaro Limestone, they love it for its sleek, clean appearance.
Our newest mid-grey limestone from Egypt is Tuscan Gris which is sandblasted for suitability of external flooring and hand chiseled to appear distressed and of Old World appearance.
I know I'm biased, but I love the Tuscan Gris Limestone. Specifically, I love that it looks similar to an old courtyard from a vineyard in Tuscany.
Who doesn't want to imagine they're lounging and relaxing in Tuscany?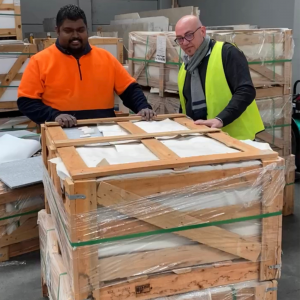 Your favorite project, product and why of 2022?
I always love seeing how Sareen Stone looks in the finished project. 
One of the standout projects was the Filetti driveway in Fairlight. The area was transformed from old cracked concrete to a beautiful Italian Villa style driveway. The earthy grey, brown and red tones make a stark yet lovely contrast to the green grass.
Audrey Watson initially contacted Sareen Stone about the possibility of using the more traditional cobblestone for the driveway. Once I learned the specifics of the situation, I recommended the Italian Filetti to her, and happily she's thrilled with the end result. 
As a bonus, Audrey was a delight to deal with and recommended Scott Pecar from Top Deck Landscapes for the installation of the Filetti.
I've since recommended Scott to various clients, and he eventually installed another of our Filetti projects.
Scott's eye for detail, ability to blend natural stone colours and professional manner are a credit to him.
One trend that you see developing or emerging in 2023?
I am increasingly being asked about poly pads or similar system installations. Not sure of the reason but there are lots of benefits to using this system of installation.
Drainage, data cables and other utilities can be laid in the void beneath the pavers with easy access if required.
What you're looking forward to in 2023.
I'd love to be more involved with commercial projects such as Concord Oval where Sareen Stone's Porphyry 2 Colour Cobblestones were installed at the main gate entrance.
There is nothing more rewarding than to see a public works project where products that I assisted with the specification and supply have been installed.
That's real satisfaction!
Michael's Favourite Products