Image above:  Master Builders Association 2018 Award Winning Freestyle Pools in Longueville. featuring Pool Coping and Pavers in Charcoal Grey Granite Flamed.
Congratulations on your latest MBA Award for 2018 for that amazing concrete pool in Longueville. Do FreeStyle Pools mostly build concrete pools?
Thank you! The Longueville pool was a particularly challenging site, as you can see in the photos. The pool is 3.2-3.5m above ground on the infinity edge side, and the balance tank is 2m below the top of the pool. Combined with the difficult access (and working up against the existing house) it gave my brother Ben a nice challenge.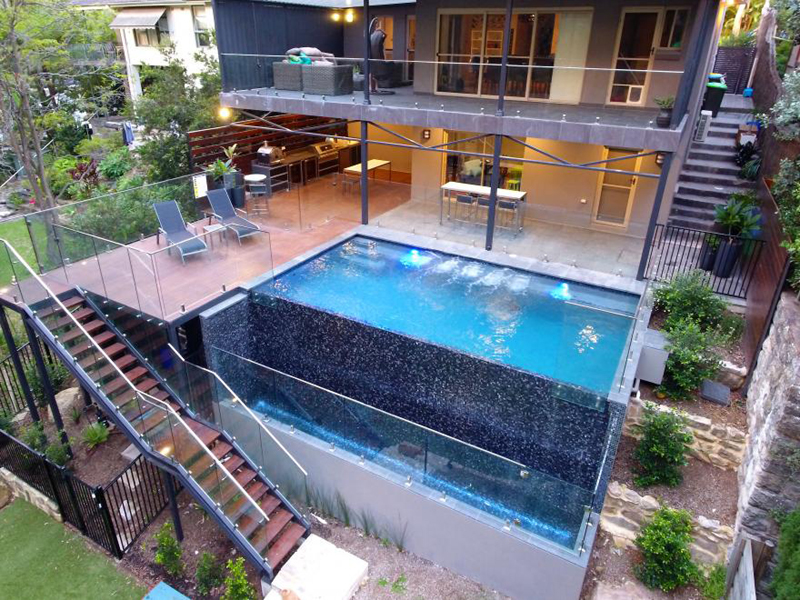 We only build concrete pools, and the complexity of our builds nowadays gives customers an infinite range of possibilities with shapes, depths, integrated walls for retaining or as a feature, extended paved areas and incorporation of other structures. In the last couple of years, we have done a few pre-cast concrete pools which are an amazing cost-saving alternative for the plunge pool market, and they look classy.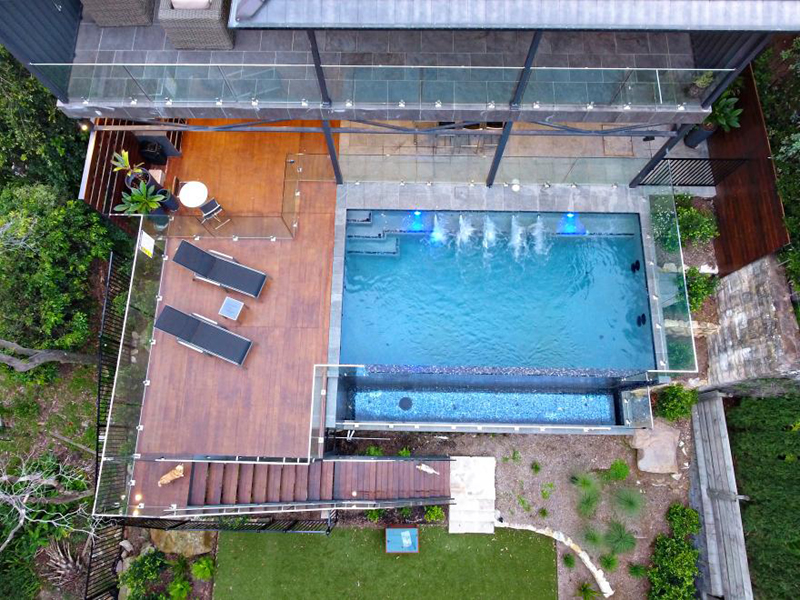 What would you list as the 5 most important considerations to make, when planning a pool?
Size and location. Keeping the proportions in line with the garden size and positioning the pool to be connected to entertaining areas is really important. It will improve the visual appeal and how frequently the pool is used.
Have a realistic budget. One of the problems is, if you haven't built a pool before (or don't know someone that has), you're unaware of what a realistic budget is. Unfortunately, some pool companies win work by quoting a low price which excludes a lot of items you would think should be included. Getting a detailed quote is vital, together with advice on aspects that some pool companies might not include in their scope – such as approval costs, fencing, electrical connections and paving supply to name a few. Take your time to compare quotes and follow up on referrals from current or past customers.
Equipment selection can make a pool effortless to look after, or a real drag. Some relatively minor upgrades are worthwhile to save you time and hassle. Consider things like automated pH controllers and chlorine controllers, robotic or pressure cleaners over a suction cleaner, dedicated plumbing circuits for heaters, and automatic water top-up and overflow devices. A lot of the time, the budget doesn't permit all the items you would really like, so make sure provision is made to make it easy to add a better cleaner or heater in the future.
Material and surface finish selection are what can make a simple pool look spectacular. Choosing a watercolour that complements the surrounding landscaping and backdrop is critical. Most interior finishes come in a range of shades and colours, that will allow you to find the best option to enhance the overall area. The paving and wall cladding options nowadays are better than ever, and there is a lot of competition for your business. You can get natural stone and even porcelain tiles at great prices, that will make the pool look significantly better than what was around a few years ago.
Consider the landscaping as well. While there are trades on site and earthmoving activities, it is more efficient to complete landscaping at the same time and the end result is more polished than completing the pool as a stand-alone project.
On the FreeStyle Pools website, you have a Gallery, actually, you have 2 Galleries jam-packed with beautiful swimming pools! Can you tell us how many pools you think you've built and what is the most enjoyable part of building swimming pools?
There are about 1000 FreeStyle Pools out there. I find the most enjoyable part of my job is to fulfilling a dream for a lot of families. It is a big expense and it takes a lot of commitment to decide to go ahead with it. There is a lot of trust in us to deliver the dream and seeing the joy that it brings to families having their own backyard pool, really keeps me motivated.
In your experience – to extend their swim season, what are the pool heating options that are available to homeowners?
The normal options are solar heating, electric heating and gas heating.
Solar heating is becoming a little less popular due to roof real estate being more effectively used for solar electricity PV panels. However, if there is enough roof area to work within a north or west-facing direction, it is a great affordable way to heat the pool.
With the increase in solar electricity being installed, electric heat pumps are becoming a good option. You can use the free power to run them, particularly if the house isn't drawing much power in the middle of the day, they aren't reliant on sunny days and they give you more control of the water temperature.
Gas heaters have always been the quickest way to heat pools and are a must if you have a spa. They can be expensive to maintain water temperature though, particularly if a pool cover isn't going to be used. It is more common for gas heaters to be used intermittently, turning them on a few hours before the pool is going to be used as they can raise the temperature by 1-2 degrees per hour depending on pool size and heater size.
Another heating idea is to consider the interior colour of the pool. Darker pools will heat up more quickly and be warmer than a light-coloured pool in the same location with the same sun aspect. Thermal covers will also raise the pool temperature by 1-2 degrees on sunny days. Other options that can be done, much less frequently, but are viable are hydronic heating either as a dedicated pool heater or shared with the house heating. We have done one pool where the hydronic heater for the house slab, was used like a heat pump, to warm the pool water. This way the house was using the heater in winter, and the pool in summer.
What is the latest technology available to potential or existing pool owners?
Most of the new equipment coming out now is wifi or Bluetooth enabled to allow control from your smartphone.
There are robotic cleaners that can be controlled with your phone. Heaters, chlorinators, lights and floating water chemistry devices can give real-time readings. And most automation systems come with smartphone connectivity to allow you to remotely monitor and/or operate your pool equipment.
Some of the recent products that I personally find impressive are the Remco Swimjet for the flow rates, noise and power savings compared to conventional swim jet systems.
Variable speed pumps adjust their speed to suit heaters turning on or water chemistry variations. The noise benefit and energy savings at lower speeds are also great improvements for pool owners.
With most pools having some glass pool fencing, Enduroshield coating should be considered for reduced cleaning time by up to 90% – like non-stick fry pans!
Are there any new trends in pools that we can expect to see in the next year or two?
There has been a steady increase in the number of pools and spas that are incorporating glass and acrylic edges or windows which I can see continuing.
The plunge pool market is growing with outside spaces shrinking in size and previous pool owners considering how they have actually used a pool in the past – with the benefits of less water volume to maintain!
The price, appearance and quality of porcelain tiles for pool surrounds are improving which will see these being used more frequently.
I am personally interested in the ever-improving water management devices with better quality sensors and control systems to make a homeowner's life easier with fewer hassles keeping the pool clean and sparkling.