At the heart of the Guestlands Italian Village origin story is a love story created from the shared vision of owners Jenny and Peter Guest…
Their love of Italy
Their love of Italian architecture and style
Their love of Tuscan gardens
Their love of Italian village life
Their love of the dolce vita life 
Their love of Lake Como
And their love of sharing love. 
Bringing Guestlands to life
If thinking of Italy conjures images of quaint cobblestone paths, thick stone walls, rambling grapevines, formal olive groves, charming piazzas, vespas, and sky-reaching bell towers, then imagine Guestlands. 
Avid gardeners Jenny and Peter Guest bought the property 25 years ago after falling in love with the surrounding trees and bare landscape. They've always lived on the property in the main house and worked in the gardens during the first 20 years.
At the time, half of the property was taken up by a wholesale rose nursery, which is where the pool and gardens are today. While they were living in the original 1970s brick home, and with a blank canvas to work with, Jenny and Peter had the time to work out seasons and sunsets.
Jenny and Peter's vision always included a Tuscan-style villa, which they started building in stages. The pool was built over 10 years ago, and they always had the Tuscan influence in mind for inspiration.
Peter and Jenny worked with local contractors to build the village – made of four villas, the Trattoria, a main walkway, and two side streets – in three and a half years. Not surprisingly, the couple still lives next door in an Italian-themed house that'll eventually be available to rent. 
From the beginning, Jenny and Peter's vision has been a labour of love undertaken as a partnership.
Given that a large part of Italian life involves eating and celebrating together, Guestlands is built around a cobblestone walkway with a trattoria for 'happy hour' each night. The property also consists of cascading water features and bridges, with hidden rooms and lots of nooks and crannies.
Surrounding the property is a dam with incredible foliage, including a rose-dotted archway, a life-sized chess set and a large swimming pool to experience La Dolce Vita; a few days full of beauty, pleasures, and mundane events for you to immerse yourself in Italian village life.
2017 Stage One - The Studio
Stage 1 of Guestlands started with building The Studio, a barn-like structure incorporating large arched windows, dark timber beams across the ceiling and a feature wall.
The feature wall is made of Sareen Stone's natural stone Cotswold wall cladding which perfectly inspires European styling with its random-sized pieces and traditional dry stack stone look.
Incorporating the essence of Italy into this project includes the use of cobblestones, fanned on mesh, with a flamed top and sawn bottom. Custom-ordered charcoal grey cobblestones are one of the essential elements in achieving the quintessential ambience of an authentic Italian Village.
The Cobblestones add an authentic Italian rustic charm whilst being low maintenance and hard-wearing.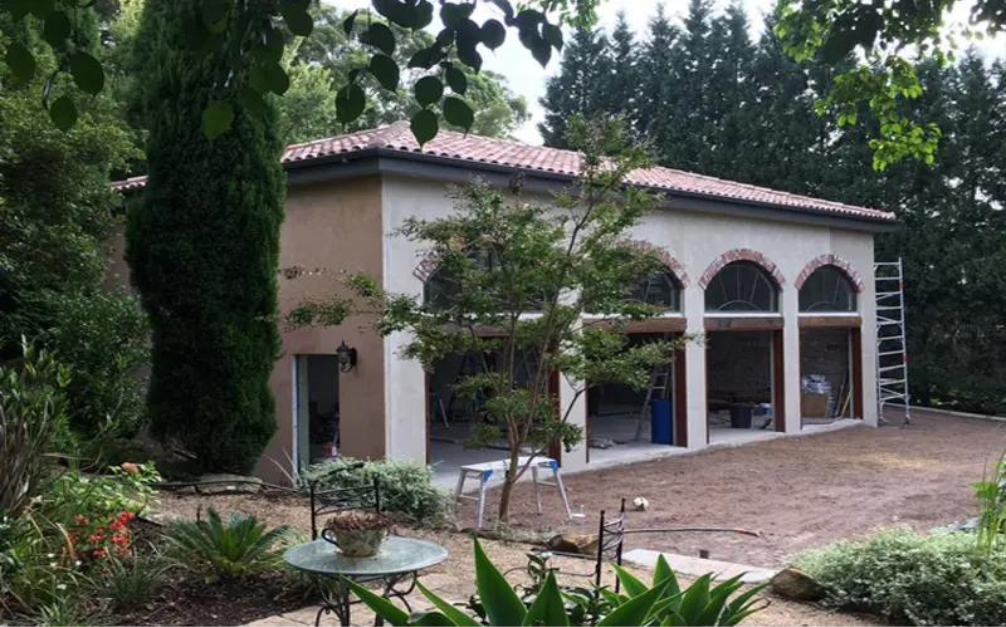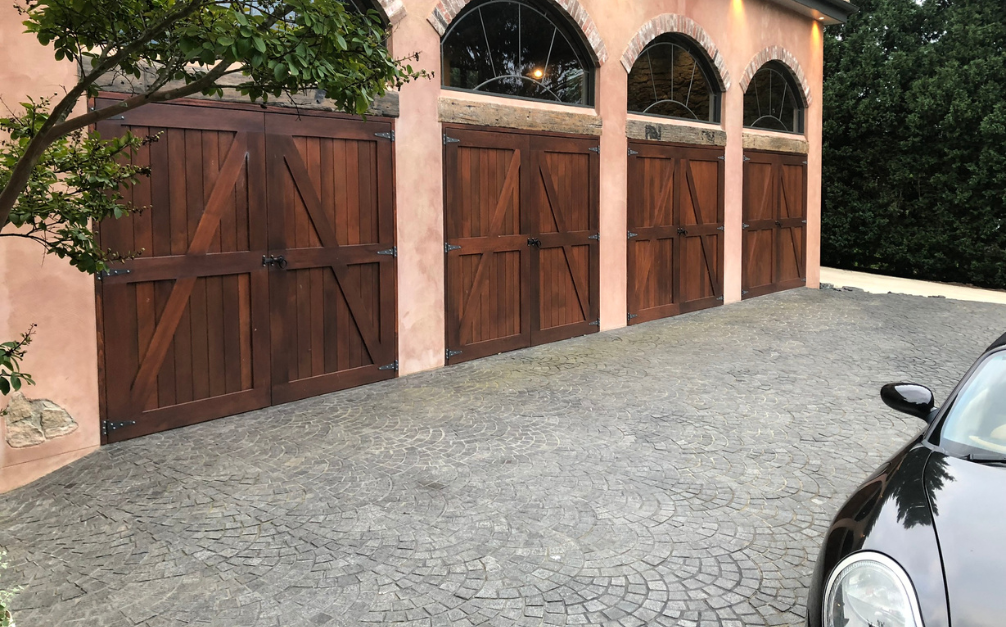 In between building Stages 1 and 2, Peter and Jenny travelled to Italy for a top-up inspiration tour. It was on this trip that they decided to expand on their original vision and make a fun party place for local and interstate friends to stay for a few nights.
Instead of following the tourist trail, the couple found themselves looking at the detail of finishes, taking photos of doors, windows, balconies, street signs and lighting.
They revisited Bellagio, a village on Lake Como, known for its cobbled lanes, and elegant building and one of the original inspirations for their Guestlands concept. Whilst in Italy, Peter and Jenny also visited Rio Maggiore and Pont de Venere in the Cinque Terre, where they were able to gather more bits and pieces for Guestlands. 
In the final weeks, they stayed in a 2000-year-old Abbey in Tuscany, and in an even older village, Civita di Bagnoregio which had grottos and cellars from the Etruscan era.
To capture the essence and feel of the villages, they collected artefacts of numbers, antique letter boxes, candle holders, and lamp holders to integrate into the fabric of Guestlands.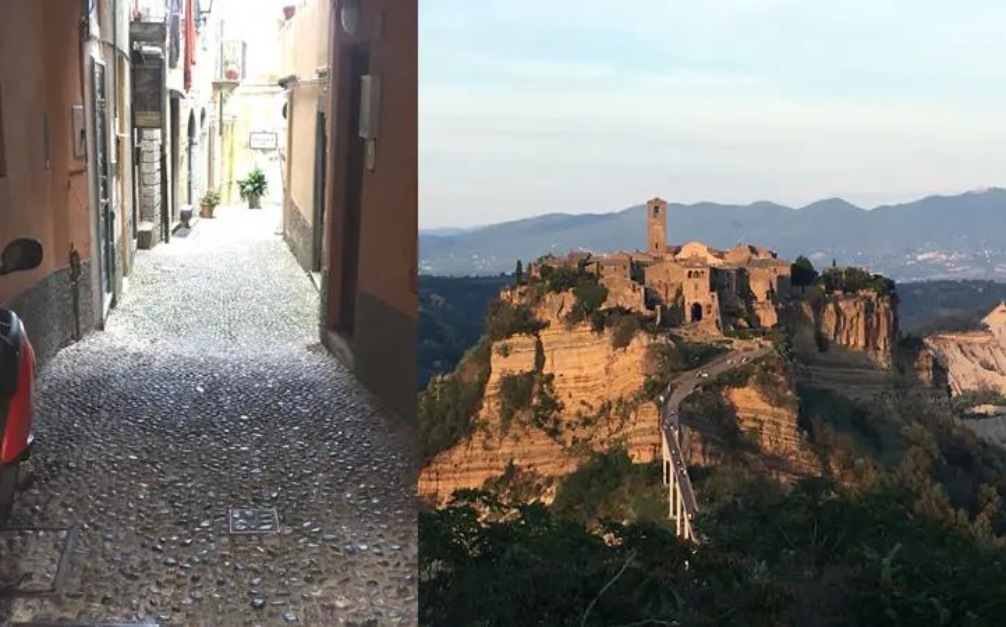 2019 Stage 2 - Building The Village
On their return from Italy, the focus was on realising the whole Italian village which now included plans for a bell tower and cobblestone street complete with vintage Vespa.
Work commenced on the main house while the fit out of the bathrooms and complete stone work on the bell tower. 
There were more cobblestones to lay, branching off the mini piazza to link the gardens.
2020 Stage 3 - Guestlands Opens
Guestlands officially opened at the end of 2020, which was timely, given international travel was restricted due to the pandemic.
The accommodation consists of 3 street-level villas and 1 bell tower suite which make up the 'village' along with a separate breakfast/wine bar and media room building. The village is semi-detached from the main house. 
For those locals who longed for La Dolce Vita, they only had to travel 40 minutes from Sydney's CBD to experience village life with Italian hospitality to match.
The level of detail that has gone into every aspect of Guestlands is stunning. The love and care that Peter and Jenny have put into Guestlands immediately transports you to a small Tuscan village.
Your Romantic Roman Holiday
From communal happy hours on the rooftop terrace overlooking the street to making breakfast in the La Trattoria to making pizza for dinner in their woodfire pizza oven in La Cabana, it's easy to fall in love with the charm of Guestlands, your hosts and each other.
A few years on from Guestlands opening, the couple loves meeting all the beautiful people that come to stay. They get to witness the romance of love and see people transform in their Italian village.
What's Next for Jenny and Peter?
Jenny and Peter have no plans to expand Guestlands, instead focused on fine-tuning and adding details as they go along.
Their focus is now on developing a property they recently purchased in Port Macquarie, on the NSW coast. 
The project, named Mallawa, looks onto a natural sub-tropical reserve for koalas and birdlife, is only three blocks from the beach, is private and tranquil, and is close to restaurants and cafes.
Peter and Jenny are developing Mallawa into a premium holiday rental with a New Hampshire meet Byron Bay laid-back lifestyle vibe.
'Mallawa', means idealism, intuition, romance, generosity, creativity, wisdom and tolerance.
Peter loves Sareen Stone's Cotswold Wall Cladding so much he's chosen the stone for internal and external feature walls and paired it with recycled timbers and old oak floorboards.
Mallawa is scheduled for completion around Easter 2023, ready for holidaymakers to book and stay.
Sareen Stone Used in Guestlands