How is Stone Tumbled?
Tumbled stone is placed into large open rounded machines resembling top loader washing machines filled with pebbles. The machine vibrates and this moves the tiles or pavers around in the pebbles to pre-age them. The process is extremely noisy.
The final finish depends on how long the stone is left in the machine. Typically, travertine stays in the machine around 10-15 minutes. Around 8 pieces of stone will fit into the machine at any one time. Large format tiles are difficult to tumble as they will snap in the machine.
Where can Tumbled Stone be used?
Tumbling gives a pre-aged look. It is a softer, more organic look than a square edge.  Tumbled products are much easier to lay than a square edge as the corners do not need precision alignment.
Tumbled stone has versatility written all over it being used both indoors and out. The most popular places tumbled stone is installed is kitchens, bathrooms, laundries and living areas through to outdoor rooms and pool surrounds. Tumbled stone works extremely well in so many styles including the Hamptons, Traditional, Country, French Provincial and Coastal.
Sareen Stone's range of tumbled travertines are highly sought after by interior designers, landscapers and builders:
First Choice Classic Travertine Tumbled
First Choice Classic Travertine Tumbled has classic colouring suitable for any design palette. Whilst there are various standards available, Sareen Stone's Classic Travertine is of the highest quality. Our travertine is cross cut which means there will be no veining, instead the stone's surface is composed of shades of different light tones, realising its incredible beauty that is well suited to our modern environments.  First choice selection means minimal large holes and excellent tonal consistency.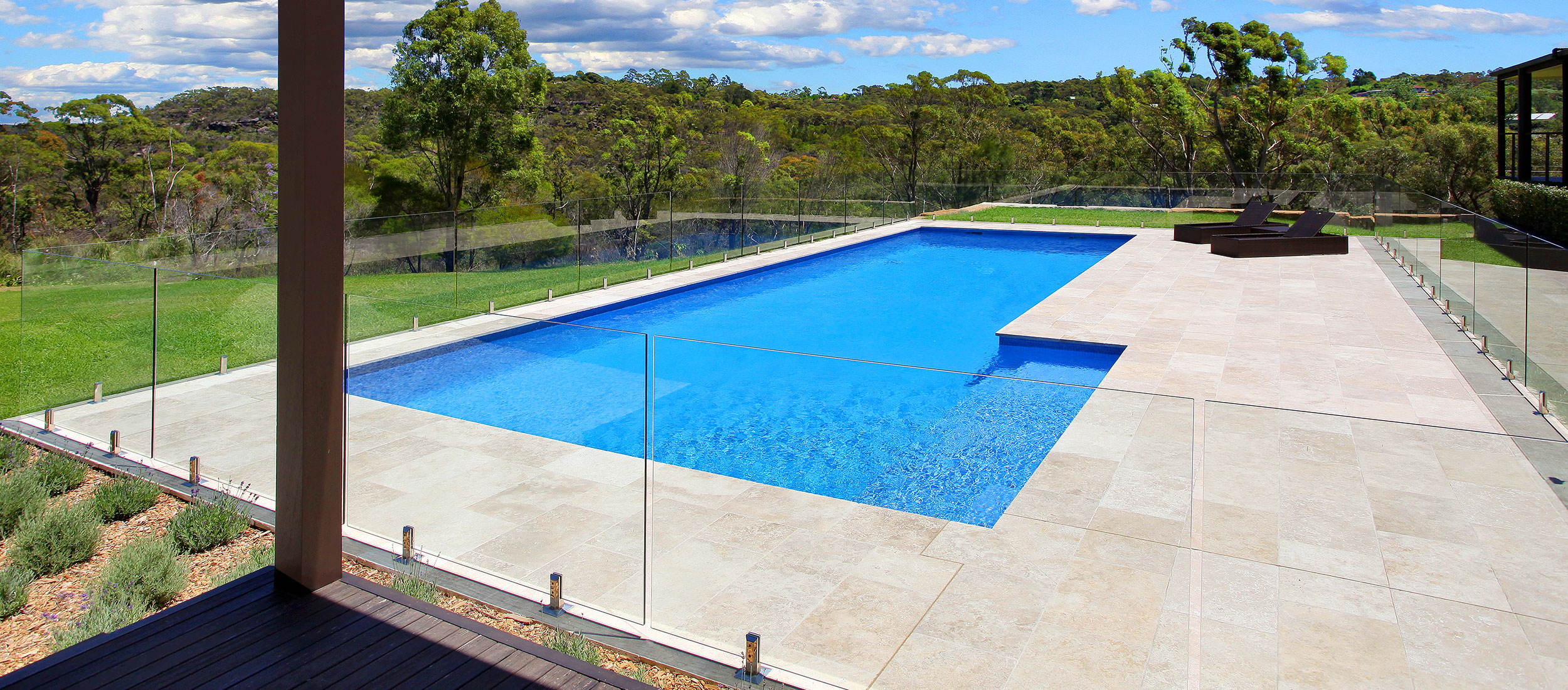 Noce Travertine Tumbled
Noce Travertine Tumbled is imported from Turkey and is a mixture of brown, beige and earthy tones which results in a deeper and warmer colour than the Classic and Navona Travertines. The natural colour shift adds interest and in a tumbled finish is a classic stone that will endure trends that come and go.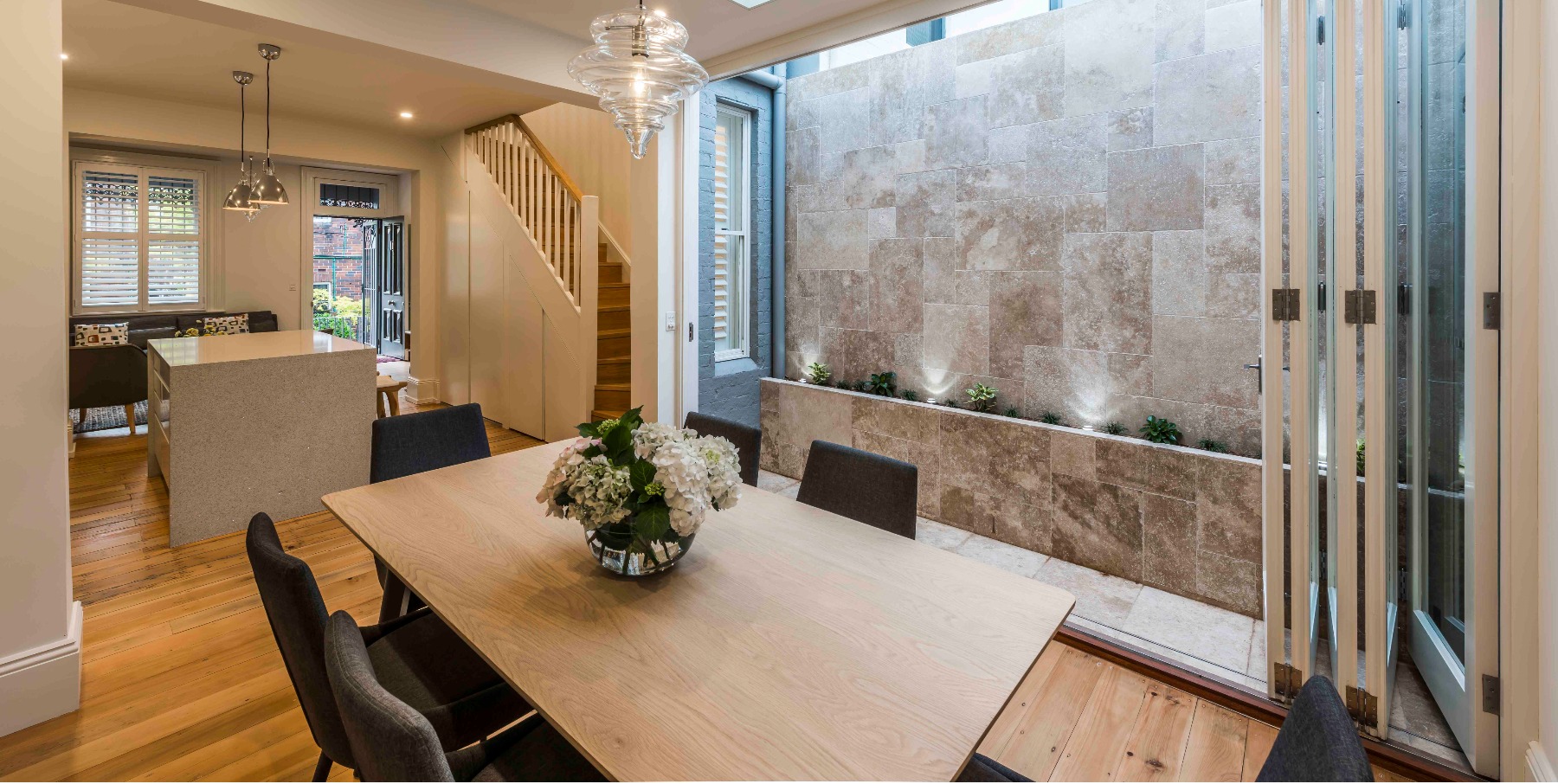 Image Credit: Vienna Design
Silver Ash Tumbled
Silver Ash Tumbled is a mid-tone grey travertine with soft patterns of taupe and dark ash tones interwoven into its surface to add contrast. It complements light and dark fixtures and fittings, making it suitable for both modern and period style homes or commercial spaces. An interior designer favourite, as it mixes well with black, gold, chrome, white and bold coloured accessories and furniture.
Why Tumbled Stone?
Well firstly it's a great excuse to kick off the shoes because it feels so nice to walk. Its smoother, more rounded edges provide a timeless and ageless aesthetic, avoiding that 'new home' look! The colour tones are more 'earthy' and relaxed too.
For designs that need a seamless flow from indoors to out, tumbled Travertine is a great solution. From beige to walnut to grey the neutral palettes of Classic, Noce and Silver Ash Travertines provide the perfect backdrop to any colour scheme and will suit a wide range of design styles.
To order samples of Sareen Stone's range of tumbled Travertine, contact our knowledgeable Staff on 02 9666 9222 or email info@sareenstone.com.au or visit our showroom and see the entire range of natural stone for yourself. The showroom is just 10 minutes from Sydney's CBD and open Mon-Fri 8.30 – 5pm and on Saturday by appointment from 9am – 1pm.