Glues & Adhesives
Not every glue is right for every type of stone. Choosing the best adhesive or glue for the job matters. Glues and adhesives for natural stone can be different to those used for ceramics or porcelains.
The porosity of natural stone needs to be considered, particularly in wet areas, when selecting adhesives and glues. Today, moisture sensitive glues have been specially designed for instances where a highly porous natural stone is being installed.
To avoid spots appearing 'through' natural stone tiles, it is necessary to back butter the tiles with a suitable adhesive. In fact, spot fixing natural stone does not meet Australian Standards. To check the latest Australian Standard for the installation of natural stone visit www.standards.org.au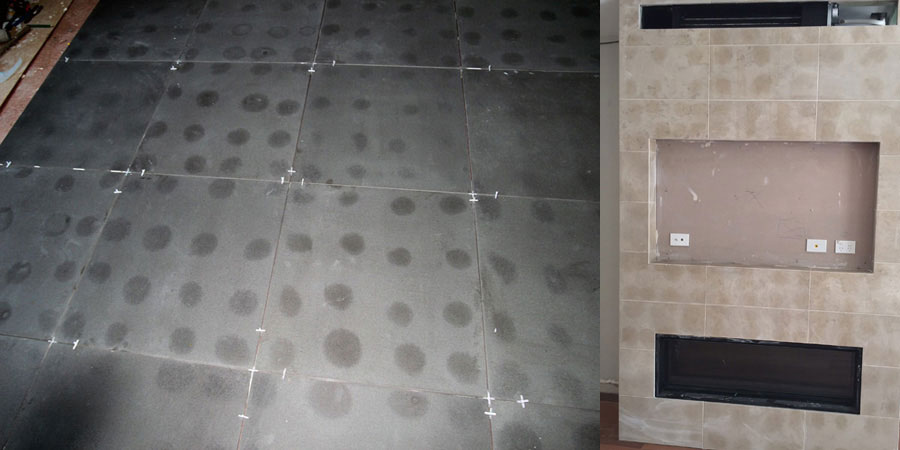 How not to glue natural stone – the perfect example of when 'spot fixing' doesn't leave a great impression.
Sareen Stone supplies the following quality adhesives from Laticrete:
Laticrete 335 Rapid Premium Flexible Adhesive
A high performance thin-bed adhesive for installing a wide range of tiles and stone including low absorption ceramic tile, porcelain tile, natural and manufactured stone using thin-set method of installation.
Laticrete Ultra X8 Polymer Fortified Flexible Adhesive
Ultra X8 offers up to 40% higher performance than standard thin-set tile adhesives.
A creamy and smooth to trowel thin-set adhesive for installing all types of tile and stone over a wide range of surfaces.
Laticrete S-Multimastic Premium Adhesive
A white, non-flammable, ready to use latex adhesive designed for interior installations of ceramic tile and natural stone on both floors and walls. Pre-mixed, creamy and smooth, this water-resistant adhesive is ideal for installations over cement backer board, gypsum wallboard and plywood.
Grouts
Choose the right grout for the right job to ensure you leave a professional and lasting impression every time.
When grouting natural stone getting the details right matters. In addition to the width of the join – stain resistance, flexibility, fast setting and anti-bacterial properties should also be considered.
As per the Australian standard, joints between natural stone tiles are to be a minimum width of 3mm whereas joints between porcelain tiles can be tighter. Again it is always best to check the current Australian Standards at https://www.standards.org.au.
Sareen Stone supplies the following quality grouts from Laticrete:
Laticrete B-Smooth Grout
A premium, factory prepared, polymer fortified sand free Portland cement grout designed to be mixed with water. The B-Smooth Grout is formulated from a blend of high strength Portland cement, graded aggregates, polymers and colour-fast pigments. It provides a grout joint that is dense, hard and durable.
Laticrete B-Permacolor Grout
PERMACOLOR Select is designed for virtually all types of residential and commercial installations and offers optimum performance on the most demanding exterior or interior applications. It offers an advanced high performance cement grout that offers the industry's first dispersible dry pigment solution.