Allie what was the brief from the client for this project?
The clients live a very relaxed lifestyle with lots of informal entertaining, so they wanted spaces that allowed different zones for casual living. We needed lots of practical finishes because, with three teenagers and their mates, you want surfaces to be comfortable and durable. The home is also very close to the beach, so we were after a bright and airy feel to reflect the seaside lifestyle.
Why did you choose Cascade Cream Limestone wall cladding for this project?
The original concept included a traditional sandstone, but we changed to the Cascade Cream Limestone cladding for something more contemporary. It has a warm tone, without being too yellow, which complements the open feel of the space and contrasts well with the recycled blackbutt floor.
This cladding is also wonderfully textural, but without being scratchy or catchy. It's surprisingly soft to the touch — because no one wants to snag their favourite comfy jumper on the way to the couch! Overall, the limestone cladding looks stylish, bright, comfortable and textural; just right for this contemporary coastal home.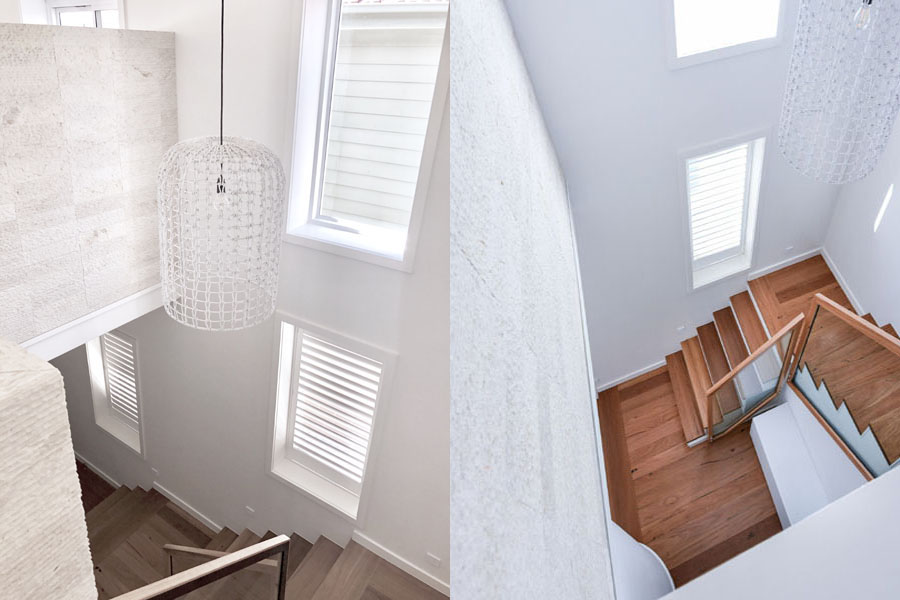 Were there any challenges you needed to overcome?
To help with longevity the limestone cladding needed to be sealed. Gary from Sareen Stone was really helpful; he talked through the process with the builders from GMC Construction. Because of their attention to detail, sealing wasn't a problem, but as with many natural stone products, it's much easier when you plan ahead.
The other challenge was laying the smaller cladding tiles horizontally, stack-bond, with no grouting. This means the tiles are butted up next to each other. It creates a beautifully clean and contemporary look, but it's a bit tricky to lay. Again, the guys from GMC Construction worked their magic and did a great job, and it was worth it! I love the look of these tiles butted together. It adds interest because it's organic and textural, but still neat and grid-like.
Do you have favourite materials that you incorporate in your designs when and where you can?
I love using natural stone and timber because these materials bring a sense of warmth and authenticity, which is really important in a home. Stone particularly has a wonderful solid, permanent character, and there is so much variation that you can create any kind of flavour! I also love timber floors because of their warm, organic texture.
To help natural materials look their best, I prefer to keep the colour scheme simple and neutral, like a canvas that allows the natural materials to shine. This means a home can be timeless because flexible items can be swapped out when you need a change. We all know it's much easier to update your chairs or cushions than replace the floors!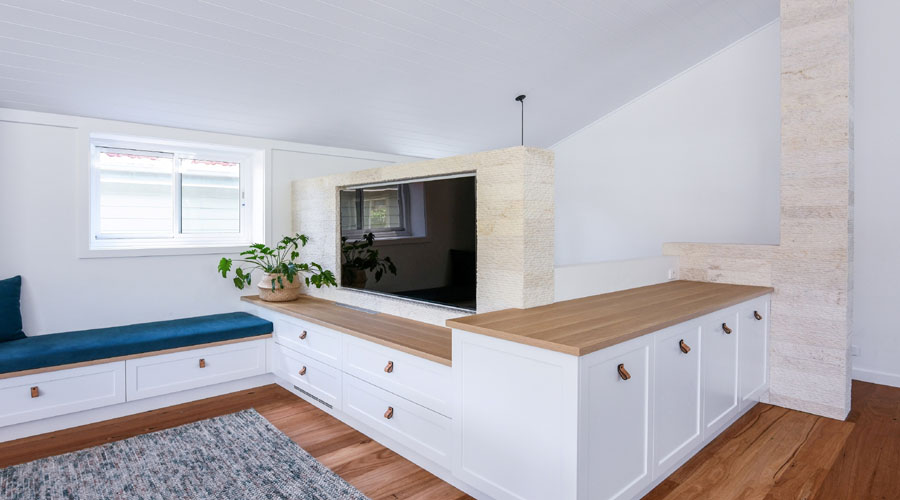 What design trends are you expecting to see in interior design after we move out of the current COVID-19 crisis?
As we isolate ourselves in our homes, I think people are becoming more aware of how spaces affect moods. This pandemic has created feelings of uncertainty and anxiety. I think people will now be craving spaces that promote well-being through a sense of reassurance and comfort.
People have been spending much more time indoors. We might therefore see the popularity of colours that mimic nature, especially for urban, inner-city homes. These outdoorsy palettes can help people feel less cooped up and can contribute to a sense of calm.
Before Covid19 we weren't in our homes 24 hours a day, EVERY. SINGLE. DAY. So I think we will see a rise in the importance of multi-tasking spaces, for example, sofa beds in the lounge room, and desks that can be closed off with doors. And while we all love our families, we could see more separate spaces that people can 'escape to', like outdoor rooms or granny flats.
Most importantly we need good spaces to work at home! Even when we are allowed to go back to the office, I suspect lots of people won't be in a rush. This means more demand for quality, functional office setups at home. Because video-conferencing has quickly become a big part of life, there will also be more concern for things like noise-reverberation and flattering lighting.
It will be interesting to see the design trends as the future reveals itself. But remember, while an interior designer can solve your home office problems, there's not much we can do to stop your kid from running in, during your online meeting, singing "I like bananaaaaaaaas" with undies on their head.
Ampersand Studio is a residential interior design studio that creates practical, beautiful and affordable spaces.
Builder: @gmcconstructions_nsw
Architect: @scopearchitects
Photographer: @inwardoutward