The versatility of Classic Travertine is evident throughout this home in Sydney's north, renovated by FS Hough Builders. As the flooring for the living, kitchen and dining space; the bathroom; the outdoor area and pool coping, Classic Travertine is utilised in its various finishes and provides a timeless elegance throughout.
Indoors, the beige tones of the Classic Travertine flooring ensure the contemporary, open-plan living area is a warm and inviting space. Outdoors a fusion of natural materials, Sareen Stone's First Choice Classic Travertine and the hardwood timber decking sit in harmony and provide a stunning backdrop.
Classic Travertine is one of the most popular natural stones used for residential projects. This incredibly beautiful and practical travertine, with its neutral beige colouring, is suited to both traditional and contemporary environments.
Classic Travertine may be used in both internal and external areas. They are perfect for outdoors in the harsh Australian environment, as they do not retain heat. The unfilled tiles may be partially filled onsite.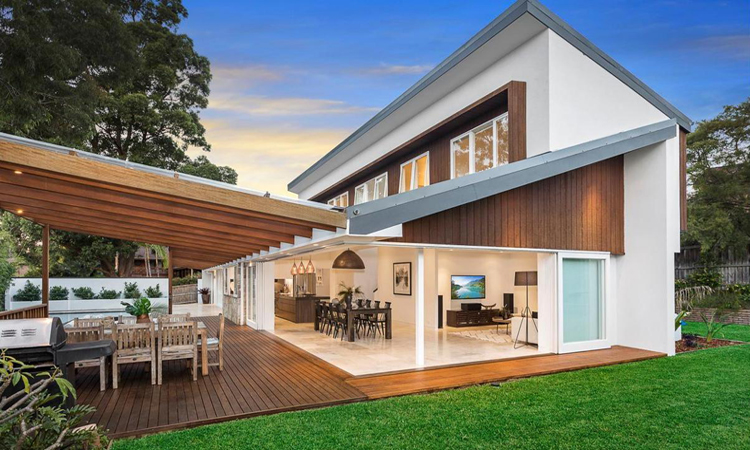 While there are many grades of Classic Travertine available, we pride ourselves on importing first-choice premium quality Classic Travertine, which has minimal large holes, good colour consistency and is free from unwanted inclusions. The grading is based on the size of the holes/pits, colour variation and unwanted inclusions such as onyx impurities.
Sareen Stone's First Choice Classic Travertine comes in the following finishes:
A favourite for both indoor and outdoor areas in residential homes due to its classic, neutral tones; beauty and durability.
Filled to ensure it is durable and easy to maintain and soft and smooth to walk on, this popular and versatile stone complements every design style due to its classic colouring but is especially popular in contemporary homes.
New to our range is the Classic Travertine Tumbled all-in-one drop-down edge pool coping and step tread. This product is perfect for outdoor areas and pool surrounds. Being a solid piece of stone, the result is a strong architectural look to the popular modern rectangular-shaped pool. A favourite of designers and builders alike, Classic Travertine Tumbled continues to be a popular stone used outdoors due to its classic beauty and durability and is just as suitable to use indoors.