What is STONETECH® Enhancer Pro?
STONTECH Enhancer Pro is a sealer for natural stone with a textured, tumbled, honed or flamed finish. It can be used on limestone, slate, travertine, granite, marble, basalt/bluestone, sandstone and cobblestones. StoneTech Enhancer Pro can also be used on grout, masonry and concrete. It is perfect for high-traffic areas in both commercial and residential projects.
Where to use STONETECH® Enhancer Pro
STONETECH Enhancer Pro is the product you need to use if you want to seal your stone floors and ensure your flooring seamlessly flows from inside to out. It deepens the colour of natural stone while providing heavy-duty protection against oil and water-based stains, weather, UV and chemical resistance.
For example, when granite is flamed or sandblasted it generally goes lighter in appearance. Enhancer Pro allows you to return the granite back to its original colour. This means the colour will then be the same as the honed granite.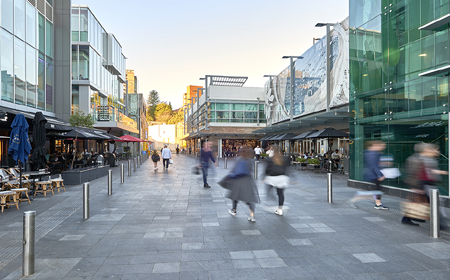 Jayson from JLD Stone Experts recently needed to enhance the colours of the tiles on a job at St Mary's Leagues Club. He needed to cut tiles back to overcome some lipping issues. When Jayson cut back the tiles they lost their colour. The solution was to use StoneTech Enhancer Pro to return the tiles to their original colour.
JLD uses StoneTech Enhancer Pro on many of their residential jobs as well. "I've tried other products but they don't last very long. Actually, some only last a few weeks! In saying that you do need to know what you're doing with this product – it needs to be applied with care." Jayson said.
STONETECH® Enhancer Pro is used by Professionals
STONETECH Enhancer Pro is used by many professionals including:
Australian Stone Seal
JLD Stone Experts
Rural Stone
Select Stone Care
Sydney Brick Paving Company
Some of the projects where Enhancer Pro has been specified include:
Sydney City Council throughout the CBD
Westfield – various Westfield Shopping Centres
Pacific Fair, Gold Coast
St Mary's Leagues Club
Chatswood Concourse, Shopping Precinct
Kiaora Place, Double Bay "Winner of 2016 Urban Taskforce Retail Development of the Year"
Showroom, Clarke Design and Construction, Gold Coast
To discuss which STONTECH product is suitable for your project or how to apply STONETECH Enhancer Pro, contact our knowledgeable Staff.