This week we talked to Cate from Catherine de Meur Interiors about the stunning interior transformation when renovating the lower level of the family residence and its alfresco living area to create a timeless contemporary design with soft muted colours.
The team at Catherine de Meur Interiors overhauled the kitchenette and the alfresco area of Home Herbert and created a seamless transition from inside out by using our Manhattan Limestone and other design elements.
The bathroom posed a challenge by lacking natural light and offering limited space but revamped it into a stylish space.
Design Vision
The client's vision for the lower level of Home Herbert was to utilise soft, muted colours and curves while featuring light lime-washed cabinetry in order to create a timeless sophisticated look.
There is a consistent play of textures, colours and materials throughout the project which provides balance and depth within the space while keeping things visually interesting and creating an atmosphere within the interiors.
We're talking to Cate from Catherine de Meur Interiors to find out more:
What was your vision for the materials and colour schemes?
"We naturally love working with a mixture of pattern, texture, and colour, which is quite consistent throughout all our projects even though each one is unique.
The stone was our starting point, which naturally has a lot of texture and movement, which led us to look at the texture in the wall coverings and the timber grain texture.
We wanted to choose materials and finishes with a contemporary edge with a timeless feel," explained Cate.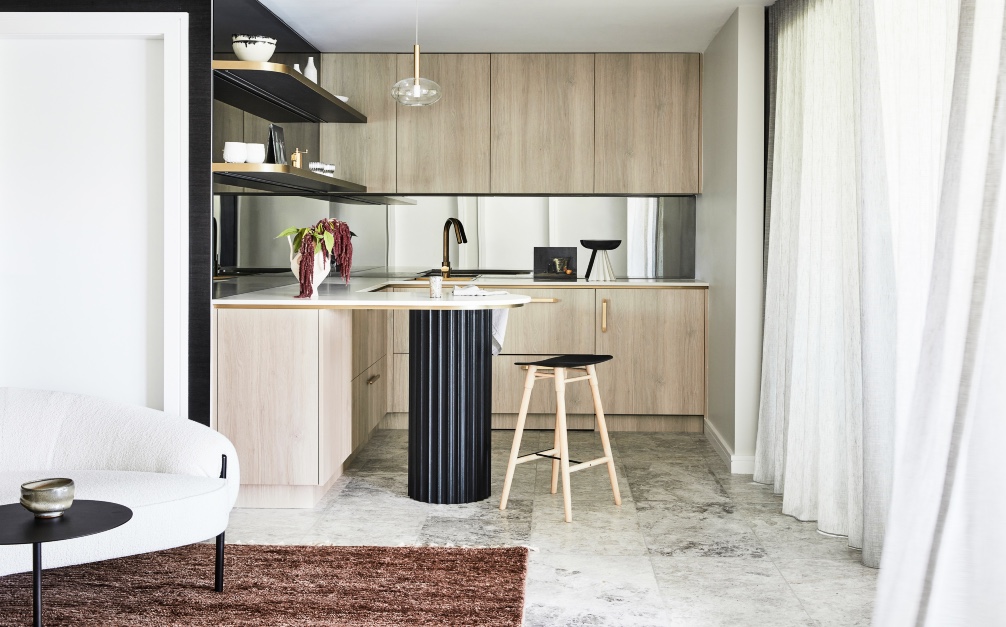 Elegant Manhattan Limestone
Cate selected our Manhattan Limestone for the project, which has the appearance of calming grey clouds interwoven with silver and white hues that offer a completely elegant look and it is one of the best-selling Limestones within our range.
With the distinct natural variation, Manhattan Limestone is reminiscent of a Marble in terms of appearance while providing the benefits of a Limestone in terms of anti-slip properties suitable for outdoor use and a more inviting look.
Timelessness and the elegant colour pattern of our Manhattan Limestone can bring a touch of luxury to any space in both traditional and contemporary environments.
What was the reasoning behind your selection of natural stone, and our Manhattan Limestone, in particular?
"I saw this limestone in the Sareen Stone showroom a couple of years ago and always kept it in mind for the perfect project.
For the growing family at Home Herbert with this space being predominantly used by their teenage boys, I thought that this highly textural stone which has so much movement, was the obvious choice to hide a multitude of sins from the day-to-day activities of the space," said Cate.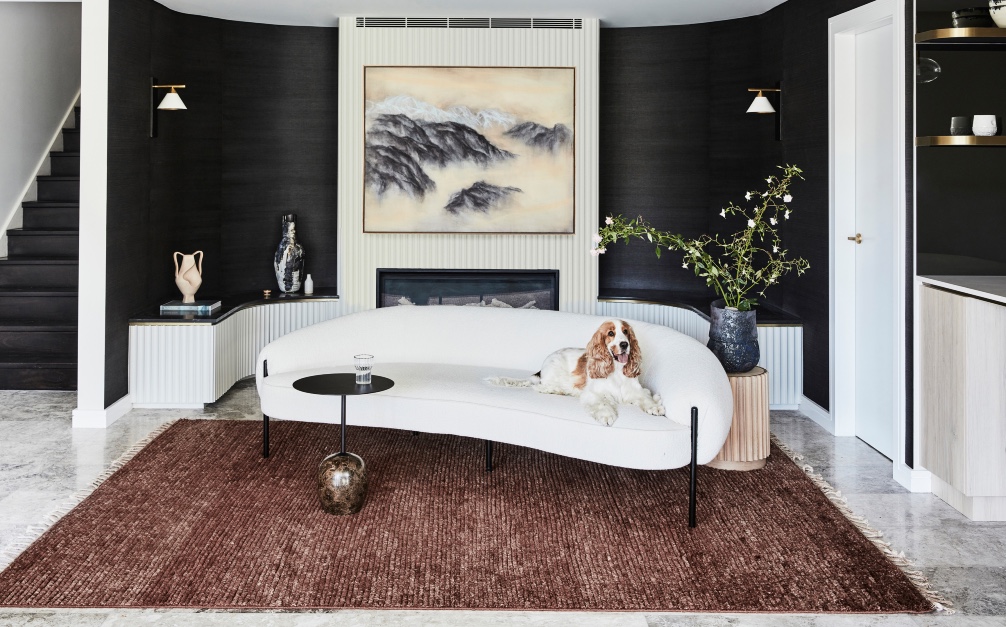 Seamless Transition Between Inside and Outside
Since at Sareen Stone, we supply our Manhattan Limestone in a honed finish that is perfect for interior spaces and an alfresco finish with anti-slip properties suitable for outdoor areas, including pools, Cate has used it for a seamless transition between inside and outside living.
Using the same natural stone is a perfect way of connecting these two spaces and makes the alfresco area an extension of the house.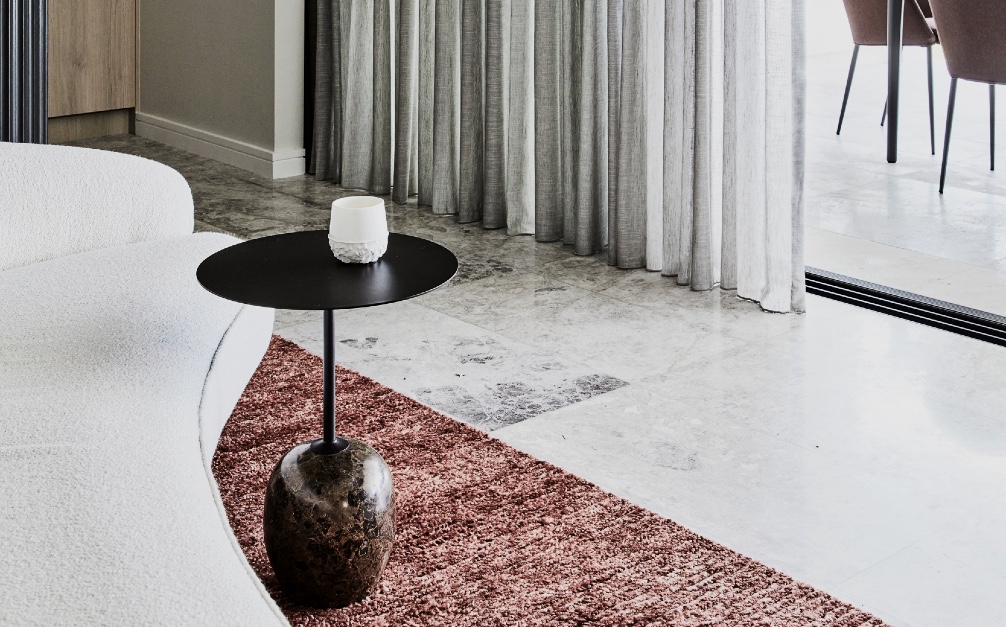 What other design elements did you use, apart from the tiles, to make the alfresco dining look like it is an extension of the indoor space?
"We used the same cabinetry from the indoor kitchenette for the alfresco kitchen which creates a strong link between the two spaces, bringing the outside in.
We also used the same interior paint colour on the exterior of the house to enhance that seamless connection between the two spaces," said Cate.
Perfect Bathroom Choice
Apart from the outdoor area and kitchenette, our Manhattan Limestone in a honed finish was used for the floor and walls in the modern bathroom at Home Herbert.
Even though these areas of the house are quite different, Manhattan Limestone works for both because of its elegant and versatile look, interesting natural variation, and grey colours that can be easily styled with timber outdoors or brass elements in the bathroom.
Why do you think the Manhattan Limestone works in both spaces?
"The floor plan of the indoor, outdoor and bathroom areas wasn't that large, so using the same flooring throughout all areas and halfway up the wall in the bathroom created the illusion of space and made the floorplan feel a lot larger than it was.
It's hard to put my finger on why this material works so well across all these different areas. My instincts play a large role in a lot of my material selections for my clients, and as I said, this stone was our starting point, all other design decisions were made with this stone in mind. It tied the whole design together," said Cate.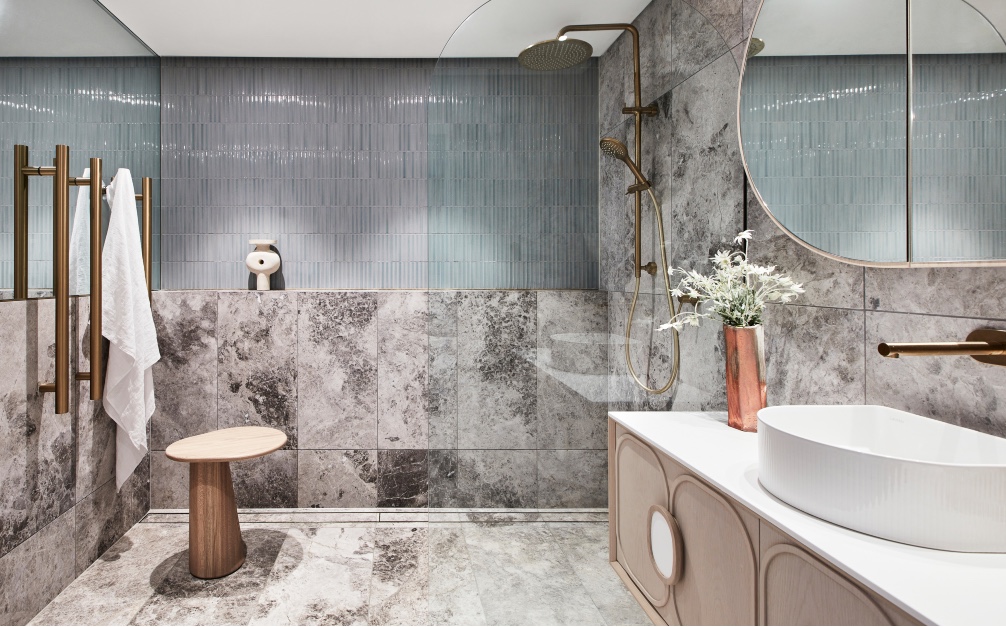 Dramatic Effect With Natural Stone
The bathroom posed a challenge for the design team since it has no natural light and only provides a limited space, but Catherine de Meur Interiors transformed it into a stunning highlight of the house.
While the grey and white Manhattan Limestone tiles are quite neutral and elegant, the strategic placement of lighting made the stone look darker and much more dramatic, which is a perfect example of the limitless options you can achieve with natural stone through design.
There is no natural light in the bathroom, yet it has a very fresh modern look. How did you use design elements to handle this challenge?
"Smoke and mirrors! We used a large mirror that covered the top half of one wall to bounce light around the room and give the illusion of more space.
We strategically placed lighting around the room in LED strip lighting and down lights to ensure the space would feel as light and bright as it could with no actual natural light," explained Cate.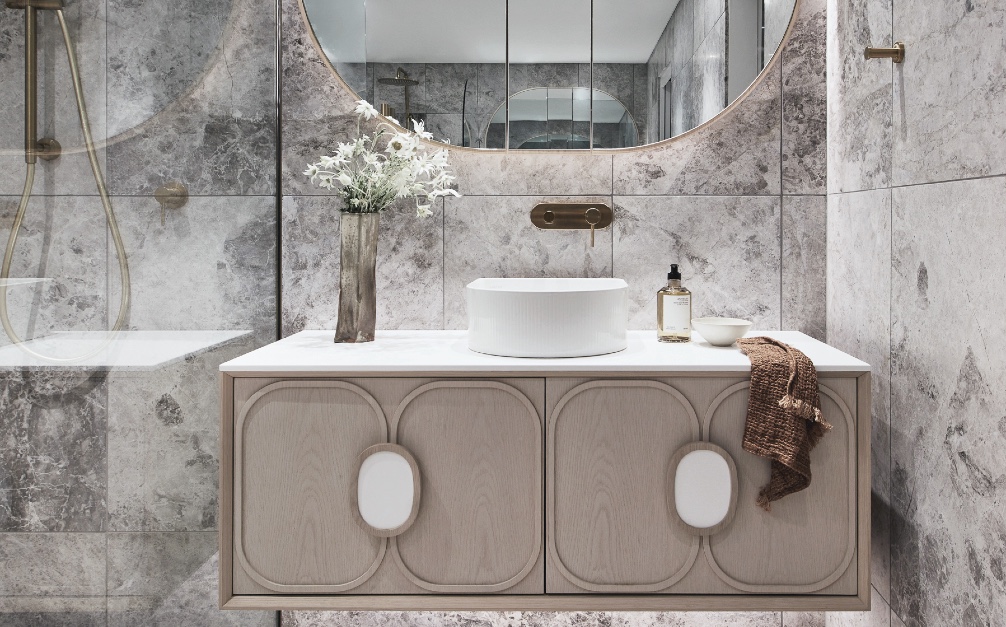 What was your favourite part of the project?
"I enjoy so many stages of the design process with my clients, but it has to have been when I stood back and absorbed everything we had created and achieved with my clients for this project.
The project was planned to be a renovation of the lower level of a family home. We started with the lower level and are currently in the construction phase of the upstairs at the moment! So there will be a complete house renovation when it's done," revealed Cate.
We cannot wait to see the design that emerges on the top floor of Home Herbert!
About Catherine de Meur Interiors
Catherine de Meur Interiors is a Sydney-based interior design practice specialising in full-service projects. With decades of collective experience, they know that the best results come when the clients are invested in the design process.
Their highly skilled team will work closely with you to understand who you are, how you live, and what your vision for your home looks like. You can then relax and enjoy the process, as Catherine de Meur Interiors gets to work.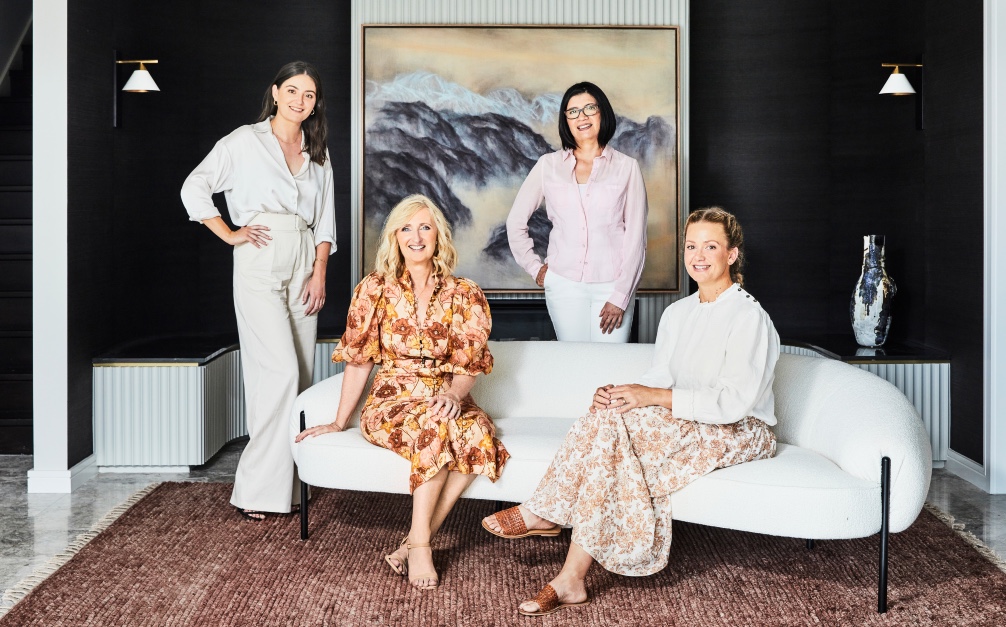 Would you say you have a signature style or philosophy that you carry through in every project?
"Each Catherine de Meur Interiors project is unique, but our design philosophy remains the same: to evoke a feeling of relaxed sophistication for every client.
I like to describe my style as classic contemporary, and depending on the client and the project we tend to lean towards either a more contemporary or more classic edge I find.
We always apply our fundamental principles of colour, texture and layering to create a beautiful space," said Cate.