The alfresco area of the Lowry project underwent a major transformation. Outside Indulgence took the bare backyard and tailored the outdoor space to the needs of the family.
The refreshed backyard now includes a concrete pool with a water feature, an outdoor kitchen, a pool cabana with a fireplace along an outdoor shower that completes the family's new oasis.
Apart from the focus on multifunctionality, the design embraced a modern tropical vibe with a sophisticated grey colour palette that combines a range of materials including Sareen Stone's flamed Granite flooring.
In this article, Sam Langham, the director of Outside Indulgence, tells us more about this transformation and provides us with his perspective on landscaping trends and advice to people looking to renovate their outdoor space.
Backyard Transformation
"Before the renovation, the backyard was just turf right up to all boundary fences. We completely revamped the alfresco area to suit the client's requirements and lifestyle.
The clients wanted to transform their backyard into a usable space to enjoy time as a family, entertain friends and make it an extension of their home," said Sam.
The team from Outside Indulgence focused on creating a space that is multifunctional and includes areas where the family can chill out with friends and enjoy hot summer days.
Design Elements and Materials
The design concept included a variety of materials including concrete, timber, natural stone floors and wall cladding.
"The outdoor kitchen installed by Outside Indulgence consisted of polished concrete benches and timber cladding detail.
The floors were re-tiled with Sareen Stone Flamed Granite, audio was fitted to the ceiling and a splashback to the BBQ area," explained Sam.
These additions allow the family to have everything they need when spending summer days outdoors while maintaining the grey colour palette with the modern design.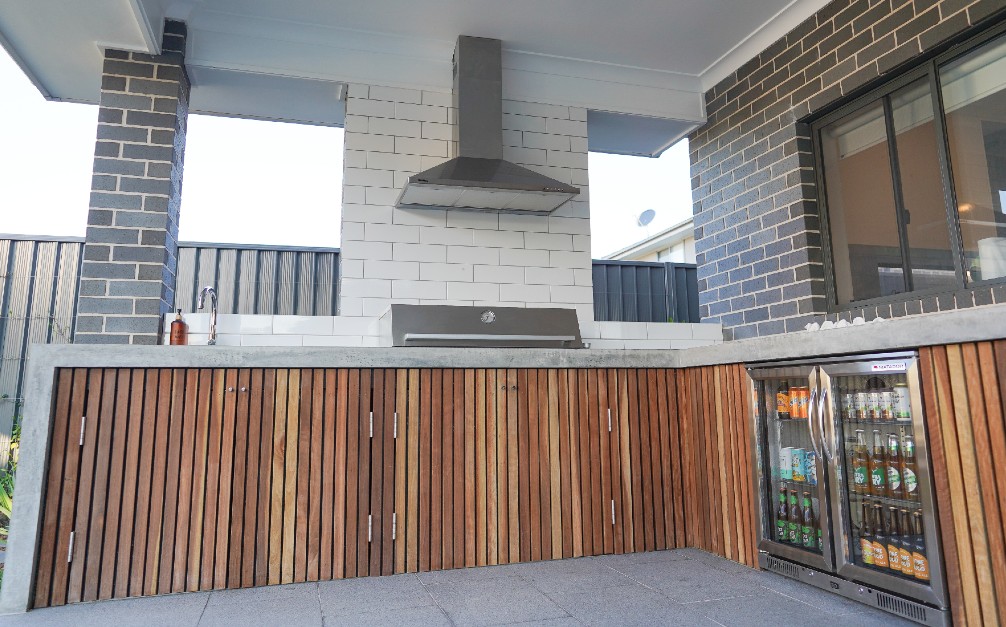 Creating an Outdoor Oasis
"The concrete pool build was enhanced by added pool cabana, an outdoor shower and the luxury look was completed by the tiled pool surrounds and carefully selected softscapes," said Sam.
The pool area is versatile and thanks to the cabana, it can be utilised during the cooler months. The family can sit there enjoying the fireplace and scenery.
"Different materials such as timbers and a fireplace have been constructed to give that overall luxury feel of having everything within your own backyard, " said Sam.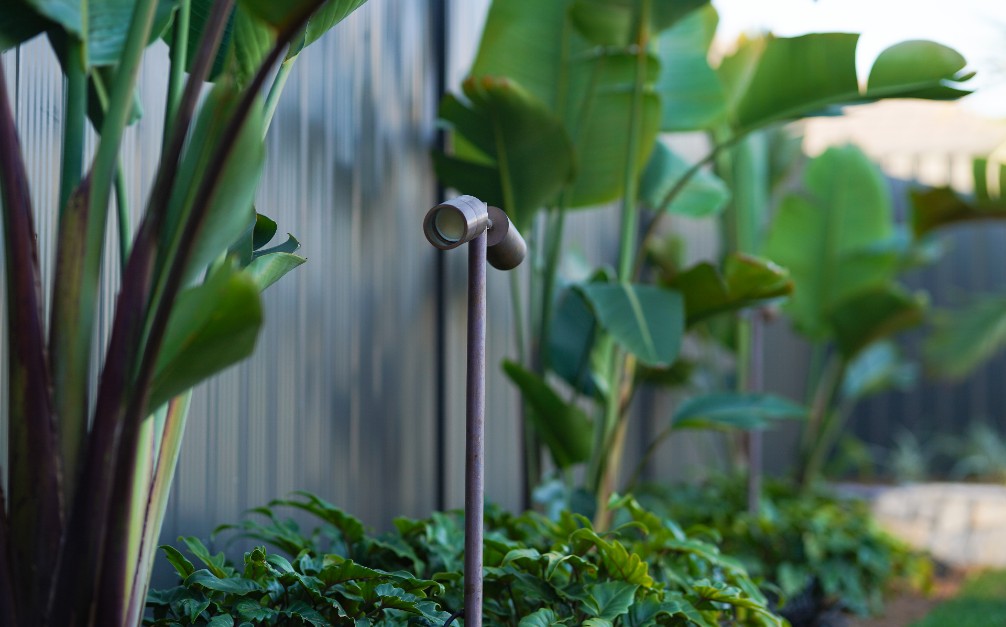 Sareen Stone's Silhouette Grey Granite
"It was important to keep with the original colour scheme of the home to create flow from inside to out. This meant continuing with a grey colour palette using Sareen Stone's Silhouette Flamed Grey Granite.
We used the Granite to create opened steppers leading to the pool gate. When stepping inside the pool area the same product has been used to keep the structure and feel of the project.
The flamed Granite was used to keep with the tones and existing colour scheme of the home. It was our chosen material choice for its natural stone texture, quality, and performance in high pedestrian areas," explained Sam.
The Silhouette Granite also looks exceptionally well when set against the blue colours of the pool, the white decorative elements, and the greenery of the landscape.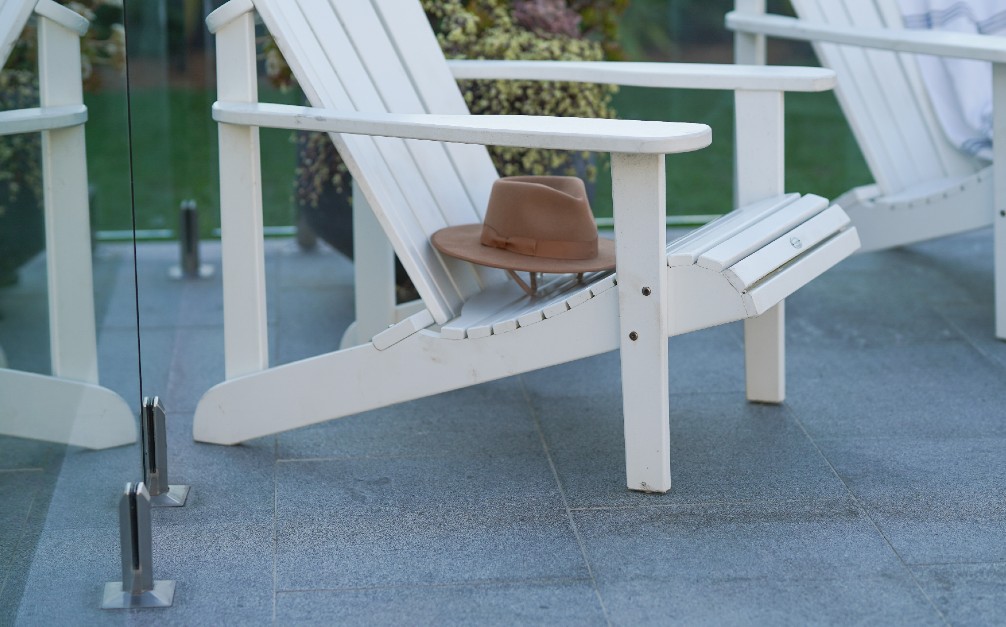 Modern Tropical Ambiance
"The alfresco area was designed in line with a modern tropical theme," said Sam.
The most recognisable characteristics are tropical leafy green plants, bold colours, and plenty of shade ideal for chilling out with a drink, creating an atmosphere of a tropical holiday within your own backyard.
The modern tropical style can often include water features within the pool such as fountains or koi ponds. And Outside Indulgence selected the waterfall in the concrete pool to reinforce the look.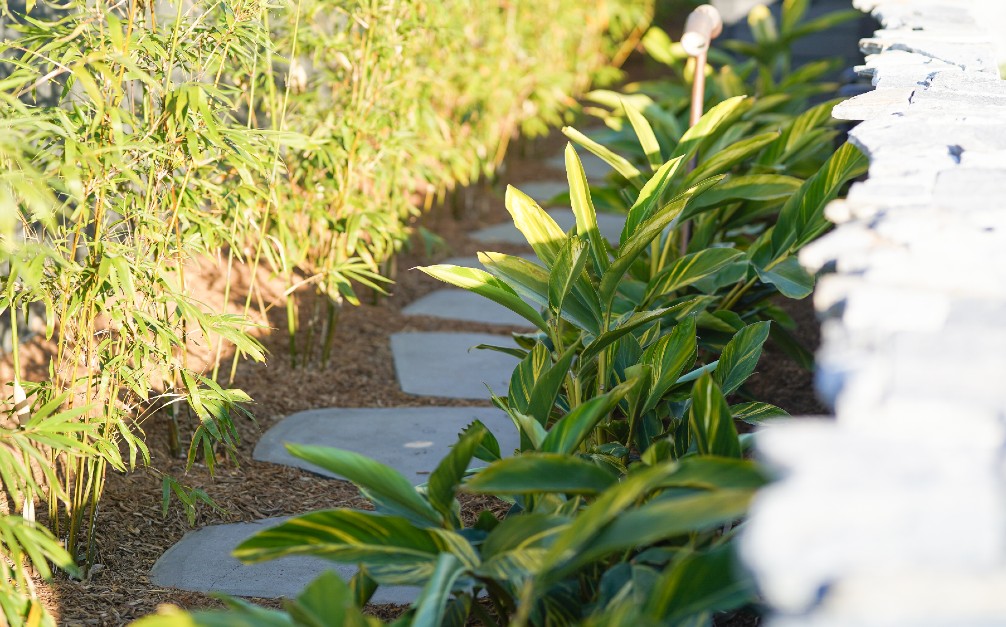 "In terms of the selected plants, we used bamboo for linear height, strelitzia to emphasise the coastal theme, variegated ginger for an accent of colour and texture and an array of architectural shrubs to balance the height of plants and complement the hard spaces."
About Outside Indulgence
Outside Indulgence is a team of highly-skilled, qualified pool & spa builders, landscapers and admin staff that manage all aspects of your project in-house, overseeing every detail from start to finish.
Sam & Kylie founded Outside Indulgence with a clear vision to deliver individual, high-end residential pools, spas and landscapes.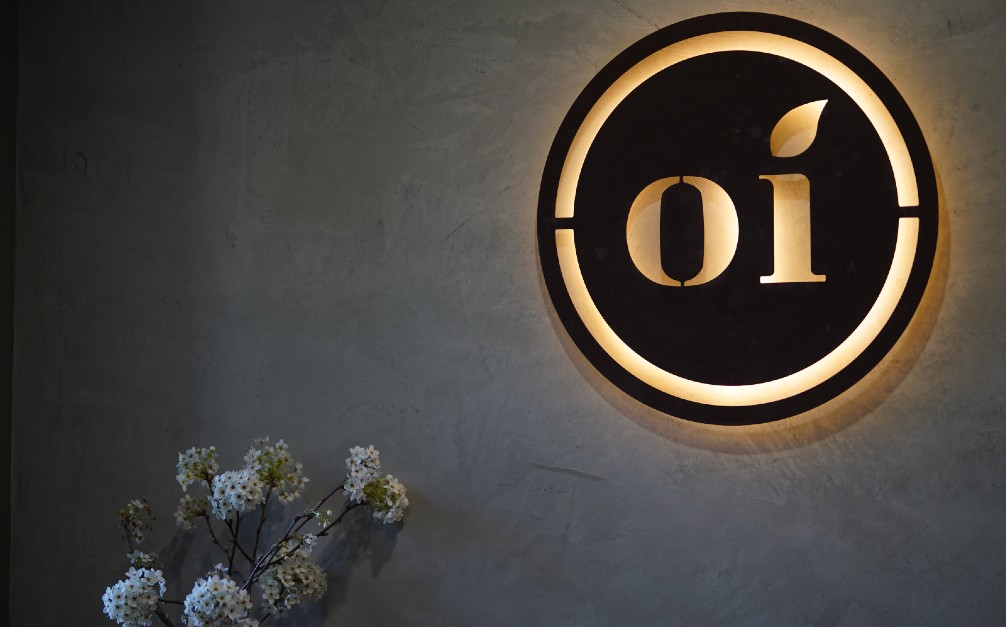 Outside Indulgence accompanies you along every part of the project. The collaboration starts with the on-site consultation, where you will discuss the design brief, ideas, and budget and design your own custom concept plan which includes 2D plans and 3D computer-generated renders.
From the beginning, they manage and oversee the full scope of construction right through to the final handover.
The final step of the project includes exterior styling, including furniture, and soft furnishings and bringing the final elements together.
Sam, the managing director of Outside Indulgence with over 20 years of experience in the landscaping industry, talks to Sareen Stone about some of the latest alfresco trends in Australia:
Outdoor Showers In Demand
"Outdoor showers are so hot right now.
They create this mood of luxury in your own backyard but are also so functional when you have a pool or live near the beach.
The best thing about outdoor showers is that they are a great way to add value to your home and the design possibilities are endless, from floor covering to fittings to how you will mount it. You can really make it a statement piece," explained Sam.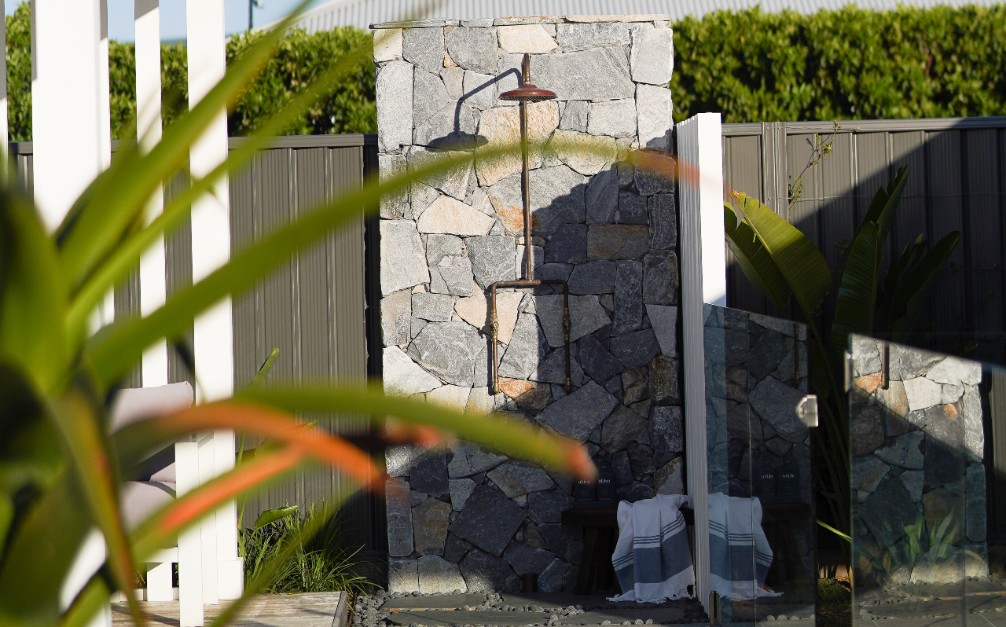 The Rise of 'Lifestyle Landscaping'
"We're now starting to see a transition into, what we at Outside Indulgence call 'lifestyle landscaping'.
Alfresco areas involve additional spaces like cabanas, pavilions, or fireplaces, that are not just your standard backyard but a place for homeowners to really enjoy what they have and build something to suit their lifestyle."
Sam's Advice When Planning the Renovation of Your Alfresco Area
"I always start by asking people two fundamental questions:
1. What do you want to get out of it?
2. What is the main thing you want to use it for?
There are so many brilliantly designed alfresco areas but not every single one you look at will suit your lifestyle, it needs to serve a purpose.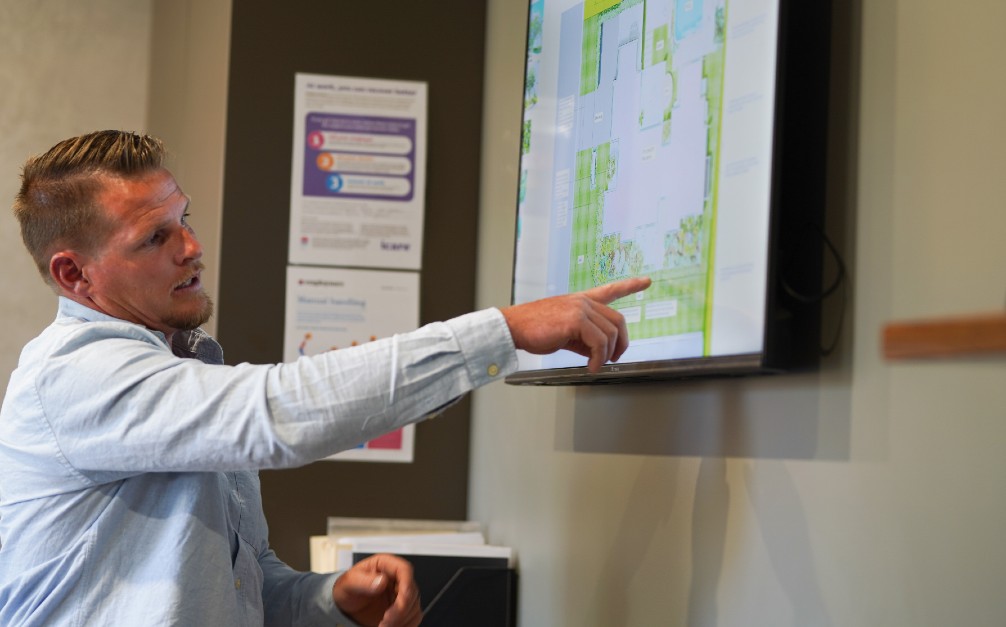 For example, a lot of people want a traditional pizza oven, yes, they look great BUT are you prepared to start it early in the afternoon, so it heats up, do you like cooking, if you have a crowd over are you prepared to be standing there feeding pizzas in and out.
Some people will love this idea and the pleasure they get from entertaining this way, others will think that sounds like way too much effort and would prefer to be kicking back with mates having a chat, in which case, a BBQ will be a better fit.
This is what I mean when I say looking at pretty pictures is great for inspiration, but you really need to consider if the layout and inclusions are right for you," said Sam.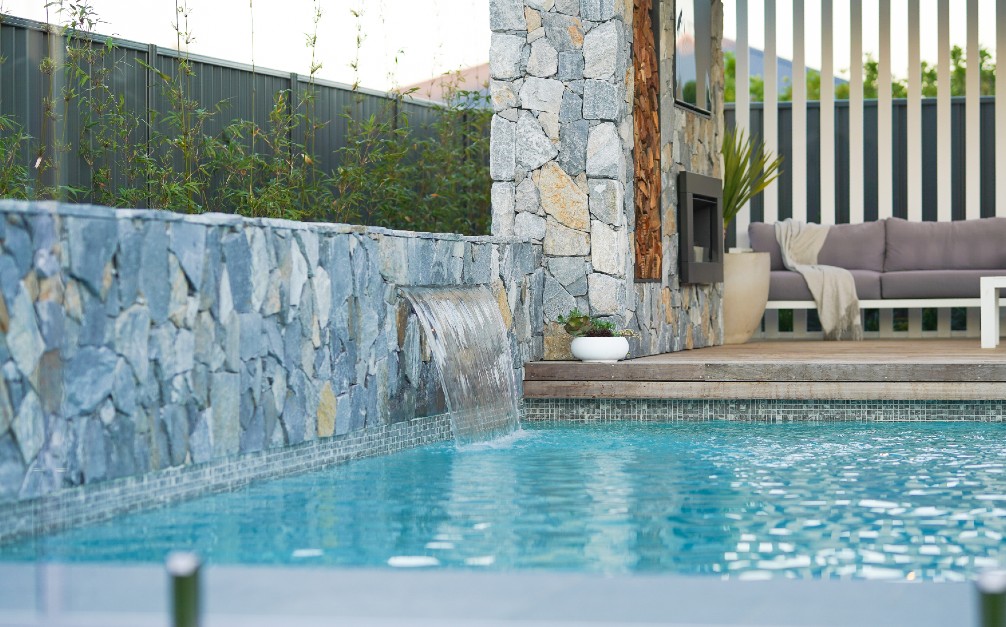 How Did COVID Impact Landscaping Industry?
"Covid has had a massive impact on the landscaping industry. When people's ability to travel and have a holiday is taken away, they start to look for alternatives.
During COVID, that alternative was designing and building a backyard that is unique to their needs and fills that travel void.
Can't travel for that overseas island holiday, no worries put a pool in.
The working from home culture shift has also played a massive role. People want to look out their own office window and see a beautifully designed backyard. It's like having their own piece of paradise at their fingertips," explains Sam.