Warming your home throughout the cooler months of the year is fuss free with under floor heating. No messy firewood, no smoky rooms and no cool spots. Under tile floor heating offers a subtle heat that gently and consistently warms the entire space and from all accounts, it won't break the bank. We talk to Sandra Skelly, General Manager of Comfort Heat Australia to discover all there is to know about under tile heating.
Sandra, how long has Comfort Heat been installing floor heating systems & would you say underfloor heating is growing in popularity?
Comfort Heat Australia has been supplying and installing floor heating systems in new homes and renovations for more than 15 years. Recently more home owners have had opportunities to feel the warmth generated from floor heating and as more systems are installed; more enquiries are being received, which is great.
Which are the most common areas in the home to have under tile heating installed?
The easiest and most common area to heat with floor heating is the bathroom. The installation is low cost and the electrical load is small, but the benefits are huge. As well as a warm bathroom floor on a cold morning or evening, the air in the bathroom becomes warm, towels dry and the floor remains dry and therefore mould is eliminated. Also it is ideal to install when the bathroom is being renovated as well as new constructions. Other areas to be heated are tiled living areas, polished concrete floors, under carpet in bedrooms and basement rumpus rooms. Floor heating is ideal under tile and stone and eliminates the chill completely.
What are the main benefits of using under tile floor heating in a home?
As heat naturally rises, it makes sense to heat from the floor so all the heat generated passes where you would normally live. Other forms of heating usually heat the ceiling and the living spaces can remain chilly on the coldest days. Other benefits for floor heating is that it can be easily managed so energy is not wasted, the heating is totally invisible so no impact on interior spaces, there is no mechanical movement of air so it is totally silent and dust free, and it uses very low heat so no burning surfaces.
Can you explain the difference between hydronic heating and electric heating?
Electric heating is ideal for small areas down to 1 square metre. This is the product we would use for bathrooms. The small areas are low cost to install, there is minimal impact on the building and installation is quick. As the floor area increases, so does the electrical load of the electric floor heating and at around 70 square metres of heating, the cost to install versus the running costs becomes uneconomical. Hydronic heating is an alternative to heating the floor in large floor areas, such as entire living spaces, entire homes and commercial areas. The main reason why hydronic heating can be used for larger areas is that energy sources other than electricity can be used to heat water which is pumped through pipes in the floor. Natural gas is the most efficient option, however air to water heat pump chillers are used also which cut the electrical load by 2/3.
Sandra, can you tell us what system you use to heat tiled floors?
For small tiled areas we use electric cable heating systems. If a screed bed is being installed our in-screed free cable is used, otherwise if tile glue is being used our ultra thin mat would be used. We also have an in slab heating cable which can be used for larger slabs and connected to off peak electricity supplies to minimise running costs. For large areas we would recommend a hydronic heating system which can be installed in the slab or in a 50mm screed bed.
How is electric floor heating installed under a tiled floor?
In bathrooms, because of the waterproof membrane, the floor heating cable is clipped to a mesh which 'floats' over the waterproof membrane. Once the screed bed is installed the cable will be totally encased within cement. If installing in a larger area in screed, the cable is kept evenly spaced on the floor with a specially designed metal strip. Ultra thin cable is held in place on the floor with hot glue or double sided tape until the tile glue is installed. In slab cable is clipped to the top level of reinforcing mesh with clips or cable ties.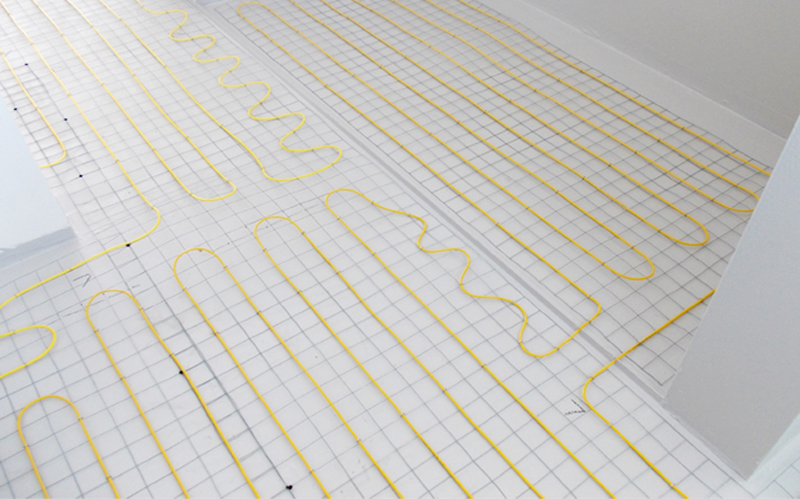 How cost efficient is under tile heating? How does it compare to gas heating or air conditioning?
The efficiency of floor heating relies on the thermostat to manage the energy usage. As the floor heating is low temperature and the thermostat uses a floor sensor, the comfort level can be easily chosen so no energy is wasted. With gas fires or air conditioning, energy management is not as precise, and a lot of the heat generated is up in the ceiling leaving the floor cold.
Sandra, what other considerations should homeowners make when choosing how to heat their home?
As heat moves from hot to cold, the major heat loss in a house is through the windows. To ensure the most efficient heating of a home, the homeowners will need to consider insulation and window treatments designed to trap heat during the colder months. This needs to be traded off with the heat loss you need in summer when you want to keep the house cool. Little to no insulation will mean running costs for energy in winter will be higher than if there is some insulation installed to keep the heat from moving to the cold outside.
Comfort Heat is located in Warriewood, NSW. To find out more about under tile heating visit their website call Sandra and the team to discover more about their Superior Floor Heating Systems.