Designer, Peter Bachak has been working in the landscape industry for over 20 years and has worked on some fairly comprehensive projects on Australia's east coast.
His latest project sits high on a cliff in Sydney's east with panoramic views of the Pacific Ocean. For Osmosis Gardens, the project involved a complete redesign and renovation of the garden as well as the interior and exterior of the home, and that's where the 'norms' were challenged.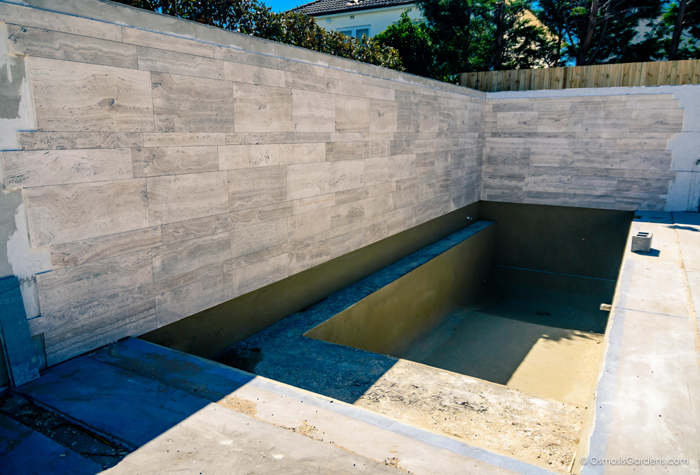 Peter chose the beautiful Striato Coliseum Travertine Vein Cut tiles as a subtle accent wall for the new indoor pool and to improve the entry statement of the front façade. He then designed a geometric tile layout and instructed the tiles be installed in reverse, "revealing the textured underside for added depth and interest in a pattern of random coursing and alternating offsets. The result is a modern twist to an old world dry-stone wall."
The Striato Travertine was also chosen to compliment the Atlantic Grey Flamed Granite flooring that has also been installed in a geometric set-out of alternating 100mm offsets, that when viewed from key vistas, evokes the waves of the nearby pacific ocean, through the front door, the house interior and out to the pool, and was even incorporated into the pool coping to achieve a seamless pleasing fabric. The subtle detail is not evident at first, but intriguingly satisfying once pointed out.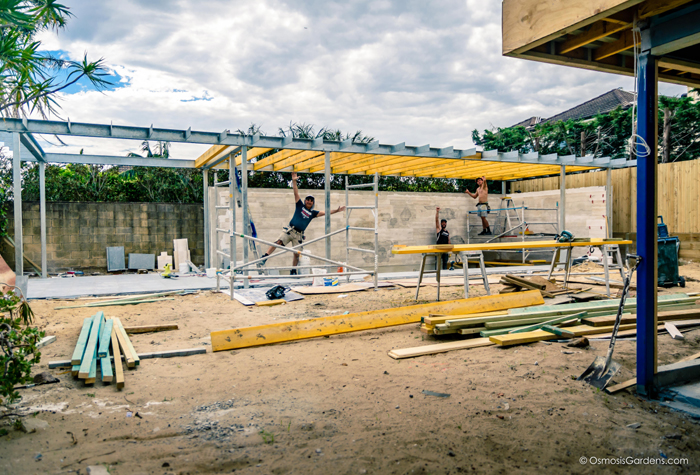 Striato Coliseum Travertine 812x406x14 Vein Cut Sawn finish is imported from Italy. It has a striking aesthetic, including highly visible stripes and evident mineral deposits within, making each tile completely unique. Needless to say, it is also extremely popular.
The travertine has been cut so it slices through the grain creating a lineal effect. Striato Coliseum Travertine is an incredibly stunning stone that can be used in both interior and exterior applications. The travertine tile is available in a filled and honed finish.
Due to be completed this year, the comprehensive design and refurbishment by Osmosis Gardens, is part of a complete overhaul of the entire property by builders, TC Build.