Victoria Dennis explains, "A new light filled entrance, main stair and direct connection from the street to the first-floor open plan living entertaining area provides the necessities for a modern family house within the shell of the old. The removal of a majority of the first-floor internal walls was achieved with clever structural design, implemented carefully by the builder to transform and reinvigorate the building.
TDDP provided considered and strategic planning to both levels to provide a light filled and peaceful family home with direct connections to both the front and rear recreational areas. The final design achieves a rebirth of what was an underachieving building, elevating it to suit the needs of the modern family." The replanning of the house consisted of open plan living, kitchen and dining spaces at the entry level, and bedrooms to the lower private levels of the house.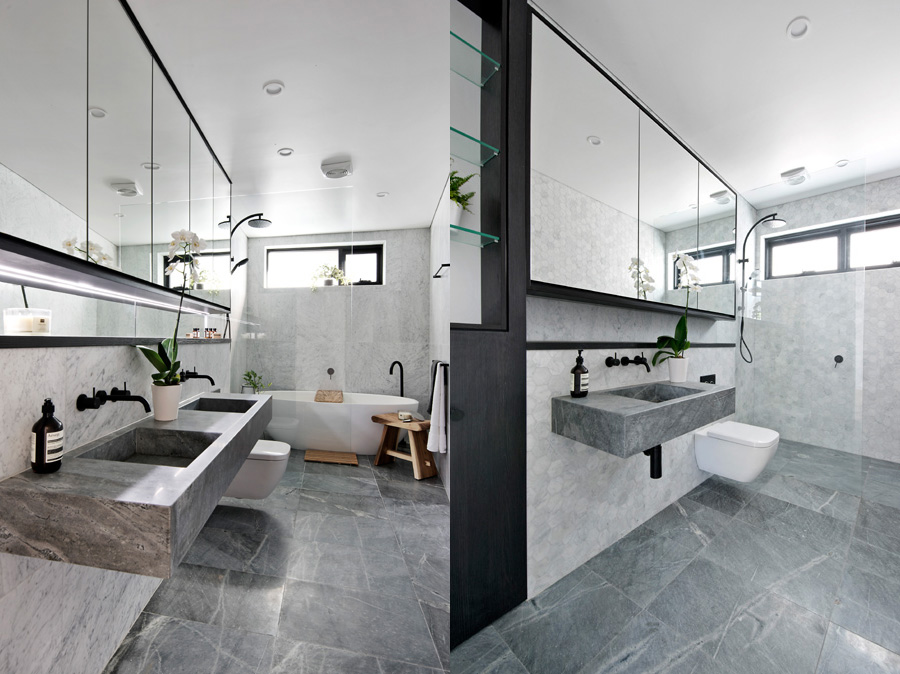 Inside this new family home, Sareen Stone's Atlantic Grey Granite floor tiles were used in the bathrooms to complement the combination of grey elements, white bath and black tapware and accessories, creating a light filled space in the family bathroom. Outside, Atlantic Grey makes a striking entrance to the home.
Victoria explains how the second project embraced its site constraints – the site was landlocked, had no street address and the sole access was via 32 public pedestrian steps and shared boundaries with 7 neighbouring properties – yet it capitalized on its opportunities providing privacy and a successful family home despite the outcrop nature of this site.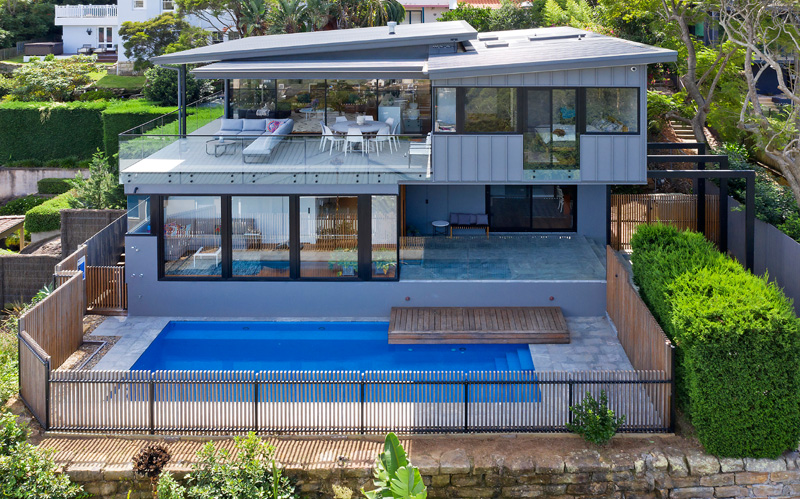 "The design retained and replanned the existing ground floor, adding a new first floor consisting of living, kitchen, dining and master bedroom suite. Maximising the outlook to both the harbour and natural landscape features while masking neighbouring buildings was achieved through careful placement of openings and varying the sill and head heights to capture distinct picture views".
Atlantic Grey Granite
Sareen Stone's Atlantic Grey Granite has been used for the new ground floor outdoor pool space and blends perfectly with the natural landscape. The Atlantic Grey Granite offers a soft and warm welcome to the entrance of the home.
Atlantic Grey Granite is now available in larger format and can be used for interiors or exteriors. Like all granite, Atlantic Grey is a highly durable stone yet unlike other granites, it displays a soft veining reminiscent of marble.
TDDP Architects specialise in residential and retail design offering a full-service studio to assist their clients define their exact needs from initial brief through to design concept and detail for Council and project construction as well as interior design services. TDDP also manage the co-ordination of construction certificates, tender and building documentation as well as to offer contract administration services.