You've been landscaping for 15 years, what changes have you seen in that time in your industry?
The industry does fluctuate between different styles and trends but I would say the biggest change has been the rise of various social media platforms in place of websites and older forms of advertising. It's a lot easier these days to showcase your work and to gain a following, which can lead to recommendations from people you may have never met in person but will be following your pages and see things that they like and will relay to other friends and so on. It's an advanced "word of mouth" advertising, which has been great to be a part of.
You use a lot of beautiful natural stone in your projects. Of course, we are biased but we absolutely love our Manhattan Alfresco Limestone tiles at the entrance of your Seaforth project. Were the clients happy with the result?
I always love the opportunity to work with natural stone as it has a character to it that is unmatched and unique in every job. The Manhattan Alfresco Limestone is such a beautiful stone that it's easy to see why my customers selected it for their project, the end result is definitely eye catching and my customers are over the moon with their new feature wall entrance, as am I.
You've used the Manhattan Alfresco Limestone in a larger format as a wall tile which is not something we see every day. It complements that timber front door beautifully. How did you find it to install as a wall covering?
I found Sareen Stone's Manhattan Alfresco Limestone really complemented the rich, earthy tones of the home's timber door. Part of the beauty and character of natural stone is obviously the presence of other minerals, which is a huge part of the look, but this also made some of the mitre cuts for the corners quite tricky as some of the minerals once exposed to an open edge were quite delicate and could easily chip or crumble if you're not careful. Patience and care were definitely key with this installation.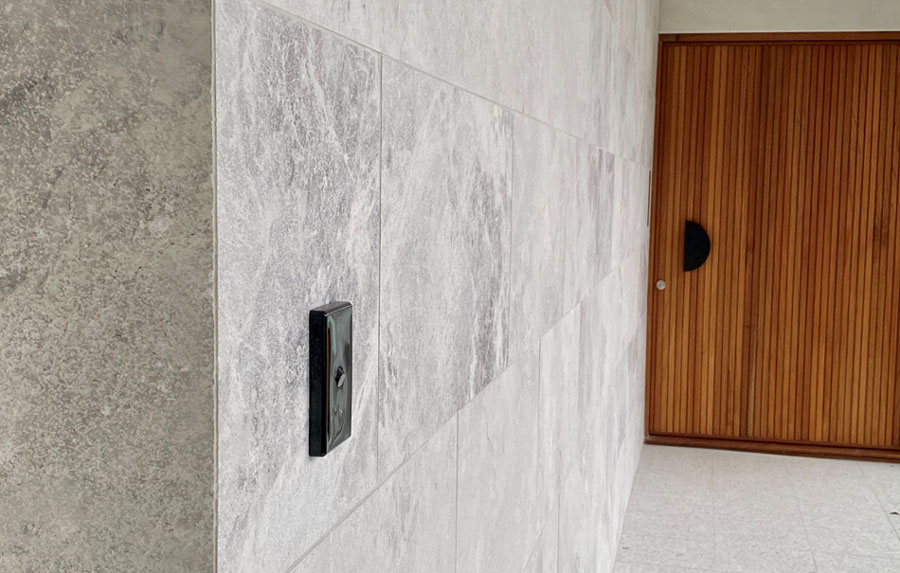 What do you see as the benefits of using natural stone? When do you advise clients to use it?
Personally, I think natural stone is timeless. It's survived through all of the different trends through the years and never looks outdated. The appeal is its hardiness and low maintenance, which is why I recommend it in all paving and tiling jobs where the budget will allow. There's always a type and style of natural stone for any job.
How has COVID-19 impacted life on Sydney's Northern Beaches?
We are quite insular here on the Northern Beaches, having no train lines and limited roads in, it hasn't seemed like it's been impacted as much as some of the other parts of Sydney. However we have had the usual impacts and restrictions implicated so really it does seem like we are all in the same boat on this one.
What exciting projects are on the horizon for Landscape Calligraphy?
Well I'd definitely like to explore more stone cladding projects, I especially like bringing the outdoors indoors with internal feature walls and fireplace surrounds. We have a few of these in the calendar that I'm really looking forward to. As for the business, I think expansion is on the horizon. I'd also like to dip my toes into some of the smaller-scale commercial jobs.
It's hard not to walk around places like Barangaroo, or even closer-to-home at Warringah Mall, and not be impressed by some of the architecture and landscaping. I'd love to see what we could bring to the table with a commercial project, given the opportunity.