Driveways, pathways and outdoor spaces using fanned cobblestones are not for the faint-hearted. Generally, when it comes to installing fanned cobbles they are a more complex design where the devil's in the detail!
The fanned pattern is sometimes referred to as the Florentine pattern or European Fanned pattern. Whilst they can work in smaller areas fanned cobblestones generally work best in large-scale patterns.
It is wise to engage an experienced landscaper or tiler to lay your cobbles. The inclusion of contrasting colours can be used as highlights and accents adding beauty to your overall pattern. However, the planning needs to be meticulous and the laying of the cobbles done with care.  These are supplied on a mesh sheet one fan at a time.
Reminiscent of patterns & designs found across Europe & even in designs built by the Romans in ancient times, fanned cobbles are also used to achieve a circular or semi-circular design for driveways, pathways and public spaces.  This pattern adds texture and interest to the overall landscape.
The popularity of fan pattern cobbles has been evident for centuries. They continue to be a popular choice today due to their enduring properties, easy maintenance, beauty and cost-effectiveness!
At Sareen Stone granite fanned cobbles are a custom order and available in the following:
Salt 'n' Pepper Granite Cobblestones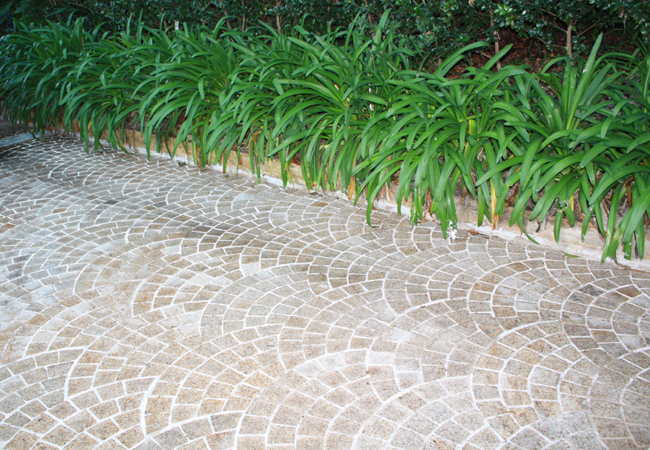 The lead time will generally be a minimum of 8 weeks however this can vary depending on your requirements and the location of our supplier.