Once a traditional and tired terrace, award winning architects, Niven Choi, have transformed it into a versatile, modern-day home suitable for a growing family.
Niven Choi embraced the modern, strong and bold aesthetic of Sareen Stone's Black Titan Basalt flooring when renovating the Darlinghurst terrace. Continuing the Black Titan Basalt floor tiles from the internal spaces right through to the stage at the end of the outdoor courtyard was a stroke of genius. Not only are the internal and external areas unified, there is also the perception of a more generous space.
Being an inner-city property dark flooring was chosen for its sophisticated and edgy contrast throughout. As architect Jodie Niven Choi explains, she wanted the new flooring to be a "strong, bold contrast throughout the home and the dark stone complemented the newly stained (black) existing timber flooring throughout the original part of the house. The bold dark tones also helped to define and visually extend the limited terrace house site dimensions."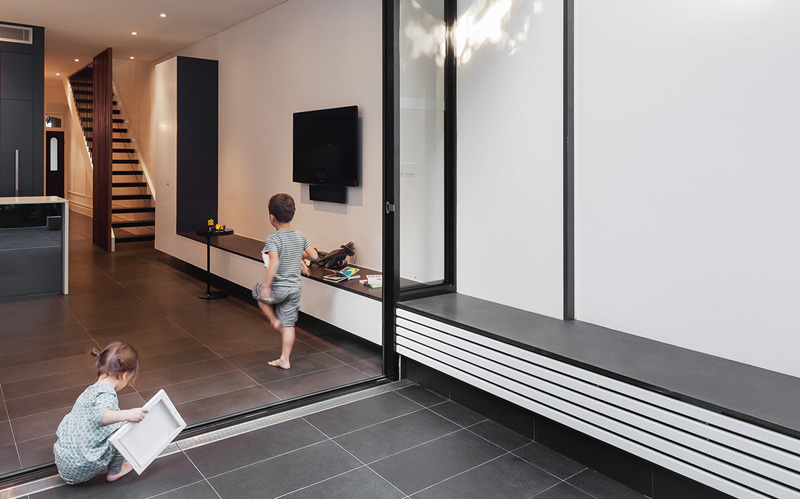 The project wasn't without its challenges. One of those was achieving the perception of depth and ensuring continuity in the flooring from inside to out.
"My paramount intention for the new spaces was to create seamless indoor/ outdoor transitions, and critical to achieving this was finding a flooring solution with a high-end and hard wearing finish which could be used both indoors and outdoors, bringing depth and continuity to the overall space. The basalt achieved this." Jodie says.
Basalt slabs were organised and used on top of the long bench seat and storage which extends the full length of the rear living area and then continues out into the courtyard.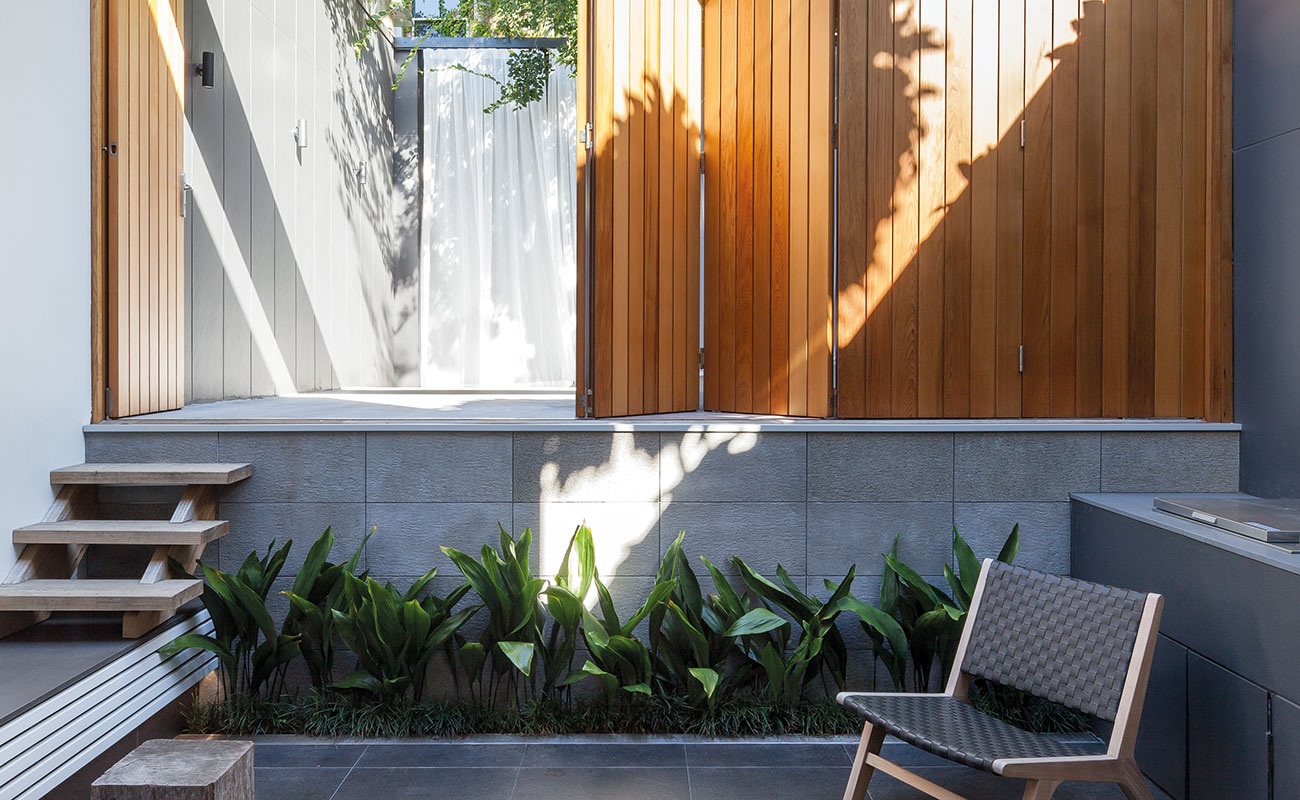 Sareen Stone's Black Titan Basalt Honed  tiles offer consistent colouring, with minimal variation. The deep grey of the Basalt Honed tile lends itself to a range of design styles including traditional, minimalist and industrial. Basalt tiles are a practical and beautiful indoor flooring. They also make for a majestic fireplace surround, kitchen splash back or benchtop.
Commercially, the deep charcoal palette projects a youthful, contemporary vibe with a practical sensibility. Basalt is perfect for high traffic areas such as retail and hospitality, due to its depth of colour, consistent texture and excellent durability.
Outdoors its popularity as a pool surround as well as a splash back and benchtop combination for the outdoor kitchen continues to grow. Black Titan Basalt with a sawn finish is available as tiles, pavers, step treads and pool copings and are extremely hard wearing. The versatility of the grey means it will complement every landscaping design whether that be solely timber decking, a native bush garden, a formal styled garden or a more tropical landscape.