Our selection of tiles
Take a look at our tiles that are ideal for wet area walls and floors in bathrooms and laundries.
Crema Marquina Limestone 305x305x10 Honed Tile
Crema Marquina Limestone is a light-coloured natural stone with minimal veining and one of our more popular options for use on walls and floors, with its distinctly natural, luxurious look.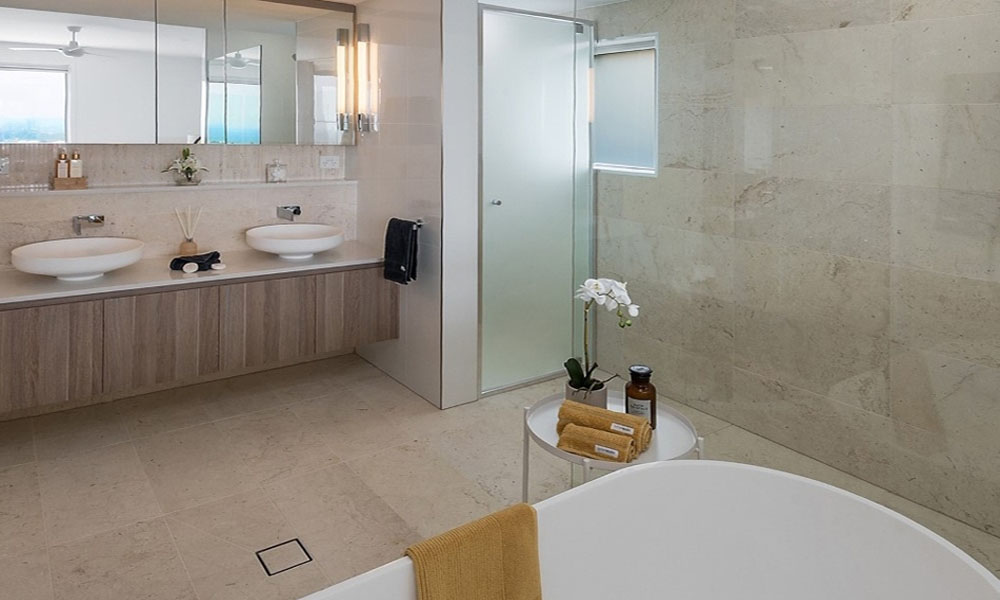 Manhattan Limestone 305x305x10 Honed Tile
Imagine silver cirrus clouds interwoven with white hues and you'll be close to picturing the elegant look of our Manhattan Limestone. Almost marble-like and very hardwearing, our Manhattan Limestone will add a sense of luxury to any bathroom or laundry project.
Noce Travertine 305x305x10 Filled & Honed Tile
Our Noce Travertine has a mix of brown, beige and earthy colours that add warmer and richer feel that create a classic effect to your space. As demonstrated by this Freshwater residence by Walter Barda Design, it works best in light filled rooms by complimenting them with a dominant backdrop and a touch of character.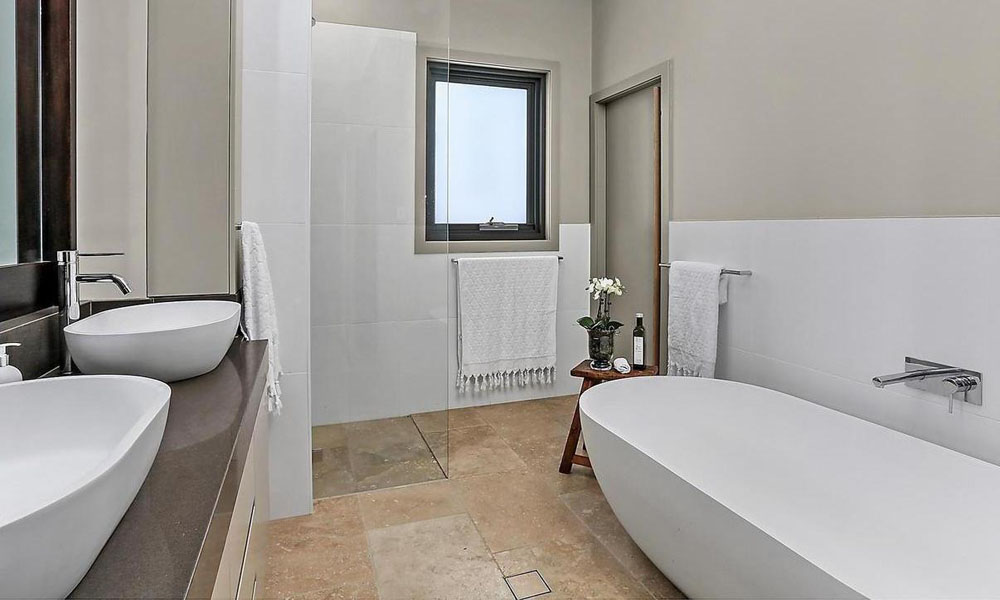 Classic Travertine 305x305x10 Filled & Honed Tile
One of our most popular stones is the classic travertine. This is because of its versatility and simple but beautiful light beige design. It is suitable to be used both indoors and outdoors, and because it doesn't retain heat, it is a safe choice for the Australian climate.
Carrara Bianco Marble C 305x305x10 Honed Tile
This is the Italian stone that comes to mind when you think 'white marble'. Carrara is the classic white Italian marble used for centuries in building and sculpture applications. Our Carrara Bianco Marble C is sourced from the world famous La Facciata quarry, which is knownn to produce the best Carrara available.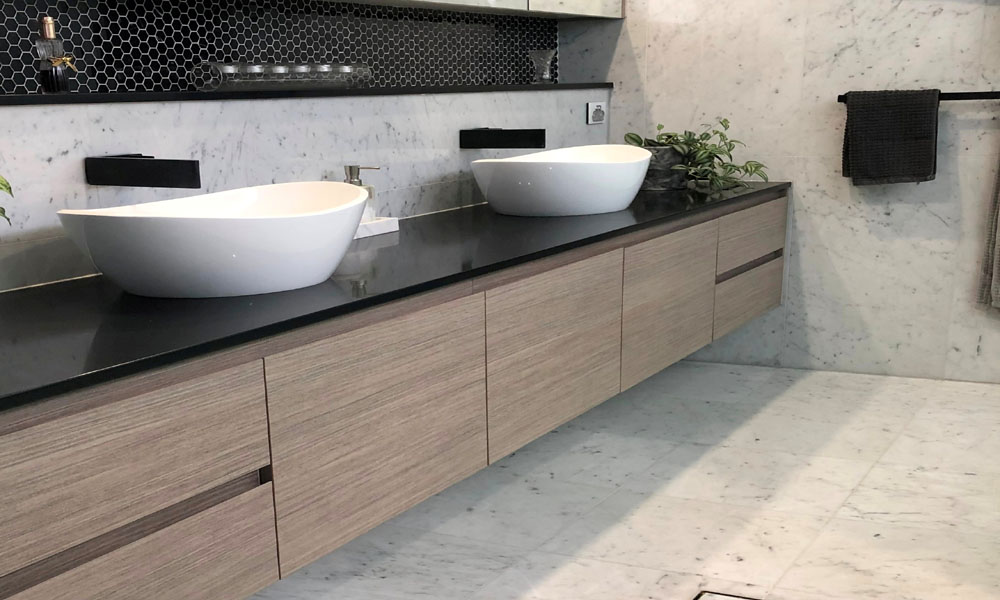 Sareen Stone's glamorous Carrara Bianco C Marble was used on bathroom floors and walls at this Coffs Harbour residence.
Grigio Carnico Marble 305x305x10 Honed Tile
A much bolder dark charcoal Grigio Carnico marble is a dominant stone with a lot of detailed and colourful veining. The rustic notes of this stone imported from Italy add a modern look to your space and is the favourite among the designers.
Pietra Grey Marble 305×305 Honed or Polished Tile
With a similar 'muddy' charcoal colourway as the Grigio Carnico Marble, the Pietra Grey still adds a strong backdrop to bathroom floors while the less dominant veining make it a more neutral but still a strandout choice for your space.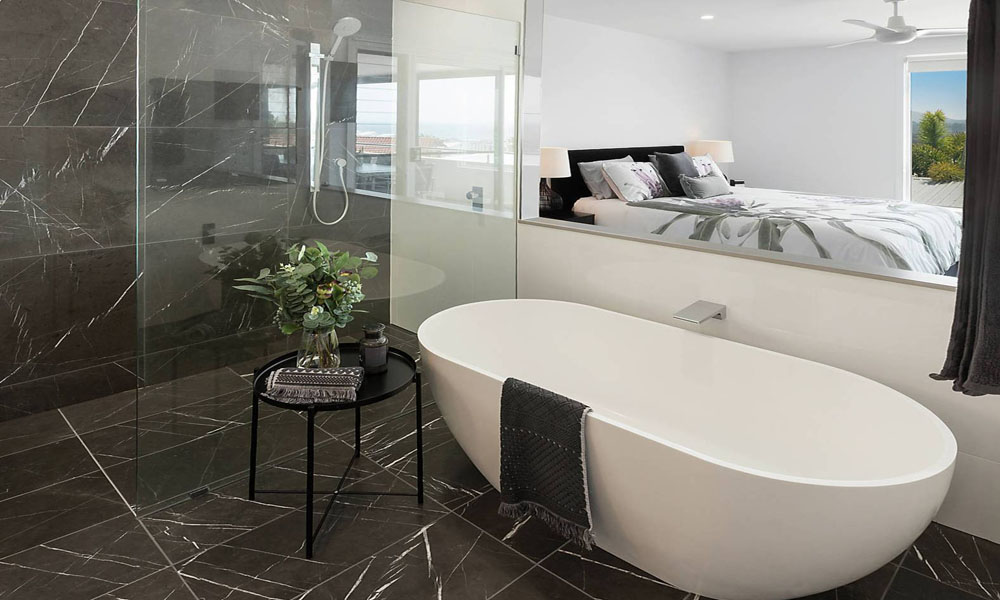 Smaller Format Wall Tiles for Smaller Spaces
Bathroom and laundry tiles in the 305mm tile format has been described as the perfect size for smaller room sizes, with the smaller tile size less likely to visually exaggerate space constraints.
Porcelain tiles are available in a wide range of colours, sizes and finishes to suit any taste, whether you prefer a cleaner design or a more extravagant pattern.